You are here
Celebrating 14 Years of Family Flavours
Sep 26,2020 - Last updated at Sep 26,2020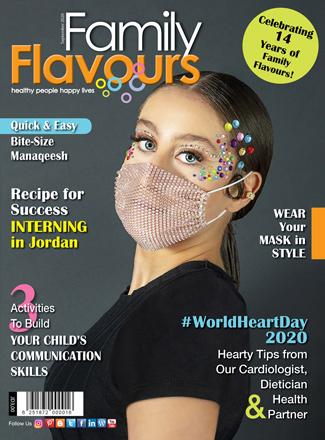 Dipping into another year, Family Flavours celebrates health and wellbeing in its September 2020 edition. The cover photo this month of Marian Wahhab, by Portrait Photographer Anastasia Casey, represents the magazine's mantra: turning challenges into opportunities in the era of COVID-19.
Thus, the fashions in Family Flavours are inspired by COVID-19 masks and how they can be turned into something fashionable with advice from the Royal Health Awareness Society (RHAS).
On the occasion of World Heart Day, Clinical Dietician Ayah Murad, introduces us to food that maximises heart health.
Cardiologist Marwan Jumean advises how to look after the heart in the era of the coronavirus. Also, our health partner RHAS stresses how every move we make helps our heart health.
Newsletter
Get top stories and blog posts emailed to you each day.