You are here
A cozy feeling with BCI Group this Christmas
Dec 16,2019 - Last updated at Dec 16,2019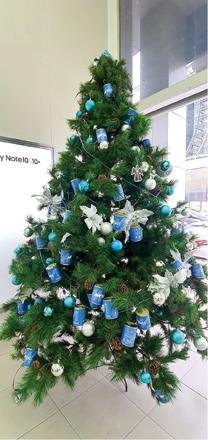 Gearing towards the Holidays season, and in order to spread warmth and the spirit of giving, BCI Group created a heartwarming initiative in collaboration with "The Good Socks" project, a project that provides a nutritious meal for people in need with every purchase of a pair of socks in cooperation with Tkiyet Um Ali.
In a gesture to support Jordan youth initiatives designed toward enhancing social solidarity, BCI Group is decorating its Christmas trees with "The Good Socks" cans during the festive season in three of its showroom; Mecca St, Abul Hajj Centre and City Mall.
With each purchase starting December 16th, customers will receive a can stacked with a fuzzy pair of cotton socks made in Jordan from the Good Socks Project along with a thank you message for their purchase and their generous contribution in offering a meal for people in need.
"We are proud to see such meaningful initiatives in our beloved Jordan managed by responsible youth who developed an outstanding project to serve a noble humanitarian cause aiming to support the local community," Fadi Baransi, CEO of BCI Mobile Group said.
Newsletter
Get top stories and blog posts emailed to you each day.