You are here
Hayat FM, Al Marji' Publications renew cooperation agreement
Dec 06,2019 - Last updated at Dec 06,2019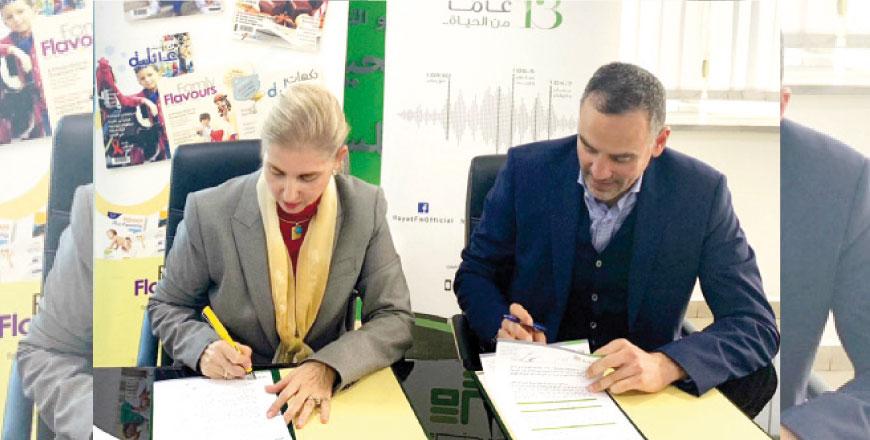 Hayat FM has renewed its cooperation agreement with Al Marji' Publications, publisher of Family Flavours and Nakahat 'Ailiyeh parenting magazines, for the fifth consecutive year.
This cooperation agreement stems from both parties' commitment to raising awareness about family values and parenting through expert contributions. During the signing, Musa Saket, founder and chairperson of Hayat FM radio station, said this partnership "reflects Hayat FM's keen interest in serving families.
Our cooperation with Al Marji' Publications is one of the radio station's most effective ways to do so". He expressed his appreciation of both magazines for remaining true to their shared missions and values.
"We are happy to renew our partnership with Hayat FM radio station as its family values align with our mission," said publisher and managing director of Al Marji' Publications, Hind-Lara Mango. She added, "We are proud of this growing partnership, evident this year with Nakahat 'Ailiyeh's segment on Beit Hawa programme, and are looking forward to bringing our partnership to the next level in the upcoming year."
Al Marji' Publications has recently honoured Hayat FM with an award of appreciation for its support as a media sponsor, hosting experts from both magazines on issues about health, nutrition, parenting, relationships and more. This year, a social media component was integrated in this partnership.
Newsletter
Get top stories and blog posts emailed to you each day.