You are here
MedLabs partners with Family Flavours & Nakahat 'Ailiyeh
Jan 11,2020 - Last updated at Jan 11,2020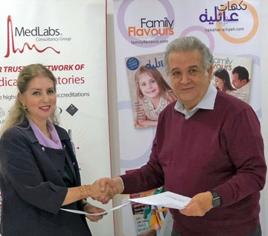 MedLabs Consultancy Group (MedLabs Laboratories) renewed its nine-year partnership with Family Flavours and Nakahat 'Ailiyeh with a focus on health awareness.
"We are proud of our long-standing partnership with Family Flavours and Nakahat 'Ailiyeh magazines as the only Jordanian publications deeply committed to all aspects of family health — a commitment we hold dear to our hearts as well," said Hassib Sahyoun, chief executive officer of MedLabs Consultancy Group, at the signing."We are happy to renew our partnership with MedLabs and we are proud of the trust they put in us," stated Hind-Lara Mango, publisher and managing director at Al Marji' Publications.
"We value their holistic approach in their offering of preventive medical plans and their commitment to community engagement, raising awareness on family health through Family Flavours and Nakahat 'Ailiyeh parenting magazines and our events." Al Marji' Publications and MedLabs have worked together in numerous ways, the most recent being at the Beautiful Inside & Out: Women's Health & Wellness event which was attended by around 150 women. MedLabs presented important information about laboratory tests for women and families.
Newsletter
Get top stories and blog posts emailed to you each day.