You are here
Rotary Club of Amman Cosmopolitan organises an anti-drug awareness workshop
Jan 12,2020 - Last updated at Jan 12,2020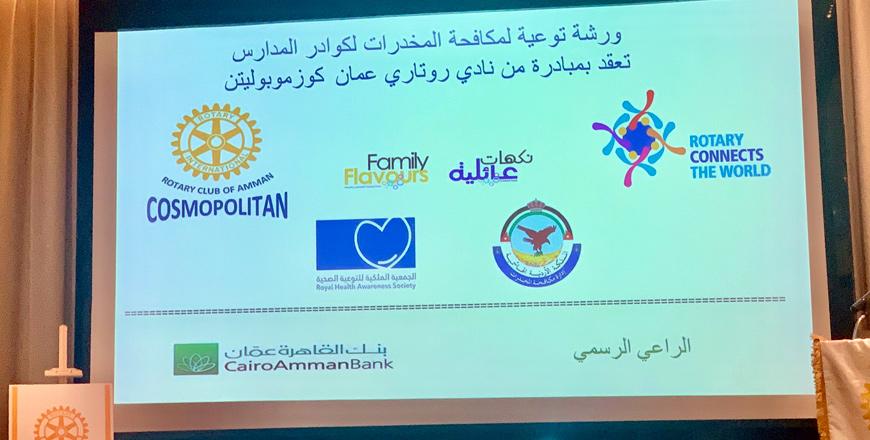 An awareness-raising workshop for private sector educators, nurses and counsellors was held by the Rotary Club of Amman (RCA) Cosmopolitan in cooperation with the Royal Health Awareness Society (RHAS) and Al Marji' Publications (publishers of Family Flavours and Nakahat 'Ailiyeh parenting magazines).
"The club organised this workshop to raise awareness in hopes of reducing drug use amongst youth and school students in particular," said Ghada Fanek, RCA Cosmopolitan president at the opening. The workshop discussed the parental guide No to Drugs, Yes to Life produced by Al Marji' Publications with health content provided by the Royal Health Awareness Society and funded by Cairo Amman Bank."This guide, produced in Arabic and English, highlights the detrimental role of peer pressure and thus the need for educators and families to create open channels of communication with youth as a form of protection from drugs," noted Hind-Lara Mango, publisher and managing director of Al Marji' Publications.
RHAS Director General Hanin Odeh stressed the importance of parents and administrators in raising awareness and protecting youth from drugs and smoking, which negatively impact the productivity youth and their role in the future. RHAS has been carrying out the Generation Protected initiative for four years, in partnership with the Ministry of Education, Mentor Arabia and the Anti-Narcotics Department, targeting 700 schools around Jordan and 140 thousand students.
As a part of the partnership with the Anti-Narcotics Department, Capt. Nabeel Rawashdeh spoke about drug types and Jordanian laws, in the context of drug abuse by youth.
Newsletter
Get top stories and blog posts emailed to you each day.