You are here
Obama urges regulators to tailor standards for financial firms
By Reuters - Oct 08,2014 - Last updated at Oct 08,2014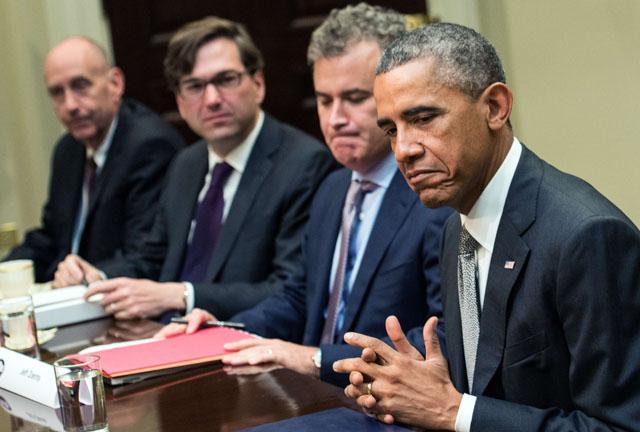 WASHINGTON — President Barack Obama urged top US market regulators this week to look for ways to tailor rules based on financial firms' size and complexity.
The White House, in a readout of the meeting, said Obama pushed the regulators to look for additional ways to prevent excessive risk in the financial system, possibly through bank pay rules and capital standards.
The meeting was attended by Federal Reserve (Fed) Chairman Janet Yellen and Treasury Secretary Jack Lew.
The statement did not specify how Obama wanted the regulators to tailor financial reforms.
Regulators are still finalising rules called for in the 2010 Dodd-Frank Wall Street reform act, which aims to strengthen the financial system after the 2007-2009 credit crisis shattered confidence throughout global markets.
Some firms have complained that certain rules are not a good fit. Lawmakers have sympathised with community banks that say compliance costs are unduly burdensome, and with large insurers that say capital rules designed for banks are inappropriate for their business model.
It was not immediately clear whether Obama's comments to regulators were specifically geared towards insurers.
The White House said participants in the closed-door meeting also discussed the importance of coordination through the financial stability oversight council and the need to address any areas of overlap or gaps in oversight.
Separately, the Congressional Budget Office (CBO) said Wednesday that the US budget deficit fell by nearly a third during fiscal 2014 to $486 billion as federal revenues grew far faster than spending.
Releasing preliminary estimates of final budget data for the year ended September 30, the CBO said receipts grew nearly 9 per cent from the previous year to $3.013 trillion, while outlays were up 1.4 per cent to $3.499 trillion.
The resulting fiscal 2014 deficit was down about $195 billion from the $680 billion budget gap recorded in fiscal 2013.
The CBO estimated a September budget surplus of $106 billion, up from a $75 billion surplus a year earlier. The US Treasury Department is expected to report final budget data for fiscal 2014 by October 17.
The fiscal 2014 deficit is slightly less than a $506 billion gap that the non-partisan agency forecast in August, when it predicted that many companies would reduce tax payments due to uncertainties over tax laws.
The CBO has forecast a $469 billion deficit for fiscal 2015, which started on October 1. Later in the decade, it expects deficits to rise again as costs associated with an aging population mount.
Wage growth
The fiscal 2014 receipt growth was driven by higher collections for individual income taxes and payroll taxes, up $114 billion or 6 per cent, as the economy expanded.
"Growth in wages and salaries explains most of the increase in withheld receipts, but almost one-third of it stemmed from changes in law," the CBO said, citing an increase in payroll tax rates that pushed up withholding.
Corporate tax receipts rose $48 billion, or 18 per cent, reflecting profit growth, while receipts from the Fed grew $23 billion or 31 per cent, due to the increased size of the central bank's bond portfolio and higher interest yields.
The CBO said the $44 billion increase in outlays during fiscal 2014 was fuelled by higher spending on low-income healthcare programmes as provisions of President Obama's health insurance reform law went into effect, including an expansion of Medicaid and $13 billion for new health insurance subsides for policies purchased through new exchanges.
Spending on social security rose $37 billion, or 5 per cent, while payments from housing finance groups Fannie Mae and Freddie Mac, which are recorded as offsetting receipts to outlays, were $23 billion less than last year due to lower one-time payments.
But these higher outlays were offset by a $30 billion drop in spending by the defence department as war costs fell, a $24 billion decline in unemployment benefit checks, and lower outlays for flood insurance and disaster relief.
Related Articles
Oct 16,2014
The United States on Wednesday renewed a warning that Europe risks falling into a downward spiral of falling wages and prices, saying recent actions by the European Central Bank (ECB) may not be enough to ward off deflation.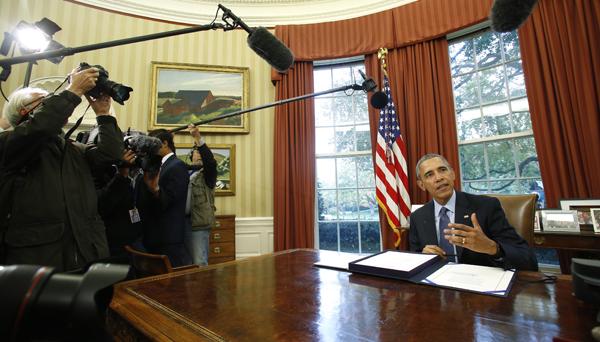 Nov 02,2015
WASHINGTON — President Barack Obama on Monday signed into law a bipartisan budget bill that avoids a catastrophic US default and puts off th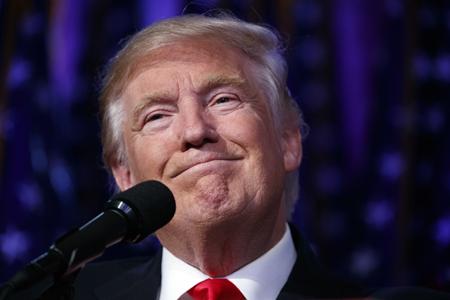 Nov 10,2016
Donald Trump won the presidency by pledging to restore a vanished and golden economic era, when growth roared, factory jobs flourished and A
Newsletter
Get top stories and blog posts emailed to you each day.