You are here
Philip Morris boss campaigns to sell more heated tobacco
By AFP - May 28,2023 - Last updated at May 28,2023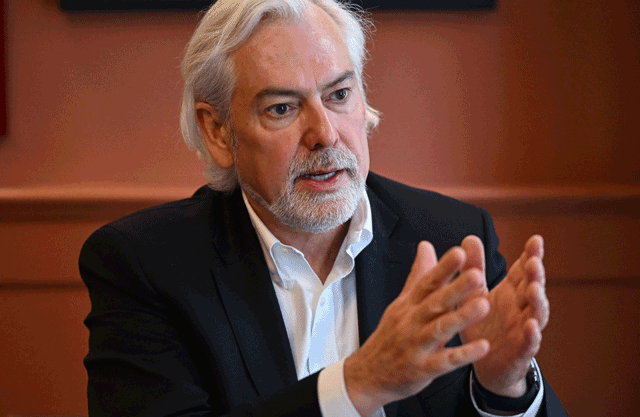 PMI chief executive Jacek Olczak speaks to AFP in central London, on May 23 (AFP photo)
LONDON — US tobacco giant Philip Morris International (PMI) is fighting to get Britain, France and other countries to make it easier to promote alternatives to cigarettes such as heated tobacco and vaping.
PMI embarked on a strategic shift six years ago to become a smoke-free company, against a backdrop of increasingly stringent regulations in many countries, costly lawsuits and falling smoking rates.
The group has injected more than $10 billion into new products, which now account for a third of its $32 billion sales for the financial year 2022.
It has a very limited presence in the vaping e-cigarette market.
But in the UK, the promotion of conventional or heated tobacco is forbidden, while gleaming e-cigarette stores are popping up all over the place.
In countries where "alternatives" are not allowed, such as Turkey, Belgium or Singapore, PMI has no plans to move away from conventional cigarettes.
Stopping the sale of traditional cigarettes will "make Philip Morris look better" but not affect the one billion smokers who can "continue buying a product from somebody else", chief executive Jacek Olczak told AFP.
Instead, he wants to "convince the governments... [to] allow the alternatives and we can start reducing the sale of cigarettes much faster".
In countries open to alternatives, he sees this deadline within 10 years.
"Our vision is of a smoke-free future," he added.
Risks
Heated tobacco products, or HTPs, use a high heat to decompose tobacco, via a process called pyrolysis, which does not set it on fire or burn it, therefore avoiding creating smoke.
PMI acknowledges that alternatives to conventional tobacco remain addictive because they contain nicotine and are not "risk-free".
Health organisations are split about their level of harmfulness.
"In recent years, HTPs have been promoted as reduced harm products or products that can help people quit conventional tobacco smoking," the World Health Organisation (WHO) states.
"HTPs expose users to toxic emissions, many of which cause cancer and currently there is not enough evidence to suggest that they are less harmful than conventional cigarettes."
The US Centres for Disease Control and Prevention also stresses that tobacco, including heated tobacco, is "harmful" and "highly addictive".
It notes that: "Additional research is needed to determine whether adult cigarette smokers who completely switch to heated tobacco products might reduce their risks of tobacco-related disease."
Tobacco kills eight million people a year worldwide.
However, the WHO, the UK's National Health Service and even anti-smoking groups agree with Olczak that alternatives to conventional tobacco can help some people to quit.
"People smoke for the nicotine, they die from the tar," said Deborah Arnott, head of British NGO Action on Smoking and Health.
"We support nicotine containing e-cigarettes as they help adult smokers quit, as does licensed medicinal nicotine replacement therapy which is recognised by the WHO as an essential medicine."
However, Arnott takes issue with PMI being allowed to promote heavily its new products, "when they are a tobacco product".
She argued that PMI's sole objective is "to protect its future earnings streams".
Habits
For Olczak, the many restrictive policies — age verification, hidden packets at retailers, unmarked packs with health warnings — have had only a "minimal" impact.
He instead attributes the fall in smoking in Sweden and Japan to the marketing of so-called alternatives.
Smoking in Japan has fallen from 84 per cent of men in the 1960s to around 30 per cent in 2018, with Japan Tobacco International attributing the decline to a growing public awareness of health issues, tougher regulations, price rises and an ageing population.
Arnott notes that PMI's heated tobacco "has been most successful in Japan, where it can be actively promoted and electronic cigarettes are banned".
In Sweden, the public health agency notes that the use of alternatives such as snus (a form of snuff popular in Nordic countries) or e-cigarettes increases the risk of switching to conventional cigarettes among new users — a particular concern for younger people.
On its website, the agency says it does not have enough data to say that the use of alternative products leads to a change in tobacco consumption.
Newsletter
Get top stories and blog posts emailed to you each day.