You are here
Putin creates ex-Soviet trade bloc
By Reuters - May 29,2014 - Last updated at May 29,2014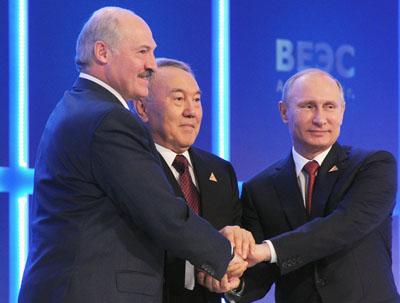 ASTANA — Russian President Vladimir Putin signed a treaty with Kazakhstan and Belarus on Thursday creating a vast trading bloc which he hopes will challenge the economic might of the United States, the European Union (EU) and China.
Putin denies the forging of the Eurasian Economic Union with two other former Soviet republics, coupled with Russia's annexation of Crimea from Ukraine, means he wants to rebuild a post-communist Soviet Union or as much of it as he can.
He does, however, intend the alliance, with a market of 170 million people, a combined annual GDP of $2.7 trillion and vast energy riches, to demonstrate that Western sanctions imposed over the crisis in Ukraine will not isolate Russia.
But the world's major economic powers may not be quaking in their boots.
Ukraine has snubbed the union, other ex-Soviet states are wary of joining a body that could give Moscow leverage over them again and Kazakhstan fiercely defended its sovereignty during negotiations, forcing Putin to water down his ambitions.
"Our meeting today of course has a special and, without exaggeration, an epoch-making significance," Putin said of the treaty, signed to loud applause from rows of seated officials in the modern Kazakh capital, Astana.
"This document brings our countries to a new stage of integration while fully preserving the states' sovereignty," he added.
Kazakh President Nursultan Nazarbayev, seated at a long white table at which he, Putin and Belarussian President Alexander Lukashenko signed the treaty, envisaged the new union as being a major competitive force.
"The main mission of our union in the first half of the 21st century is... first, to gain a natural competitive advantage as an economic bridge between the East and the West, between Europe and Asia," he said.
Putin's dream
The Eurasian Economic Union will formally come into force on January 1, once it has passed the formality of being approved by the three former Soviet republics' parliaments.
The union — an idea first raised by Nazarbayev in 1994 but widely ignored at the time — brings to life Putin's dream of uniting like-minded countries, capitalising on the nostalgia of many Russians for the order and relative economic and political stability of the communist Soviet empire that collapsed in 1991.
After 14 years in power, he sees its creation as a personal political legacy for when he eventually steps aside and it has become one of the "big ideas" of his third term as president.
The treaty deepens ties forged when the three countries took the initial step of creating a customs union in 2010, guarantees the free transit of goods, services, capital and workforce, and coordinates policy for major economic sectors.
Putin noted that Kazakhstan and Russia accounted for one-fifth of the world's natural gas reserves and 15 per cent of oil reserves — although Belarus is not an energy producer, and its struggling economy looks like a burden for Astana and Moscow.
Asked on Saturday if he was trying to revive the Soviet empire, Putin said: "They try to stick this label on us — a label that we are trying to restore an empire, the Soviet Union, make everyone subordinate. This absolutely does not correspond to reality."
The new union, however, reinforces Putin's drive to show Russia will not be isolated by sanctions, a message he sent by reaching a $400-billion gas supply deal with China last week.
Any hopes of rebuilding a large part of the Soviet Union have been thwarted by Ukraine, which opted not to join the union after its Moscow-leaning president was ousted and decided to build trade and political ties with the much larger EU instead.
That was a huge blow, depriving the union of a market of 45 million people and, in the words of ex-Kremlin spin doctor Gleb Pavlovsky, making Putin's original dream "impossible" to fulfil.
Armenia and Kyrgyzstan, hardly economic powerhouses, are considering joining but other ex-Soviet republics, including oil and gas producer Azerbaijan, gas-rich Turkmenistan and Uzbekistan with its market of 30 million people, have steered clear of the union.
The creation of the new alliance also involves costs for Russia, posing an extra burden on an economy already on the brink of recession.
Russian Deputy Finance Minister Sergei Shatalov told Reuters in March that Belarus and Kazakhstan received about $6 billion annually from Russia in direct and indirect support, and said that could increase by $30 billion if all trade restrictions were lifted in 2015 after the union is created.
Related Articles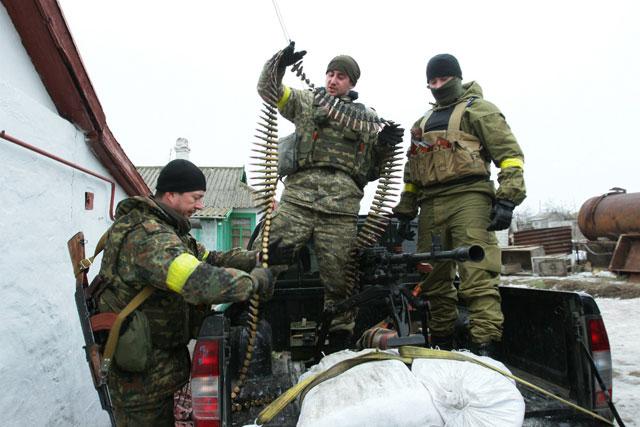 Jan 28,2015
Ukraine President Petro Poroshenko made a personal plea to Russia's Vladimir Putin and Washington threatened tougher measures Wednesday should Moscow fail to rein in separatists mounting a new offensive in the east of the ex-Soviet republic.
Nov 05,2014
Kiev said on Wednesday it would halt payment of state funds in areas controlled by pro-Moscow rebels, as both sides hardened positions in what is rapidly becoming a "frozen conflict": a long-term stalemate that the West believes is Russia's aim.
Mar 26,2014
Egypt has resumed talks about the creation of a free trade zone with the customs union of Russia, Belarus and Kazakhstan, Egyptian and Russian officials said on Wednesday.
Newsletter
Get top stories and blog posts emailed to you each day.