You are here
Tokyo shares soar on US-China trade détente
By AFP - Jul 02,2019 - Last updated at Jul 02,2019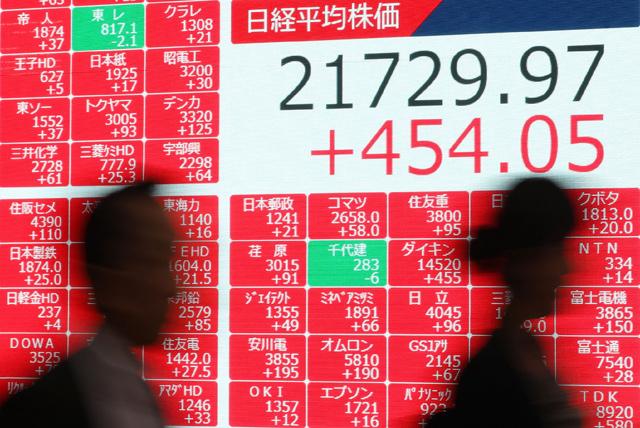 Pedestrians walk past an electronic stock indicator showing the Tokyo stock's closing rate in Tokyo on Monday (AFP photo)
TOKYO — Tokyo shares soared on Monday after the United States and China agreed a ceasefire in their trade war that has damaged the global economy.
The benchmark Nikkei 225 index rose 2.13 per cent, or 454.05 points, to 21,729.97, while the broader Topix index ended up 2.17 per cent, or 33.71 points, at 1,584.85.
"The market enjoyed a major rise," Okasan Online Securities said in a note to clients.
"Investors welcomed the fact that the G-20 ended without incident, as well as the resumption of the US-China trade talks," it said.
Japan hosted this year's Group of 20 (G-20) meeting in Osaka last week, providing a forum to bring together US President Donald Trump and Chinese leader Xi Jinping for direct talks.
The two men agreed to resume trade negotiations and halt fresh tariffs, allowing the rest of the world to breathe a sigh of relief.
Trump also said US businesses would be allowed to sell products to Chinese telecom giant Huawei as long as it doesn't pose national security concerns.
That remark also helped lift the market, particularly tech shares.
"As the sense of caution receded, investors' spirit improved and pushed up shares," Okasan said.
The dollar rose against the yen in a favourable development for Japanese exporters, changing hands at 108.44 yen compared with 107.82 yen in New York on Friday.
The central Bank of Japan released a business sentiment survey just before the opening bell, with the headline index among major manufacturers falling in the second quarter to June.
But Seiichi Suzuki, senior market analyst at Tokai Tokyo Research Centre, noted the survey had been taken before the weekend news.
The US-China truce accord "showed things won't follow the much-feared, worse-case scenario", he said.
"If the survey was taken today or tomorrow, the outcome would be different," he told AFP.
Industrial robot maker Fanuc rose 3.06 per cent to 20,540 yen, Toyota gained 2.78 per cent to 6,874 yen and Sony added 2.35 per cent to 5,781 yen, with Nintendo up 1.42 per cent at 40,050 yen.
Tokyo announced on Monday it will impose trade restrictions on Japan-made substances used by South Korea's chip and smartphone makers.
The announcement prompted share of firms producing the affected materials to plunge.
Among them JSR, which makes affected products such as the photosensitising agent resist used in chip manufacturing, dropped 2per cent to 1,667 yen.
Newsletter
Get top stories and blog posts emailed to you each day.