You are here
All Italian Autostrade stormer
By Ghaith Madadha - May 04,2015 - Last updated at May 04,2015
A tough act to follow, the previous 2003-2012 generation Maserati Quattroporte was one of the standout designs of its milieu. An authentic sports car in spirit, the previous generation Quattroporte boasted a high-revving naturally-aspirated Ferrari V8 engine and rear-mounted transaxle gearbox beneath its layers of sumptuous luxury.
And successful as it was, the old Quattroporte was however very much a niche alternative to the German-dominated luxury car segment. Picking up where its predecessor left off, the latest incarnation of Maserati's long-standing luxury saloon is a larger, more spacious, comfortable and technologically-advanced car with a wider range of more efficient engines, including the brutally powerful 523BHP Quattroporte GTS, featured here.
Swooping and sophisticated
Part of a two-pronged Italian assault on the premium saloon market, along with its smaller sporty Ghibli executive saloon sister, the latest Quattroporte is a decidedly more dedicated take on the full-size luxury car segment. Reminiscent of its
1979-90 third generation predecessor in terms of size and stateliness, the new Quattroporte's position as the larger of two four-door models allows it to place greater emphasis on the luxurious refinement, size and equipment that define the segment.
If slightly less exotic than its immediate predecessor, the new Quattroporte is however a more competitive luxury car that is — along with the Ghibli — set to exponentially improve Maserati sales.
A handsome full-size luxury car, the current Quattroporte's Pininfarina-designed predecessor set the bar high, but this is nevertheless a glamorously indulgent, assertively menacing and swoopingly sophisticated design in its own right. With broad hungry grille, evocative Neptune's trident badge, long twin-bulge bonnet, side ports, quad tailpipes, curvy Coke-bottle hips and athletic stance, the Quattroporte is exotic and elegant.
With its squinting headlights' upturned kink trailing off to a seductive front wing curvarure, the Quattroporte's flowingly wavy side character line leads to wide rear haunches and towards the tip of its rear lights. Meanwhile, its long roofline rises and descends gracefully towards its boot and a subtle built-in spoiler ridge.
Mid-range muscle, top-end thrills
Offered with three twin-turbocharged engine options including amply-powered 3-litre V6 versions including 325BHP entry-level and 404BHP in Quattroporte S and four-wheel drive S Q4 versions, the Italian luxury car is however at most powerful in GTS guise. Downsized and more efficient it may be, but the Quattroporte GTS is nonetheless a fire-breathing Autostrade-storming luxury super-saloon.
With its Ferrari-developed 3.8-litre twin-turbo V8 developing 523BHP at 6500-6800rpm and 524lb/ft throughout 2250-3500rpm, the GTS tears through the 0-100km/h acceleration benchmark in 4.7-seconds and can continue onto an unrestricted 307km/h top speed. With a lighter right foot, the GTS can — on combined cycle — return relatively modest 11.8l/100km fuel efficiency and 274g/km CO2 emissions.
Gaining 89BHP over the most powerful of its 4.7-litre naturally-aspirated V8 predecessors, the current Quattroporte's aggressively tuned twin-turbos allow it to cover ground at an exhilarating pace. With quick-spooling turbos providing meaningful low-end responses and little by way of lag, the GTS benefits from broad mid-range avalanche of torque, through which it pulls decisively hard and is effortlessly brisk when overtaking or at high load on inclines.
However, and unlike many modern low-revving turbocharged cars, the Quattroporte retains much of the heady high-revving top-end thrills associated with its sweet naturally-aspirated predecessor, as its vast mid-range reserves underwrite and give way to an urgently intense top-end power surge.
Fast and fluent
Quick and comfortable, the Quattroporte is a natural high speed long distance continent-shrinking luxury car. Riding on standard-fit two-mode adaptive electromagnetic Skyhook damper suspension, the GTS adapts to road textures and driving style with imperceptible fluency, and would be well-suited for lumpier and imperfect road textures.
Forgivingly supple over bumps and cracks, the GTS' Skyhook suspension compensates for sportily low profile 245/40R20 front and 285/35R20 rear tyres, and seamlessly firms up the dampers for taut lateral body control and weight transfer through corners. Poised, smooth and refined, the GTS's highway ride is alert to and fluent over imperfections, and dispatches vertical rebound with a settled and sure-footed manner.
With sophisticated double wishbone suspension, Skyhook dampers, ideal 50:50 weight distribution and stiffer and lighter body than its predecessor owing to greater aluminium content, the GTS proved capable through fast winding mountain routes during test drive in Oman. Tidy into brisk corners, the GTS' light steering provides good road feel for such a sizeable car. Expected for its segment, an instinct for slight understeer if pushed too hard into tight narrow corners is curbed by effective stability controls.
However, the GTS' chassis set-up and long wheelbase however provide huge levels of rear grip, and through corners can faithfully deploy its immense power to tarmac and confidently pounce out. Meanwhile, huge ventilated disc brakes provide good pedal feel and stopping ability.
Sumptuously spacious
Sumptuously comfortable, luxuriously refined, and reassuringly stable at speed, the Quattroporte GTS is ever poised on highways and indulgently luxurious inside.
Swathed in quality leathers, fine woods, brushed aluminium and soft suede rooflining, the GTS is elegantly designed and luxuriously appointed, and provides excellent cabin refinement from noise vibrations and harshness. Subtly sporty and contoured, the GTS' steering wheel is complemented by big round dials and fixed steering column-mounted metal gearbox paddle shifters.
From these one can actuate fire off gear changes in the GTS' smooth and swift shifting 8-speed automatic gearbox' sequential manual shift mode, or simple set to operate automatically in its sport or comfort and efficiency modes.
With a tastefully elegant Italian flair for design and a warm and welcoming ambiance, the Quattroporte is sumptuously spacious. Generously accommodating front and rear passengers, the Quattroporte's front seats and steering are highly adjustable, while rear passengers are treated to good headroom and long legroom.
Highly well-equipped with standard and optional entertainment, safety and convenience features, the GTS' 8.4-inch infotainment touchscreen is particularly noteworthy, with user-friendly and intuitively simple menus and operation, while rear screens and a 15-speaker 1280-Watt Bowers & Wilikins sound system are included among numerous other equipment options.
The Quattroporte also allows for extensive personalisation, including exterior and interior colours, alloy wheels and cabin materials and trim.
TECHNICAL SPECIFICATIONS
Engine: 3.8-litre, in-line, twin-turbocharged V8-cylinder
Bore x stroke: 86.5 x 80.8mm
Compression ratio: 9.5:1
Valve-train: 24-valve, direct injection, variable valve timing
Gearbox: 8-speed automatic, RWD
Top gear: 0.67:1
Final drive: 2.93:1
Power, BHP (PS) [kW]: 523 (530) [390] @ 6500-6800rpm
Power-to-weight: 275.2BHP/tonne
Torque lb/ft (Nm): 524 (710) @ 2250-3500rpm
Torque-to-weight: 373.7Nm/tonne
Redline: 7200rpm
0-100km/h: 4.7 seconds
Top speed: 307km/h
Fuel consumption, combined: 11.8 litres/100km
CO2 emissions, combined: 274g/km
Fuel capacity: 80 litres
Length: 5262mm
Width: 1948mm
Height: 1481mm
Wheelbase: 3172mm
Track, F/R: 1634/1647mm
Overhang, F/R: 968/1123mm
Kerb weight: 1900kg
Weight distribution F/R: 50:50
Luggage volume: 530 litres
Suspension, F/R: Double wishbone/multi-link,
Dampers: Adaptive electro-magnetic
Brakes, F/R: Ventilated discs, 380/350mm, 6-/4-piston
Stopping distance, 100-0km/h: 34 metres
Steering: Power-assisted rack & pinion
Tyres, F/R: 245/40R20/285/35R20
Related Articles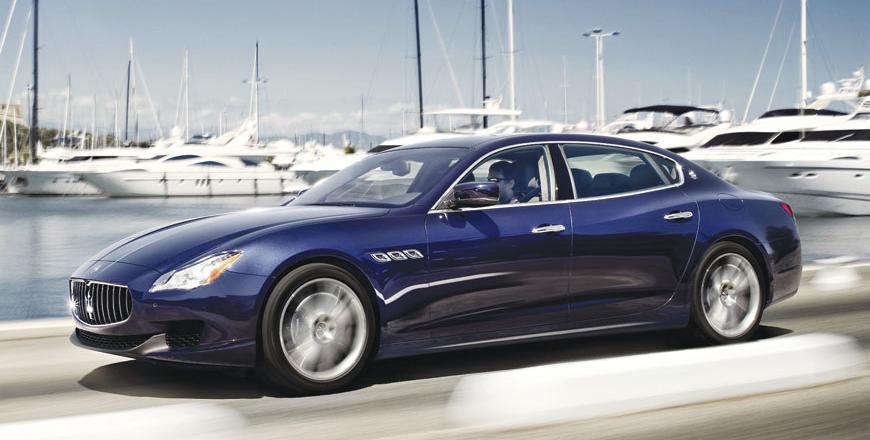 Sep 21,2015
The car that virtually invented the luxury super saloon back in 1963, the Maserati Quattroporte has always been a rare, exotic and sporty al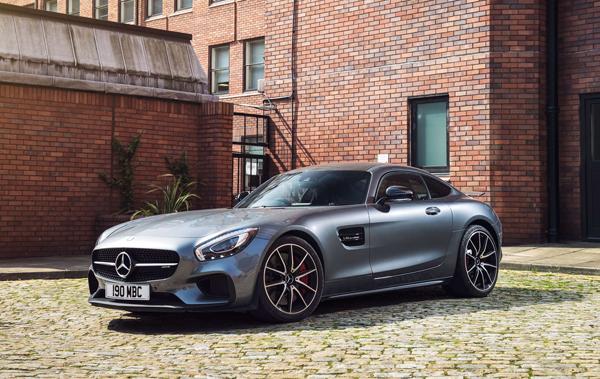 May 30,2016
The second ever car fully developed by Mercedes-Benz's in-house high performance AMG tuning wing, the AMG GT is an altogether tighter, taute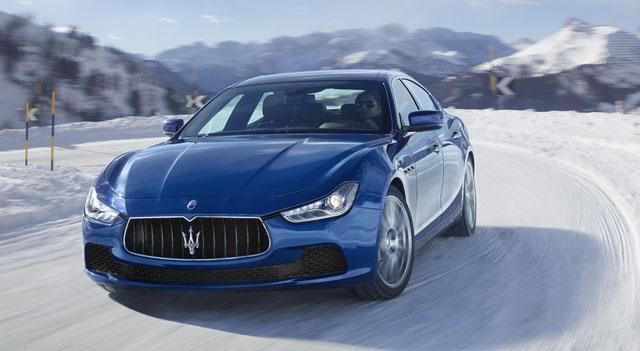 Feb 24,2015
Resurrected in 2013 after a 15-year absence, the Ghibli is among the exotic Italian carmaker's most exotic nameplates and like many Maseratis, is named after a wind. Bearing the hot dust-bearing North African wind's Libyan moniker, the Ghibli nameplate first arrived as a curvaceously sultry 1967-73 sports car and then muscularly angular 1992-98 four-seat coupe. 
Newsletter
Get top stories and blog posts emailed to you each day.