You are here
Can regional scholarship be global?
By Sally Bland - Apr 07,2019 - Last updated at Apr 07,2019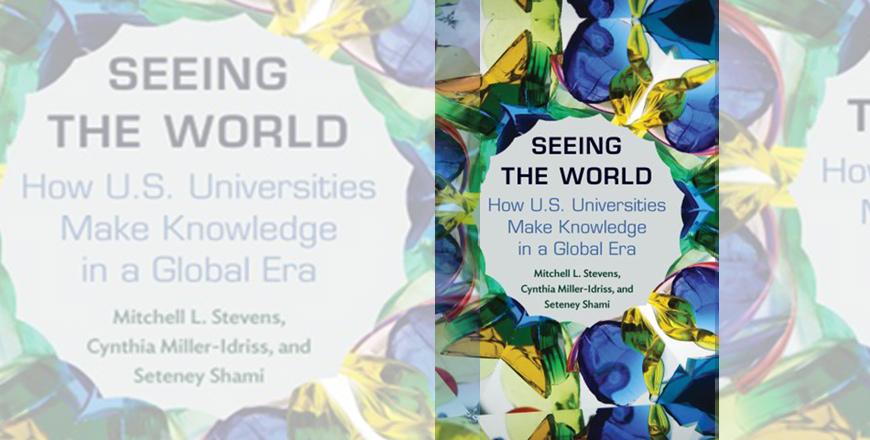 Seeing the World: How US Universities Make Knowledge in a Global Era
Mitchell L. Stevens, Cynthia Miller-Idriss, and Seteney Shami
Princeton and Oxford: Princeton University Press, 2018
Pp. 163
The idea for this book originated in the New York-based Social Science Research Council's rethinking of its international programmes after the end of the Cold War — a process in which one of the authors, Seteney Shami, was involved. After 9/11, rethinking became more urgent, as Middle East studies programmes came under fire for failing to predict the rise of Islamist extremism, and the US Department of Education sought a reevaluation of the programmes it had funded. This catalysed the coming together of Shami with university professors Cynthia Miller-Idriss and Mitchell L. Stevens in an interdisciplinary team: Shami is an anthropologist; Stevens is associate professor of education at Stanford University; while Miller-Idriss is associate professor of sociology and education at American University.
Together they undertook a decade-long "empirical investigation of the organisation of programmes devoted to the study of world regions, particularly the Middle East and its neighbouring geographies, on US research university campuses in the years following 9/11". (p. 2)
Their investigation, which resulted in "Seeing the World", had three main aims: "to offer insight into the mechanics of knowledge production at the arts-and-sciences cores of US research universities… to contribute to an understanding of universities as special mechanisms for seeing the world… [and] to forward a theory of how US universities themselves change". (pp. 1-2)
The authors' approach to these issues makes "Seeing the World" especially interesting. Brief, but rich, historical context is provided to explain how US scholars have viewed the relationship between the university and the world over time, from the original civilizational schema informed by an imperialist world view, to the subsequent national schema that sees universities "as consultants to the US state in its geopolitical ambitions worldwide". (p. 9)
Post-World War II, with the onset of the Cold War, this entailed acquiring in-depth knowledge about areas of concern which, in turn, led to the founding of area studies in interdisciplinary centres intended to harness social science knowledge in the service of US foreign policy.
This was the heyday of modernisation theory, yet within a decade or so, this theory was being critiqued by new scholarship in the humanities, and with the end of the Cold War, funding for area studies lessened. More recently, the new possibilities for cross-border exchange in the digital age gave birth to the global schema.
Often emphasising themes rather than area-specific knowledge, universities began seeking to enhance their international orientation and out-reach and simultaneously compensate for diminishing funding. This new era of globalism leads the authors to question what will happen to regionally focused scholarship.
A main component of the authors' investigation was 73 interviews with area studies centre directors and associate directors; chairs of economics, political science, and sociology departments; and deans or vice provosts of international/global affairs, about their priorities and how they function.
Substantial quotes from these interviews give a lively, reality-based take on the issues at hand. Moreover, both the authors and interviews go beyond formalities to describe the nuts-and-bolts of how universities actually operate as they strive to create a milieu conducive to knowledge production.
Many questions are posed and answered: How do universities compensate for short-falls in funding? What distinguishes centres from departments and how do they cooperate? What is the effect of the tension that exists between area studies, which promote particular knowledge of specific places, and social sciences, such as economics, sociology and political science, which aim at abstract theory that can be universally applied? "Why, after years of systematic encouragement of research on the Middle East, had the US produced so little economics, political science, and sociology on this part of the world?" (p. 84)
Although departments have more power and stable funding, centres' flexibility makes them ideal partners for enriching the learning environment, engaging in globally-oriented activities and public outreach. According to the authors, interdisciplinary centres or non-departments "have been powerful tools for enabling teaching and scholarship trained on substantive rather than disciplinary problems", such as climate change, public health, etc. (p. 84)
They also have recommendations to make the social sciences more relevant in the global age. Given that there are today less and less tenure-track research appointments in the arts-and- sciences core, they suggest that this "provides fresh incentive for encouraging young social scientists to better investigate substantive problems in specific places all over the globe". (p. 117)
Many of the questions posed in this book show that the authors are not so concerned about furthering their particular discipline, as they are about how social sciences, and by implication higher education generally, can contribute to knowledge that will improve the human condition and promote productive engagement between different cultures.
While directed at US universities, "Seeing the World" should be of interest to educators and social scientists around the globe. The book concludes with a chapter on methods and data, which is probably most interesting for academics, but the overall thrust of the book will appeal to anyone concerned about education and international understanding.
Newsletter
Get top stories and blog posts emailed to you each day.