You are here
Cooking up a storm
By Ghaith Madadha - Feb 24,2015 - Last updated at Feb 24,2015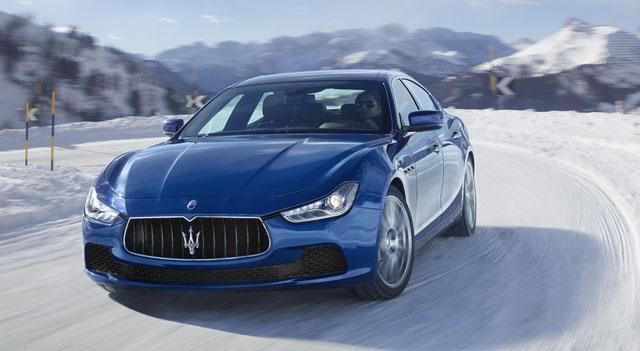 Resurrected in 2013 after a 15-year absence, the Ghibli is among the exotic Italian carmaker's most exotic nameplates and like many Maseratis, is named after a wind. Bearing the hot dust-bearing North African wind's Libyan moniker, the Ghibli nameplate first arrived as a curvaceously sultry 1967-73 sports car and then muscularly angular 1992-98 four-seat coupe.
As moodily menacing as ever, the modern Ghibli is a sexy but sensible four-door executive saloon with powerful twin-turbo V6 engines and even four-wheel drive in Ghibli S Q4 guise. With purposeful coupe-like lines the Ghibli now takes on both traditional executive saloons like the Jaguar XF and BMW 5-Series, and fashionable four-door coupes like the Audi A7 and Mercedes CLS-Class.
Projecting power
With tightly penned design lines and coupe-like profile and huge optional 21-inch alloy wheels set far apart with short overhangs, the Ghibli strikes a dramatic road stance brimming with dynamic tension, as if ready to pounce. Shark-like with gaping, chrome-ringed low-set grille with vertical slats and prominent Trident badge, and intense heavily browed squinting headlamps, the Ghibli radiates a moody and predatory demeanour.
Low and long, the Ghibli's bonnet line stretches tautly to a rakish roofline that in turn tapers to a curt high-set rear deck. In profile, the Ghibli's sporty side ports elegantly and luxuriously accentuate the distance between A-pillars and swooping wheel arches, while exotic and indulgent Coke-bottle hips are add depth and presence.
Like its 1990s predecessor, the contemporary Ghibli is powered by a mid front situated twin-turbocharged V6 engine, and even with the added weight of the Q4 version's driven front axles, front-to-rear weight distribution remains a near perfect 51:49. Displacing 3 litres with direct injection for efficiency, the Ghibli S Q4 prodigiously produces 404BHP at 5,500rpm and 406lb/ft throughout a broad, effortlessly muscular 1,750-5,000rpm band.
With little turbo lag from idle and good low-end responses combined with four-wheel drive traction and tall 6,500rpm rev limit, the 1,870kg Q4 digs in and bolts from standstill to 100km/h in 4.8 seconds — 0.2 seconds quicker than the 60kg lighter rear-drive Ghibli S. Unrestricted, top speed is 284km, while combined fuel consumption is 10.5l/100km.
Grip and go
The Ghibli S Q4's charismatic Ferrari-developed engine is smooth and refined but with an aggressive edge including healthy 135BHP/litre specific output and eager delivery right, pulling hard up to its rev limit. Idling with a faint off-beat note, the Ghibli sounds eager and develops a sedate, distant but evocative growl at aggressive throttle input, while high rev full load up-shifts are complemented by a guttural wastegate chirp.
Responsive, with good throttle control for a turbocharged engine, the S Q4 allows for precise mid-corner throttle corrections. Notably, its' relatively high pressure twin-turbo engine's cooling system was highly effective and resilient under hot heather, heavy load and steep incline driving, faring better than some less powerful turbocharged rivals.
Driving all wheels through a smooth and concise 8-speed automatic gearbox, the Ghibli's features a sport mode that hold revs longer and provides more responsive throttle and downshifts, and a more comfortable economy setting. Manual gearbox changes through fixed steering-column mounted paddle-shifters provide more driver involvement.
Maserati's first four-wheel drive, the Q4 system delivers up to 100 per cent power rearwards for efficiency in straight-line driving, but can subtly transfer up to 50 per cent power to the front wheels through an electronically controlled wet-clutch transfer in 150-milliseconds for better traction or grip if needed. Additionally, the Q4 also features a limited-slip rear differential to further allocate power along the rear axle to the wheel best able to use it through corners.
Sharp yet supple
Agile and fluent through winding switchbacks, the Ghibli S Q4 drives with balanced rear-drive instincts yet delivers rally-car like four-wheel drive traction, grip, commitment and cornering adjustability. Turning into corners sharp and early the Q4 is Tidy into corners and faithfully holding a cornering line, the Q4 is best driven by turning in and straightening up early to avoid electronic stability control intervention, and by coming back on throttle early to avoid low-end turbo lag, and instead burst out of corners riding on an urgent 3,500-4,000rpm surge.
Better yet, switching the electronic nanny to its low intervention mode reveals a more fluid driving experience that better showcases the Q4's superbly nuanced, tenaciously grippy and exhilaratingly capable four-wheel drive.
Reassuring yet thrilling on briskly hill climbs, the Ghibli s Q4's adaptive four-wheel drive well-exploits its balanced chassis. Tidy through corners with high lateral grip limits, the Q4's displays an at-the-limit instinct for slight predictable under-steer and is also happy to nudge the rear out slightly into a corner if asked to do so.
In both cases, its nuanced four-wheel drive and limited-slip differential promptly and confidently claw back traction and bring it back into or tighten a cornering line when flicked. With balanced weighting and tactile, textured and nuanced feel for road and position, the Q4's light and quick electric-assisted rack and pinion steering complements its engine, chassis and driveline when making mid-corner on-throttle steering corrections.
Stylishly Italian
Riding on front double wishbone and rear multi-link suspension with adaptive magnetic Skyhook dampers, the Q4 feels alert and lively. In supple default setting Skyhook smoothes and glides over roughness, cobblestone roads and takes the edge off optional low profile 245/35ZR21 front and 285/30ZR21 rear tyres.
More relaxed and comfortable on highways in default mode, the Ghibli is reassuring at speed and feels settled and buttoned down on rebound. In firmer sportier it can expectedly feel slightly bouncy on choppy roads, but cornering body control becomes tauter, flatter and firmer in processing sudden weight transfer with greater finesse. Not fully sacrificing comfort in sport mode, the Ghibli provides natural, nuanced, engaging and ultimately predictable handling qualities.
Brimming with a classy and sporty Italian flair, the Ghibli's cabin featured blue leather upholstery, suede-like roof liner and carbon-fibre trim as tested. With good fit, finish and quality almost everywhere, the Ghibli's is also ergonomic and driver-focused, with supportively comfortable seats and well-adjustable driving position, clear instrumentation, good front visibility and useful storage spaces, including its 500-litre truck/boot volume.
Available with extensive trim personalisation and standard and optional convenience and safety features, features a superbly intuitive and user friendly infotainment screen for various functions and amenities and remote, boot opening and engine start. Spacious in front, rear space is good for most, but the rakish roofline slightly compromises rear headspace for especially tall or wide passengers.
TECHNICAL SPECIFICATIONS
Engine: 3-litre, in-line, twin-turbocharged V6 cylinders
Bore x stroke: 86.5 x 84.5mm
Compression ratio: 9.7:1
Valve-train: 24-valve, direct injection, variable valve timing
Gearbox: 8-speed, automatic, four-wheel drive, limited-slip rear differential
Power, BHP (PS) [kW]: 404 (410) [301] @ 5,500rpm
Specific power: 135.6BHP/litre
Power-to-weight: 216.5BHP/tonne
Torque lb/ft (Nm): 406 (550) @ 1,750-5,000rpm
Specific torque: 184.6Nm/litre
Torque-to-weight: 294.1Nm/tonne
Redline: 6,500rpm
0-100km/h: 4.8 seconds
Top speed: 284km/h
Fuel consumption, urban/extra-urban/combined: 15.2-/7.8-/10.5-litres/100km
CO2 emissions, combined: 2,46g/km
Fuel capacity: 80 litres
Length: 4,971mm
Width: 1,945mm
Height: 1,461mm
Wheelbase: 2,998mm
Track, F/R: 1,635/1,653mm
Overhang, F/R: 935/1,038mm
Kerb weight: 1,870kg
Weight distribution F/R: 51:49
Luggage volume: 500 litres
Suspension, F/R: Double wishbone/multi link, adaptive magnetic dampers
Brakes, F/R: Ventilated perforated discs, 360 x 32mm/350 x 28mm
Brake callipers, F/R: 6-/4-piston
Stopping distance, 100-0km/h: 36 metres
Turning circle: 11.7 metres
Tyres, F/R: 245/35ZR21/285/30ZR21 (optional)
Related Articles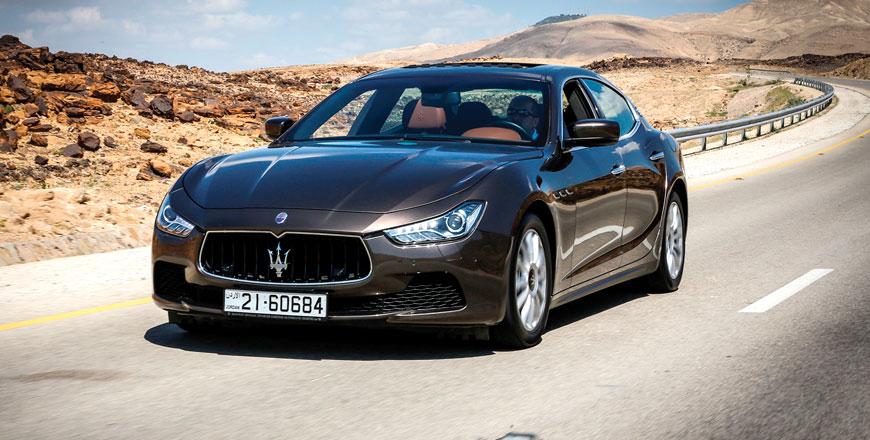 Jun 15,2015
An everyday exotic yet practical, refined and well equipped executive saloon, the sporty, swift and smooth Maserati Ghibli is pitched at tra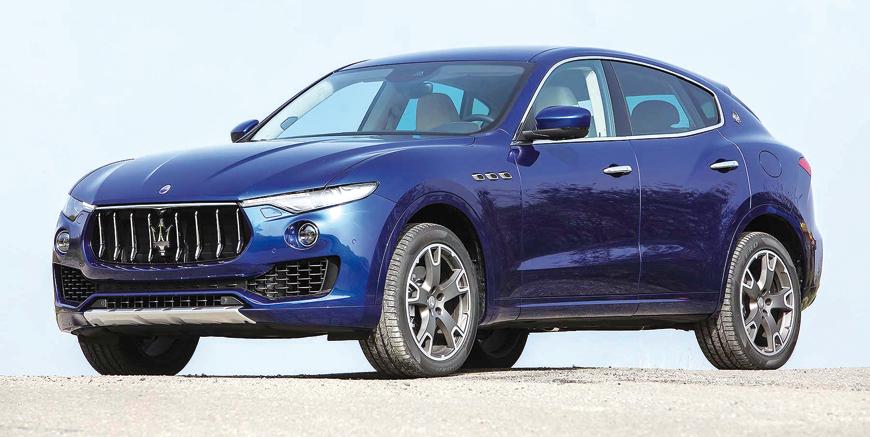 May 16,2016
Renowned as a maker of fine luxury and sports cars and with a rich racing tradition, Maserati now enter the SUV market with the long-awaited
May 04,2015
A tough act to follow, the previous 2003-2012 generation Maserati Quattroporte was one of the standout designs of its milieu. 
Newsletter
Get top stories and blog posts emailed to you each day.