You are here
The female presence reigns supreme
By Ica Wahbeh - Apr 11,2019 - Last updated at Apr 11,2019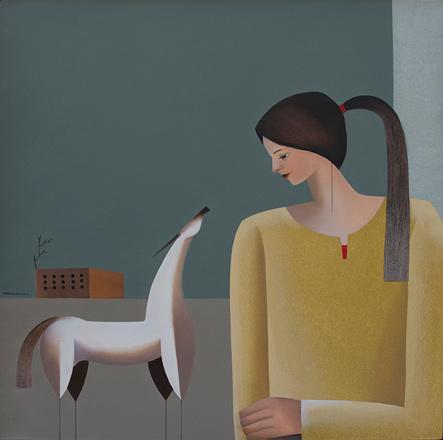 AMMAN — A serene world in which the female presence reigns supreme envelopes the viewer at Orient Gallery, where Mohammad Nasrallah exhibits his latest works under the title "Soul Flutes… Nostalgia".
It is a world of pure content and lines, one that, the artist says, embraces Ghassan Kanafani's "Um Saad" and Ibrahim Nasrallah's "Time of White Horses".
A flawless universe of life embracing life, where species complement each others and live in harmony, giving meaning to the artist's "nostalgia"; a world as it should be, not as man's greed, evilness and loss of moral compass seems to have created lately. Which only reinforces the view that left to women, ours would be a much kinder, more beautiful and tolerant world.
Born in a Palestinian refugee camp in Jordan, Nasrallah's interest in art began as a child. His inspiration: the daily happenings and the "human condition around him, most notably the Palestinian cause".
His unmistakable style, freed "from the conventions of academia", is the "artistic expression of his emotions and instincts".
In his pared-down oils on canvas, with minimalistic brush strokes, this talented artist creates a rich universe of expansive landscapes that now, for this exhibition, he populates with the calm and gracious presence of the woman.
Of undefined age — as eternal Eve is — but representative of different social strata, Nasrallah's woman is at ease, contemplative, a universe in herself; a poised presence that generously accepts to give of her presence to the sparse and quite inconsequential life around herself.
Whether peering at a flower, the moon, a white horse — with all its symbolism conveyed by writer Ibrahim Nasrallah, who compares the beauty of a white horse to "a full moon that never sets" — to trees, fish or the square, bulkier figure of a man — the only sample of the other sex that is purposefully left without facial features, and thus without a distinct identity — Nasrallah's women are composed, wistful, elegant and vaguely dreamy. They are masters of the universe, theirs and that around them, givers and keepers of life, basking in an all-enveloping light that could emanate from the moon (or the white horses), but also from the beauty of their souls.
Sensible, as only women can be, Nasrallah's characters do not let the viewer in, in their inner sanctum. One does not know whether they are happy or sad, nostalgic or intensely living in the moment. They personify composure and reason, pillars of strength that can console, uplift and make the world right.
His women wear beautifully coloured dresses or embroidered thobes under which their feminine shape can barely be guessed, their hair billows freely or is delicately held back by neat headdresses.
Nasrallah's colours run a wide gamut, from the primary to the difficult to define; his is a colourful world in which creatures coexist serenely, draw inspiration from and complement each other, enriching each other's lives.
Depth is rendered by the layering of images and by the subtle light bathing each canvas. The masterful play of light and shade creates volumes and defines even more sharply the shapes that are clearly delineated by the artist's steady and masterful lines.
The few renditions of inanimate life, like the white horses, hint at daily preoccupations in life, and are a material counterpart to women's spirituality.
Or, as the artist says, they are "symbols that speak to us, and feel both joy and pain just as a human being does". They "also depict the very best of our lives, one of beauty, love, reality and dreams".
It is, indeed, a dreamy world the one Nasrallah portrays, one that, overall, elicits hope, evokes beauty and, most needed, particularly in these times, uplifts.
The exhibition runs until April 30.
Newsletter
Get top stories and blog posts emailed to you each day.