You are here
Rally-inspired off-road sports cars: Ariel Nomad, Morgan Plus Four CX-T and Porsche 911 Dakar
By Ghaith Madadha - May 29,2023 - Last updated at May 29,2023
Combining lightweight agility and driver involvement with fast driven unpaved terrain, the off-road sports car harks back to a bygone age when manufacturers entered their most athletic and desirable models onto gruelling rally stages, such cars are, however, now a tiny niche indulged by few manufacturers. From rally stage greats including the Ranault Alpine A110 and "Safari" Porsche 911s to the specially developed Lancia Stratos, raised and beefed versions of low slung sports cars were the norm, and rear-drive dominated on the rally circuit, with the last such great holding out against the Audi Quattro four-wheel-drive rally revolution being the Lancia 037.
Ariel Nomad
An off-road sister to the superlative supercar-humbling ultra-lightweight Ariel Atom sports car, the Nomad launched in 2015 and shares the same basic exposed and rigid tubular steel space frame construction and mid-rear transverse engine layout. A more rugged interpretation, the Nomad features full rollover safety cage and chunky high sidewall 235/75R15 tires to soak up punishment and provide traction. It meanwhile sits significantly higher, with generous 330mm ground clearance and extreme 71° approach and 82°departure angles to traverse off-road obstacles.
Equipped with minimal bodywork and tough plastic mudguards, the Nomad's light aluminium double wishbone suspension features adjustable outboard Bilstein dampers and twin Eibach springs each side. Its longer suspension travel meanwhile both allows for driving fast in off-road conditions, and enhances on-road comfort. Reminiscent of a dune buggy in appearance, the Nomad is slightly heavier and slower than the Atom, but is nevertheless a highly agile and nimble machine with quick 1.7-turn un-assisted steering and compact 3.2 metre long dimensions.
Savagely swift and perhaps as capable on-road as it is off-road, the Nomad is powered by an eagerly high-revving Honda-sourced naturally-aspirated 2.4-litre four-cylinder engine driving the rear wheels through a 6-speed manual gearbox, and delivering precise and progressive throttle control. Developing 235BHP at 7,200rpm and 221lb/ft at 4,300rpm, the featherweight 670kg Nomad pounces through 0-100km/h in just 3.4-seconds and onto a 201km/h maximum. The Nomad also features four-point harnesses and optional spot lamps and a zip-up roof and doors.
Specifications
Engine: 2.4-litre, mid-mounted transverse 4-cylinders
Gearbox: 6-speed manual, rear-wheel-drive
Power, BHP (PS) [kW]: 235 (238) [175] @7,200rpm
Torque, lb/ft (Nm): 221 (300) @4,300rpm
0-100km/h: 3.4-seconds
Top speed: 201km/h
Length: 3,215mm
Width: 1,850mm
Height: 1,425mm
Wheelbase: 2,348mm
Ground clearance: 330mm
Weight: 670kg
Approach/departure angles: 71°/82°
Suspension: Double wishbones
Tyres: 235/75R15
Morgan Plus Four CX-T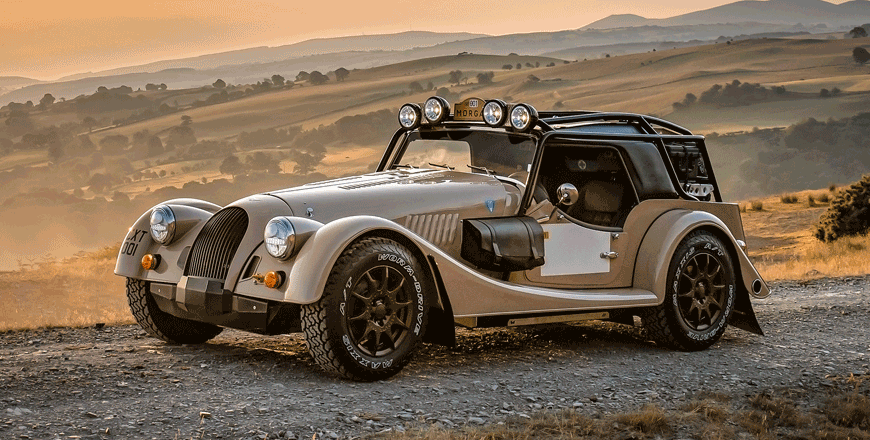 Produced in just eight examples in 2021, the magnificently madcap Morgan Plus Four CX-T is a showcase for Morgan's potential and a reflection of the British sports car maker's past. Inspired by Morgan's historic adventure and durability trial vehicles, the CX-T's design is ruggedly purposeful, but decidedly retro. Developed in collaboration with Rally Raid UK, the CX-T is a rally-like overland off-road vehicle based on the standard new CX-generation Plus Four sports car's thoroughly modern and stiff bonded aluminium frame.
Gaining SUV-like 230mm ground clearance, wider stance, chunky off-road tyres, underbody protection, a rigid exposed external roll cage for safety, and a redesigned rear-side port exhaust for an improved departure angle, the CX-T's sturdier components, two externally-mounted spare tires and tool and storage containers lightly increase its weight over the 1,013kg standard Plus Four. It meanwhile incorporates modified Morgan Plus Six suspension wishbones with EXE-TC coil-overs and bump stops for deeper compression and improved traction, stability, compliance and durability.
Driving its rear wheels through either 6-speed manual or 8-speed automatic gearbox options, the CX-T meanwhile shares the Plus Four's BMW-sourced 2-litre twin-scroll turbo four-cylinder engine. Producing 254BHP at 5,500rpm and 258lb/ft at 1,000-5,000rpm, it is expected to match or slightly lag behind the standard version's 5.2-second 0-100km/h acceleration and 240km/h maximum. Low revving with a broad and versatile torque sweet spot, the CX-T meanwhile also uses a BMW-sourced lockable limited slip differential for enhanced off-road traction and agility.
Specifications
Engine: 2-liter, twin-scroll turbo, in-line 4-cylinders
Gearbox: 6-speed manual, rear-wheel-drive, lockable limited slip differential
Power, BHP (PS) [kW]: 254 (258) [190] @5,500rpm
Torque, lb/ft (Nm): 258 (350) @1,000-5,000rpm
0-100km/h: 5.2-seconds (estimate)
Top speed: 240km/h (estimate)
Ground clearance: 230mm
Weight: under 1,100kg (estimate)
Suspension, F/R: Double wishbones/multi-link
Tyres: 215/70R16
Porsche 911 Dakar
Inspired by the 1984 Paris-Dakar rally winning Porsche 911 racer, the latest iteration of the Stuttgart manufacturer's brand defining rear engine sports car is a higher riding off-road tuned beast based on the current 911 GTS, and is powered by the same twin-turbo flat-six 3-lire engine. Launched earlier this year and limited to just 2,500 examples, the slightly taller 911 Dakar is the German manufacturer's less extreme answer to aftermarket "Safari" style Porsche conversions from tuners like Gembala.
Somewhere between what an Outback variant is to the Subaru Legacy and a Raptor is to a Ford F150 in how heavily modified it is, the 911 Dakar's 161mm ride height and 14.2° approach, 16.2° break-over and 16.4° departure angles are certainly improvements, but do not make it an extreme off-roader. It is, however, more of a road legal rally-style sports car for dirt roads, snow, sand and dusty flats, and features 245/45R19 front and 295/40R20 rear off-road tyres, and optional height adjustable suspension.
Pressing down on the rear wheels to develop excellent off the line traction, the 911 Dakar's engine produces 473BHP at 6,500rpm and 420lb/ft throughout 2,300-5,000rpm and powers all four wheels through a quick automated dual-clutch gearbox. Carrying its 1.6-tonne mass through 0-100km/h 3.4-seconds and onto 240km/h, the 911 Dakar meanwhile features adaptable off-road driving modes and an off-road optimised centre differential to ensure road holding and agility over loose surfaces. Four-wheel-steering meanwhile further improves agility and stability.
Specifications
Engine: 3-litre, twin-turbo, rear-mounted, horizontally-opposed 6-cylinders
Gearbox: 8-speed automated dual-clutch, four-wheel-drive
Power, BHP (PS) [kW]: 473 (480) [353] @6,500rpm
Torque, lb/ft (Nm): 420 (570) @2,300-5,000rpm
0-100km/h: 3.4-seconds
Top speed: 240km/h
Length: 4,530mm
Width: 1,864mm
Height: 1,338mm
Wheelbase: 2,450mm
Ground clearance: 161mm
Approach/ramp/departure angles: 14.2°/16.2°/16.4°
Weight: 1,605kg
Suspension, F/R: MacPherson strut/multilink
Tyres, F/R: 245/45R19/295/40R20
Newsletter
Get top stories and blog posts emailed to you each day.