You are here
11th Souk JARA concludes
Market enabled artists, businesses from around Jordan to showcase their products
By Suzanna Goussous - Sep 10,2016 - Last updated at Sep 10,2016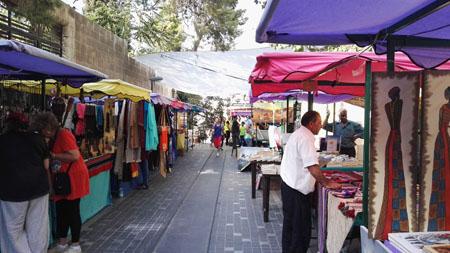 Held in Jabal Amman, 1st Circle-Rainbow Street, the annual Souk JARA features products from across the Kingdom (Photo by Bahaa Al Deen Al Nawas)
AMMAN — The 11th annual Souk JARA enabled local talents and businesses to display their products and promote their ideas to residents and visitors, according to the organisers.
The open market concluded its activities on Friday.
The Jabal Amman Residents Association (JARA) launched the market around 11 years ago, in cooperation with the Greater Amman Municipality, iJordan, the Arab Bank, and Zain Jordan, to introduce a flea market in the heart of the capital.
In July 2004, the souk was founded by the area's residents to offer a place for Ammanis to preserve the old and urban identity of the city, organisers said.
The market aims to give the chance for Jordanian and Arab designers and traders to showcase their products and promote their art to visitors. The products on display included pottery, embroidery, handmade accessories, soaps and candles, art pieces, woodworks and ceramics.
Khader Kawwas, vice president of JARA, said the market this year focused on highlighting local and homemade products by women from all governorates and areas in the Kingdom.
"We tried to promote crafts. We had housewives selling their crafts and homemade products from different places in Jordan," Kawwas told The Jordan Times.
He said the market received more than 6,000 visitors every Friday, including expatriates, tourists and locals.
"It is a place the family as a whole can enjoy, from all age groups. We had a street for art portraits, photography, and paintings, with an area for children," the vice president said.
A woman who was selling products at JARA said the market's environment enables Jordanians to present their art and creativity.
She was selling oriental pieces from Jordan, Syria, and Egypt that "identify people living in the region".
For her part, Manar Badawi showcased her embroidery printed on accessories, such as necklaces, bracelets, bags and key chains.
Badawi said she has been in the craft for four years, and participated at JARA for three years, adding that many visitors took an interest in her work and asked about the method she uses.
Ahmad Jundi, who sells handmade wire-trees at the market, said he started selling his products this year at JARA.
The trees are made of galvanised copper wires for decoration purposes, he said, adding that many visitors have ordered customised trees to hang their accessories on them.
Another participant from Jerash was selling homemade food products from her hometown.
She said the market opened doors for business orders and collaborations, empowering several women from the governorates.
"I realised I had a passion for making food. I started selling homemade food to my relatives and neighbours in Jerash, then a friend of mine suggested I sell my products at JARA. It has been a good experience for me," she told The Jordan Times.
Nimit Vipulum, a visitor from Thailand, said the traditional products on display at the market piqued his interest.
"The location is good; it allows tourists to visit old places in Amman and see the traditional items sold at the market," he told The Jordan Times.
Ahmad Jibreel, Jordanian visitor, said the souk is an opportunity for artists and talented young people to gather and share ideas and thoughts.
"We meet here almost every Friday to brainstorm and share stories. The market is located in one of the most important spots in Amman, which gives it more significance," he added.
Organisers said the market received visitors from all parts of the Kingdom, expatriates, Lebanon and Gulf countries, in addition to other groups from Europe and America.
Related Articles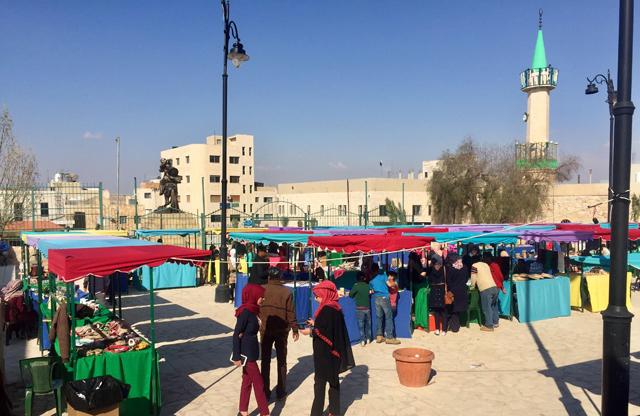 Mar 25,2017
KARAK — The Jabal Amman Residents Association (JARA) on Friday organised the "Karak Souk", in cooperation with the Ministry of Tourism and i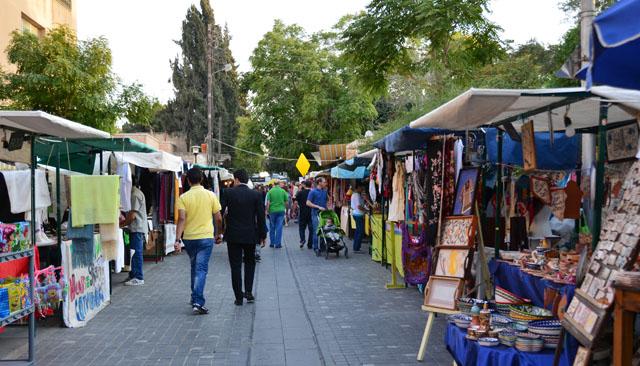 May 11,2015
The annual Souk JARA opens this Friday, featuring vendors from all governorates for the first time, Jabal Amman Residents Association Vice President Khader Qawwas said Monday.
Jun 09,2016
AMMAN — Souk JARA will open from 8pm to 2am every Friday during Ramadan, the Jabal Amman Residents Association (JARA) said in a statement on
Newsletter
Get top stories and blog posts emailed to you each day.