You are here
18th Lower House needs qualified women, voters and activists say
By Rana Husseini - Sep 20,2016 - Last updated at Sep 21,2016
A woman casts her ballot at a polling station in Amman on Tuesday (Photo by Hassan Tamimi)
AMMAN — Voters and activists in Amman on Tuesday stressed the importance of electing qualified women to the Lower House, noting that female MPs have proven their capabilities under the Dome over many years.
"Women's performance over the years has been more than convincing because they are effective, efficient and transparent. They have used their time to fight for national issues rather than being service deputies or making gains from the post they are in," said Bassim Hajarat, a businessman.
"We want more powerful women in the upcoming Parliament," he added.
Hajarat told The Jordan Times that women had proven themselves to be honest and hard workers, "unlike some of the male deputies who forget their pledges and the people who voted for them the minute they reach the Lower House".
He stressed that if he were ever to run for elections, his list would include "only strong and influential women".
For street vendor Um Maher, running for election is a dream she plans to accomplish four years from now.
"Women's presence is surely important in Parliament, but I will not be able to vote for a woman because there are no women on the list I want to vote for in my district," the 39-year-old told The Jordan Times.
"I plan to run in the next parliamentary elections" for that reason, said Um Maher, who sells vegetables in Sweifieh, a busy neighbourhood of Amman.
The government introduced a six-seat quota for women in 2003. Before that, only two women had managed to clinch seats in parliamentary elections since 1989.
The quota was increased to 12 seats a few years later and has now reached 15 seats. In the last parliamentary elections, three women won seats outside the quota, bringing the number of female MPs to 18.
Activists have complained over the years of many factors that have hindered women from running in elections and publicising their campaigns.
These include past election laws such as the one-person, one-vote system, financial constraints, and tribes or families who are still not convinced that women belong in Parliament, and who believe that a woman's place is at home and in the kitchen.
Retired pharmacist Abu Mustafa stressed the importance of women's presence in the Lower House, insisting that "they do make a difference".
"Of course I believe that women belong in Parliament," he told The Jordan Times.
Abu Mustafa added that women were becoming more educated and "showed strong performances in previous parliaments, proving that they can make a difference", said Abu Mustafa, who has two sons and four daughters.
Mervat Hattar said women played an effective role in society and had provided strong agendas calling for citizen's rights and equality.
"I will surely vote for a list that includes a woman, I believe she will make a difference in Parliament," Hattar told The Jordan Times as she walked to Bint Udawi School hall to cast her ballot.
Tribal leader Mohammad Qaisi, who owns a farm, voiced his strong conviction in women's political role.
"I consider women a strong pillar in our society. She is like a school that spreads knowledge and strength. Therefore, she deserves to be in Parliament," Qaisi told The Jordan Times.
Women's rights activists are predicting that three or more women will win seats outside the quota and some suggested that one-third of the female MPs in the next Parliament will be from the lists fielded by the Islamic Action Front (IAF), the political wing of the banned Muslim Brotherhood.
"I believe that a minimum of five or six women from the IAF will clinch seats in Parliament, especially in Amman, Zarqa and Jerash," executive director at the Sisterhood Is Global Institute and former minister Asma Khader told reporters at the election's media headquarters at the Royal Cultural Centre.
Some activists voiced their reservations over the performance of female MPs who represented the IAF in previous parliaments because they "followed their party's agenda and voted against laws that would have ensured more rights and equality for women".
But Jordan National Commission for Women (JNCW) Secretary General Salma Nims told reporters that many deputies in the past voted against women's rights and not only IAF female MPs.
"Male deputies and IAF female MPs sometimes were selective in voting down laws that were in favour of women, citing cultural rather than religious reasons, even though some amended laws that were presented by the government were in accordance with Sharia [Islamic law]," Nims stressed.
She added that the women's movement in Jordan strives "to have the best women reach the Lower House of Parliament".
"We don't want women to win just because they are women. We want qualified MPs who have a strong working plan that calls for social justice and equality and who adopt our list of demands," Nims said.
In Tuesday's election, 1,252 candidates are running, including 920 Muslim males, 245 Muslim females, 58 Christian males, five Christian females, 22 Circassian and Chechen males and two Circassian and Chechen females, according to official figures.
Women's rights activists have repeatedly criticised the Elections Law, saying it was difficult to understand and limits governorates with high populations to one female candidate.
Women's rights groups launched several campaigns before the law was passed, asking the government and Parliament to increase the number of seats for women in governorates with multiple districts — Amman, Zarqa and Irbid — but their calls were not considered by the government or the legislative body.
Malek A., a supermarket owner, said he does not believe in women's role in Parliament, or in the legislative body's performance in general.
"I don't believe that I will vote, because deputies in general have proven useless, and female MPs have not had any strong political or economic presence in the Lower House," Malek told The Jordan Times.
"In short, the MPs did not accomplish anything tangible and I prefer to stay and take care of my business than waste my time by going to vote," he told The Jordan Times.
Related Articles
Sep 20,2016
AMMAN — Women's rights activists are standing by their August predictions that a maximum of three women could clinch seats outside the women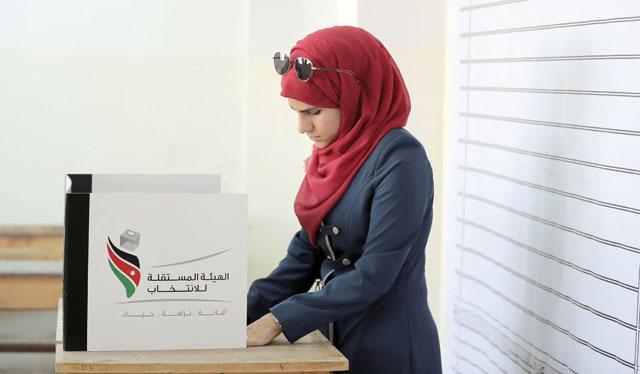 Sep 22,2016
AMMAN — Activists on Thursday expressed mixed reactions to the parliamentary election results, as five women won seats outside the 15-seat q
Aug 18,2016
AMMAN — The women's movement has expressed optimism that some female parliamentary candidates could clinch seats outside the 15-seat designa