You are here
'226 suspected drug dealers arrested'
By JT - Mar 01,2016 - Last updated at Mar 01,2016
AMMAN — Anti-Narcotics Department (AND) agents arrested 226 suspected drug dealers in the second half of February, according to a Public Security Department (PSD) statement released on Tuesday.
In 129 cases over the past two weeks, AND personnel confiscated 39kg of hashish, 21kg of synthetic cannabis (locally known as "joker"), 11,000 narcotic pills, 1kg of heroin and eight weapons, the PSD statement said.
In one of these cases, AND agents raided a house in the Northern Badia on Monday, arresting three suspects.
Upon searching the house, they found 10kg of hashish and 2,000 narcotic pills, according to the PSD. In a raid conducted on Sunday in the Southern Badia, two suspects were arrested for selling narcotics. They were found in possession of 15 palm-sized sheets of hashish and a firearm.
In Maan, some 220km south of Amman, two suspects were arrested. AND agents found 1kg of heroin, two firearms and an automatic weapon in their possession.
In Mafraq, around 80km northeast of Amman, four suspects were arrested. AND personnel seized 4,000 narcotic pills, 2kg of hashish and two firearms in the arrest, the PSD said.
Earlier this week, AND Director Brig. Gen. Anwar Tarawneh said the department's personnel arrested 14,000 drug users from different nationalities last year.
In previous remarks, he said that 1,216 people were treated at AND's rehabilitation centre for drug users last year.
Related Articles
Dec 28,2016
AMMAN — Anti-Narcotics Department (AND) personnel have dealt with dozens of drug cases across the Kingdom since the beginning of the week, a
Mar 15,2016
AMMAN — Anti-Narcotics Department (AND) personnel have confiscated an oven, in which 38,000 narcotic pills were hidden, and investigation is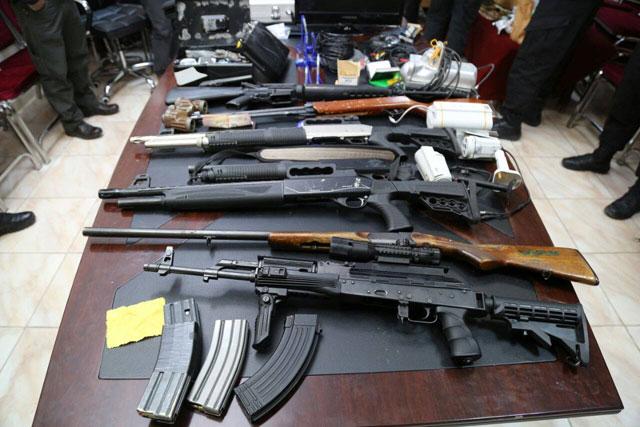 Mar 17,2016
AMMAN — A specialised security force and Anti-Narcotics Department personnel have arrested eight suspected drug dealers after an exchange of
Newsletter
Get top stories and blog posts emailed to you each day.