You are here
63,000 food parcels delivered to daily wage workers under CPF Naua campaign
By JT - May 03,2020 - Last updated at May 03,2020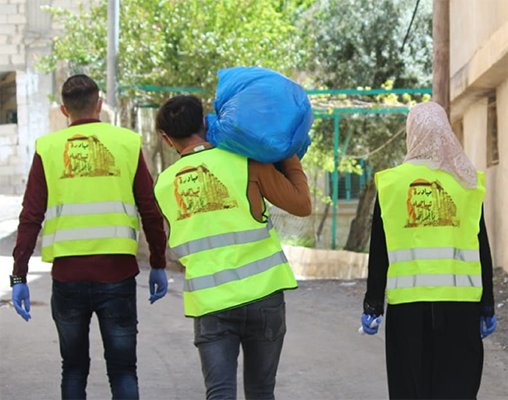 Naua initiative's 'Their daily payment is on us' campaign aims at offering assistance to cover the basic needs of daily wage workers for a period of one month (Photo courtesy of Naua Facebook page)
AMMAN — Naua, an initiative of the Crown Prince Foundation (CPF), on Sunday announced that over 63,000 food parcels have been distributed thus far to the families of daily wage workers under the "Their daily payment is on us" campaign.
The national campaign, launched in response to the challenges faced by daily wage workers amid Jordan's nation-wide curfew, aims at supporting these workers and their families through mobilising aid from individuals and private sector institutions and channelling it to families across the Kingdom.
The Naua platform, in a statement carried by the Jordan News Agency, Petra, said that distribution has covered the Kingdom's various governorates in cooperation with the Jordan Hashemite Charity Organisation (JHCO), a number of societies, the armed forces, security bodies and the Ministry of Social Development, and in coordination with the social protection team.
Stressing that "the door is still open" and the campaign is still accepting donations, the statement announced that the total amount of collected donations has passed JD1.5 million, in addition to in-kind donations offered by 22 private institutions and more than 2,600 individuals.
Naua's CEO Ahmad Zubi noted that, in light of the increase in contributions, the campaign will be able to distribute 70,000 food packages across the Kingdom, noting that the campaign team is continuously following up with the families who received food parcels for feedback on the content of packages and the delivery process.
The "Their daily payment is on us" campaign, based on the data of daily wage workers registered with the Ministry of Social Development, aims at offering assistance to cover the basic needs of the beneficiaries for a period of one month.
All those wishing to donate towards anti-COVID-19 efforts are invited to visit "naua.org" to make a contribution via credit card. Donations are also being accepted through the "eFAWATEERCOM" application, as well as through the following banks: Bank Al Etihad, account number: 580127002915102, IBAN: JO42UBSI5800000580127002915102 and Safwa Bank, account number: 210-208131, IBAN: JO55JDIB2100002081310013000000.
The CPF Naua initiative, which was established in partnership with the private sector to raise public awareness on vital social and development issues that contribute to building a bright future, aims at maximising charitable work in the Kingdom and developing a sense of social responsibility.
The platform assesses the social impact of each donation through cooperation with institutions and follow-up on the implementation of projects to observe how associations spend the donations received, Petra added.
Newsletter
Get top stories and blog posts emailed to you each day.