You are here
80 per cent of journalists consider press freedoms 'low to medium' — report
By Mohammad Ghazal - Apr 25,2017 - Last updated at Apr 25,2017
AMMAN — Over 80 per cent of media professionals in Jordan described press freedoms in 2016 as "low, acceptable or medium", according to a report launched by the Centre for Defending Freedom of Journalists' on Monday.
The State of Media Freedoms Report 2016, which indicated that 13 per cent of media professionals believed that press freedoms in the Kingdom are high and only 5 per cent believed that they are excellent, compared to 84.6 per cent who labelled them as low, acceptable or medium.
"Around 39.4 per cent believed that media freedom witnessed a retreat, while 44.4 per cent believed that freedoms remained the same. Only 16.6 per cent expressed their satisfaction and believed that they progressed," Nidal Mansour, executive president of the centre, said at the report's launch.
According to the survey, 79.3 per cent believed that gag orders issued by the Media Commission or other parties prohibiting publication represented "prior censorship" and "harassment" against media freedom.
The gag orders and circulars banning publishing of news represent prior censorship, and reinforce self-censorship among journalists, in turn curtailing society's right to information, said Mansour.
Results indicated that 63.5 per cent of respondents considered these circulars as measures to reduce the spreading of rumours and false news, while 35 per cent disagreed. While 62.4 per cent described these circulars as measures that reduce hate speech, with 36.5 per cent disagreeing.
According to the report, 135 violations of media professionals' and media freedoms' rights were recorded in 2016.
Topping the list of violations faced by media professionals was preventing press coverage, followed by "harassment, prevention of publication and distribution, humiliating treatment, threats of inflicting harm and arbitrary detention, and restrictions on freedom".
Legislation remained of great concern, with 55.3 per cent of those surveyed believing that legislation restricts freedoms, while 11.3 per cent believed that legislation supports media freedoms, according to the survey.
An overwhelming majority of journalists, 89 per cent, have the belief that media outlets contributed to fuelling violence and exclusionary rhetoric.
Facebook took top position among media outlets in promoting hate speech, according to those surveyed, at a rate of 37.2 per cent, followed by other websites at 18.8 per cent.
Journalists' self-censorship stands at a 93.6 per cent, slightly higher than in 2015, the survey noted.
The rate of media workers who avoid criticism of the government was noticeable at 54 per cent, an increase of 14 per cent since 2011. There was also an increase in the rate of those who avoid addressing religious issues, reaching 83 per cent, an increase of about 6 per cent since 2015.
The 2016 survey, which covered 266 media professionals, revealled contradictions in journalists' positions and the need to raise their legal awareness.
Notable in the survey results was that 93.6 per cent approved of increasing penalties for those who promote hate speech in the media or through social media outlets.
According to the survey results, more than two-thirds of respondents (78.9 per cent) believed that media policies in Jordan aim to control the media, compared to 72.1 per cent in 2014.
Related Articles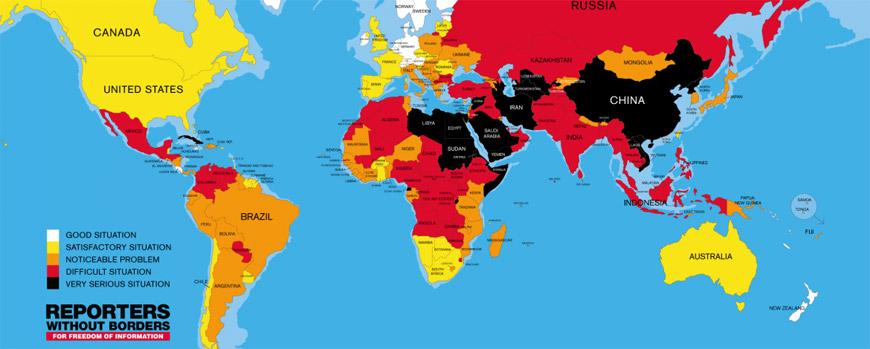 Apr 29,2017
AMMAN — Jordan's press freedom ranking dropped by three places in 2016 compared to 2015, according to the World Press Freedom IndexThe index
May 18,2015
Media freedom in the country remained unchanged in 2014 when compared to 2013 and did not witness any significant improvement, according to a report released on Monday. 
Feb 21,2017
AMMAN — A network of journalists advocating human rights was launched on Monday in a bid to defend human rights issues, including those rela
Newsletter
Get top stories and blog posts emailed to you each day.