You are here
'90% of cybercrime victims in Jordan are women'
Over 2,205 cybercrimes reported in 2015 — PSD
By Mohammad Ghazal - Oct 31,2016 - Last updated at Oct 31,2016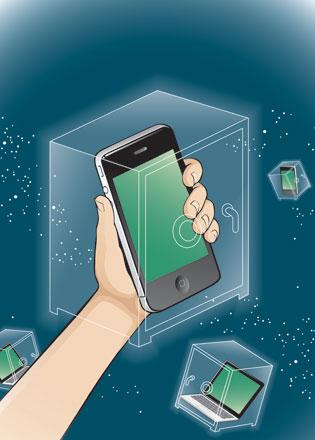 AMMAN — One phone call saved Aysha, 24, from being shot dead by her angry father who lost his temper after seeing "nude pictures" of his daughter on Facebook and other websites.
University student Aysha, not her real name, often shared photos on Facebook, never imagining that cyber criminals would photoshop them to make her appear nude and send them to her father via e-mail.
When her father saw the images, he took his daughter to a room in their house, brought a gun and was ready to shoot her.
A few months earlier, the father had participated in a training course on cybercrimes, but he never really believed such crimes happened, explained cyber security expert Raed Sammour.
"On that day, this man called me and asked me to rush to his house before he killed his daughter, so I went," Sammour said at a conference on Monday on cybercrimes and violence against women.
All the family members were waiting outside the room fearing that at any moment the father would kill his daughter.
"I entered the room. He wanted me to tell him whether the pictures were real or fake. When I saw the pictures I told the father that they were not real and that I could prove that. But he still did not believe me and was about to kill his daughter," Sammour said.
The expert said that he asked the father to sit down for a few minutes. He took pictures of the father, photoshopped them and then showed him fake nude pictures of himself.
"The man broke down in tears and hugged me for more than 15 minutes. He realised then that the pictures were not real," the expert added.
Aysha was one of many Jordanian women who fall victim to cybercrimes every year, according to the Criminal Investigations Department's Cybercrime Section at the Public Security Department.
More than 2,205 cybercrimes were reported and dealt with in Jordan in 2015, according to the department.
Around 90 per cent of the victims of cybercrimes in Jordan are women, and of these, around 90 per cent are minors, according to Sammour.
Participants at the event, organised by the Sisterhood Is Global Institute – Jordan (SIGI) and the Swedish Kvinna Till Kvinna Foundation, called for greater public awareness, especially among women, on how to use smartphones and computers safely.
"There is a need for more efforts by all stakeholders to raise awareness of the danger of these crimes and how to protect women from falling victim to these crimes," said Asma Khader, the president of the SIGI.
Women are subject to blackmail online and many fall victim to those who deceive them by promising to marry them and then asking for private pictures, Khader said, stressing that the need for more efforts to counter this.
ICT Minister Majd Shweikeh said more efforts to educate women are needed, especially given the swift transformation in Jordan towards the "digitisation of everything".
The rate of mobile penetration in Jordan is 150 per cent, and Internet penetration is 99 per cent, she noted.
"We have laws that protect victims and all users. People should not refrain from reporting and complaining to the concerned authorities," the minister said.
Major Raed Rawashdeh, the head of the cybercrime unit, said two-thirds of those who file complaints to the department are women.
He urged women not to be shy and to report all incidents to the department, and file complaints, stressing that secrecy is ensured.
He also stressed the key role families can play in protection against cybercrimes.
up
39 users have voted, including you.
Related Articles
Dec 26,2016
AMMAN — Hala, who lives in Amman, was reluctant and afraid when her husband, who worked in Saudi Arabia, asked her to send him some nude pic
Apr 20,2016
AMMAN — Salwa thought her fear of being raped by Syrian forces ended when she left her home in Syria's Daraa a few years ago, but her fear t
Nov 05,2016
AMMAN — The Public Security Department (PSD) has announced that it would track down all those who shared photos of the mother who was decapi
Newsletter
Get top stories and blog posts emailed to you each day.