You are here
Abdali Boulevard comes alive with Ramadan spirit activities
By Camille Dupire - Jun 05,2018 - Last updated at Jun 05,2018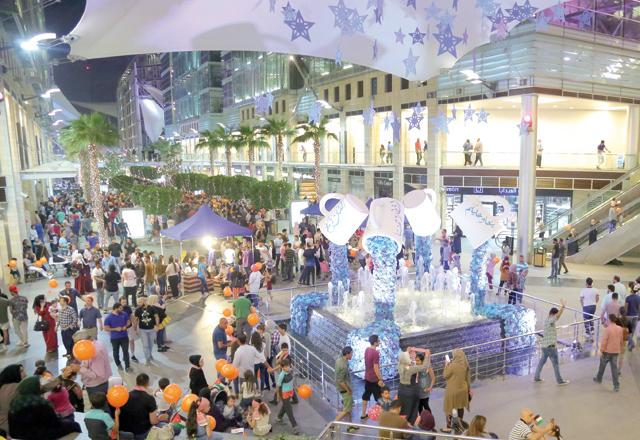 'The Arabesque Nights' is running through the end of Ramadan on June 18 at the Boulevard in Abdali (Photo courtesy of The Boulevard)
AMMAN — Taking advantage of the bustling numbers of visitors coming to enjoy their evening time after Iftar, the Abdali Boulevard is coming alive with the enchanting ambiance of "The Arabesque Nights" these days.
In line with its recurrent thematic attractions which flourish on the avenue to mark the year's seasonal occasions, "The Arabesque Nights" were set up to "reflect the warmth and beauty of the holy month by creating enchanting Ramadani vibes at the promenade", said Marketing Officer at the Boulevard Jude Al Fayez.
Launched on May 24 and running through the end of Ramadan on June 18, the event includes the EU-funded "Ramadan Souq", which showcases the local products of a group of creative women from across the Kingdom.
The market, which includes creations ranging from wooden accessories and embroidered cloths to homemade jams and pickled food, plunges the strollers into the traditional heritage of Jordan through a display of authentic products created by passionate locals.
EU Ambassador to Jordan Andrea Matteo Fontana, who toured the market a few days earlier, said: "Our support to this souq comes in line with the EU efforts to empower the local markets, women, and the national economic development.''
"By funding this market, the EU aims to support local communities and national products with a specific emphasis on women economic development," he told The Jordan Times.
"The promenade is filled with beautiful Ramadani decorations and lots of elements to explore," Al Fayez told The Jordan Times, stressing "it is more than just beautiful decorations and atmosphere, it is a way for visitors to enjoy an authentic Ramadan spirit".
"The Souq, with its authentic looking carts, reminds the passerby of the good old traditions, with a variety of other entertainment and activities organised," she continued, citing the live local bands, storytelling nd caricature activities in collaboration with Jordanian Cartoonists Association, as well as the arts and crafts and traditional Ramadani characters.
"It is so beautiful, I had never seen so many lights in my life before," said 9-year-old Basma with astonished eyes, adding "I really enjoyed walking around with the music and the people playing."
For her mother, Samira, who came to the Boulevard for the first time this Ramadan, "It is a great initiative for children and parents alike. It gives us a nice thing to do after iftar, and it is great to see some free activities being organised in Amman for once."
Newsletter
Get top stories and blog posts emailed to you each day.