You are here
The Abdali stands tall as investment, leisure destination 'at heart of Amman'
By Mays Ibrahim Mustafa - Feb 12,2023 - Last updated at Feb 12,2023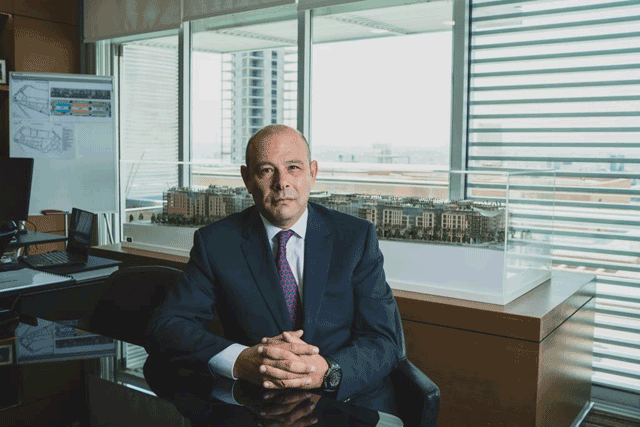 President and Chairman of the Board of Directors of The Abdali Investment and Development Amer Al Fayez
AMMAN — The Abdali, Jordan's largest mixed-use real estate development project, has established itself as a driver for business and a leisure destination.
The project's complexes bring multiple aspects of urban life into one location "at the heart of the capital Amman", President and Chairman of the Board of Directors of The Abdali Investment and Development Amer Al Fayez told The Jordan Times in a recent interview.
Extending over 384,000 square metres of land with a construction area of 1.8 million square metres, the Abdali offers high-quality medical facilities, residential complexes, commercial offices, hotels, shops and restaurants, Al Fayez added.
Abdali Investment and Development (AID) was established in 2004 as a private, joint-stock company with a value exceeding $5 billion, according to Al Fayez.
He noted that AID has two subsidiaries; The Abdali Boulevard Company, which provides a multiuse, pedestrian boulevard, and the Jordan District Energy Company, that provides cooling and heating services.
Objectives and achievements
"This mixed-use hub aims to provide businesses with everything they need within arm's reach through high-level infrastructure that includes communication networks, parking spaces, and nearby financial institutions, along with designated pedestrian areas and restaurants for times of leisure," Al Fayez said.
He also noted that The Abdali has contributed to supporting the national economy by attracting a host of foreign and domestic investments to the Kingdom, amounting to over $2.4 billion.
These include $742 million in Jordanian investments $720.5 million in Emirati investments, $540 million in Jordanian-Lebanese investments, $300 million in Kuwaiti investments, $69.3 million in Lebanese investments and $32 million in Saudi investments, Al Fayez said.
Local and international companies in The Abdali currently employ over 13,000 workers, he added, noting the group's commitment to furthering national efforts in overcoming unemployment in Jordan.
Beyond attracting businesses, The Abdali has always worked towards establishing itself as a unique cultural destination; "it blends in with national festivals and religious holidays through various entertainment activities that offer visitors a prime time with their friends and families", Al Fayez noted.
The Abdali also makes a continuous effort to meet its social responsibilities through supporting emerging businesses and local charitable initiatives, he continued.
Promising sectors
Jordan has gradually positioned itself as one the world's most attractive destinations for medical investments, according to Al Fayez.
The Abdali Hospital, operated by an "outstanding team of doctors who deliver high quality care is attracting patients from all over the world", he said, noting that the hospital has ambitious plans to further its educational, clinical and research mission.
The Abdali looks forward to attracting investments in other medical establishments, such as specialised rehab, obesity control and bariatrics centres, in its healthcare district, providing prospective businesses with much-needed infrastructural foundations, Al Fayez added.
The investment and development group also has plans to establish itself as an IT hub, he continued.
The Information Technology (IT) sector is currently the largest generator of foreign investments worldwide, and "it has great potential in Jordan due to the availability of high-level infrastructure and qualified human resources", he said.
Jordan has also laid a solid foundation for the textile industry to flourish through bilateral trade agreements with the US, Europe and Canada, Al Fayez continued.
As for the tourism sector, The Abdali plays a major role in attracting visitors who enjoy Amman's "vibrant" atmosphere, noting the group's plans to promote the establishment of a large convention centre in the capital.
Jordan's investment environment
Al Fayez pointed out that Jordan offers investors a set of advantages that primarily include monetary stability, political stability, modern infrastructure and skilled workers.
The country's new investment law is "a step in the right direction", which should be followed by a continuous review of rules and regulations, especially those related to the tax burden in order to "increase the ease of doing business and create a conducive investment environment that establishes the Kingdom as a regional hub", he said.
Government support for The Abdali
The Abdali, which is primarily a public-private partnership, enjoys a wide range of benefits, including exemptions from the general sales tax and customs duties on all goods and services that are used for the purposes of establishing projects under special conditions, in addition to the exemptions provided to the medical and hotel sectors under the investment law, according to Al Fayez.
The government also granted The Abdali the right to establish mixed-use projects within adjustable development meters and provided necessary support during the planning and construction phases, which ensured the establishment of "high-level infrastructure in terms of design, materials, effectiveness and sustainability", he said.
The pandemic
Al Fayez stressed that the COVID-19 pandemic "dealt a huge blow" to all businesses worldwide, including those within the sphere of The Abdali, as protracted lockdowns reduced footfall, forced offices to close, increased remote work and emptied hotel rooms for over a year-and-a-half.
However, The Abdali managed to survive the crisis, and established a solid base for itself by working to "restate its case as a competitive destination that enables businesses to flourish", he said.
The Abdali also helped businesses overcome the financial repercussions of the pandemic through waiving rent for tenants for a number of months, added Al Fayez.
Government support through the Sustainability Programme (Istidama) launched by the Social Security Corporation (SSC) also helped sustain businesses during that period, he continued.
In 2022, roughly 20 million people visited The Abdali, and around 6.2 million people visited The Boulevard, according to Al Fayez.
Environmental responsibility
The Abdali president stressed that environmental sustainability plays a major role in its vision; "[the group] takes its carbon footprint very seriously and we have future plans to reduce emissions through relying on alternative energy sources".
He noted the need to encourage the transformation to reliance on renewable energy sources in all sectors in Jordan by addressing legislative hindrances and providing incentives like subsidies and tax reductions.
Second phase
Work is currently underway to start the second phase of The Abdali project within the coming months. The second phase will cover an area of 134,000 square metres with a development area of 1.4 million square metres, said Al Fayez.
Other future plans involve working towards establishing a free zone and an arbitration centre for business disputes, he added.
The Abdali started as a partnership between the National Resources Investment and Development Corporation, (Mawared) and the Global Horizon Company for Development and Development Ltd., and later on expanded with the joining of United Real Estate Company - Jordan under the umbrella of Kuwait Projects Company.
Related Articles
Jul 17,2014
The Lower House Tourism Committee on Wednesday reached an agreement with the Abdali Boulevard Company to cancel the JD5 entry fee imposed on visitors of The Boulevard.
May 06,2014
Abdali Boulevard, a JD300-million-project, is scheduled to open for business on June 11, developers said Tuesday.
Jun 11,2014
His Majesty King Abdullah on Wednesday launched Abdali Boulevard, a JD300 million project, which is part of the $5 billion Abdali project, the largest mixed-use urban development scheme in Amman.