You are here
Agreement signed to boost self-employment among youths
By Merza Noghai - Aug 14,2016 - Last updated at Aug 14,2016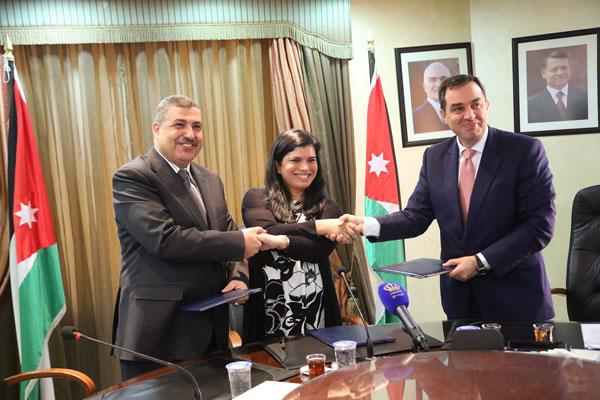 HRH Princess Sumaya with Labour Minister Ali Ghezawi and Planning and International Cooperation Minister Imad Fakhoury at a ceremony in Amman on Sunday to sign a cooperation agreement (Photo courtesy of Ministry of Planning and International Cooperation)
AMMAN — The Royal Scientific Society (RSS), the Labour Ministry's Development and Employment Fund (DEF), and the Ministry of Planning and International Cooperation on Sunday signed an agreement to work together to implement the collective self-employment programme.
HRH Princess Sumaya, RSS president, Planning and International Cooperation Minister Imad Fakhoury and Labour Minister Ali Ghezawi, in his capacity as chairman of the board of directors of the DEF, signed the agreement.
Princess Sumaya said that the deal is in line with His Majesty King Abdullah's directives in the Letter of Designation to Prime Minister Hani Mulki's Cabinet, in which His Majesty called on the government to develop citizens' economic and social status.
She added that the agreement aims to reach practical and quick solutions to create jobs for young and address poverty and unemployment.
The government has recently allocated JD25 million to DEF to be distributed as loans to young people to help them establish joint projects, especially in remote areas.
"The society, represented by the Enhanced Productivity Centres Programme (IRADA), as a specialised and neutral institution concerned with micro and small financing, will pay field visits to follow up on work progress in benefiting projects, through IRADA's 28 centres across the Kingdom," the princess noted.
Princess Sumaya said the RSS would also ensure borrowers' commitment to establishing their schemes and recruiting Jordanian workers, in addition to checking on the sustainability of projects, after one year of establishment, to provide the Planning and International Cooperation Ministry and DEF with reports on the scheme's performance.
Ghezawi said the collective self-employment programme, which was launched on July 10, has so far approved in principle 397 projects worth JD8.2 million, to benefit some 1,715 people, 30 per cent of whom are female, expressing hope that the percentage would increase.
"Around 58 per cent of the total beneficiaries hold high school certificates and their projects are mainly focused on the commercial sector," the minister added.
The collective self-employment programme allows four beneficiaries or more aged between 22 and 45, living in remote and underprivileged areas, to access loans of up to JD5,000 individually or JD30,000 collectively to create an income-generating project, at a 2 per cent interest rate.
Beneficiaries can repay the loans over 10 years, with a grace period of 12 months.
Fakhoury said the loans are available to graduates of universities, vocational training centres, industrial schools and community colleges, in addition to holders of secondary school certificates and those with professional certificates, to help them launch productive projects.
"Enhancing the role of financing institutions that fund micro-, small- and medium-sized investment projects, and improving their efficiency in using money are basic requirements to achieve success when executing policies aimed at increasing the economic participation of youths and women," he added.
The agreement highlights the complementary roles of the government and national institutions in enhancing the productivity of local communities and the economic empowerment of youths, Fakhoury said.
Related Articles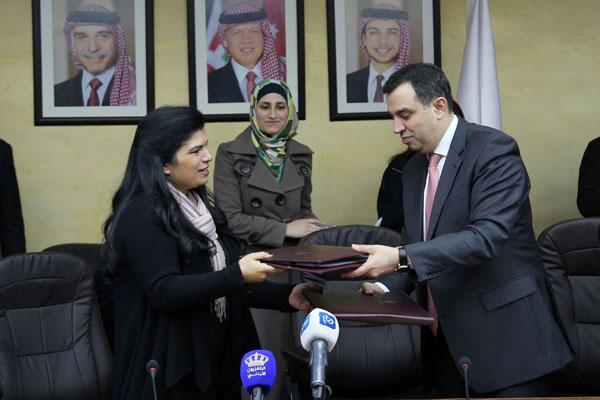 Feb 08,2016
AMMAN — In a bid to enhance productive projects in local communities, the Royal Scientific Society (RSS) will implement and manage the IRADA
Nov 20,2017
AMMAN — Planning and International Cooperation Minister Imad Fakhoury on Monday attended a ceremony honouring the advisers and distinguished
Jul 11,2015
AMMAN — The Development and Employment Fund (DEF) plans to reduce murabaha rates (an Islamic finance and investment instrument) on loans fro
Newsletter
Get top stories and blog posts emailed to you each day.