You are here
'Agricultural exports dropped again in 2016'
Sector insider says 'worse is yet to come' as farmers give up cultivating their land
By Hana Namrouqa - Jan 08,2017 - Last updated at Jan 08,2017
The Kingdom exported 686,000 tonnes of fruit and vegetables last year and generated JD400 million in agricultural exports (File photo)
AMMAN — The Kingdom's annual agricultural exports are showing no signs of recovery despite efforts to open new markets, with exports dropping 12.4 per cent last year, according to official figures.
The country exported 686,000 tonnes of fruit and vegetables last year and generated JD400 million in agricultural exports, Minister of Agriculture Khaled Hneifat said in a statement e-mailed to The Jordan Times.
In 2015, the Kingdom exported 783,000 tonnes of produce and generated JD520 million, according to official figures, which also indicated that agricultural exports during 2015 dropped by 11.3 per cent compared to 2014.
The ongoing closure of Jordan's borders with Iraq and Syria, the country's two major marketing portals, is the reason behind the persistent drop in the amount and earnings of agricultural exports, the ministry's spokesperson, Nimer Haddadin, told The Jordan Times on Sunday.
In addition to the drop in produce exports, Jordan has also registered a drop in its exports of live sheep to the Gulf Arab market in 2016, Haddadin said.
"Our exports of live sheep to the Gulf Arab market last year stood at 422,000 heads, which is a 26.4 per cent drop compared to 2015," Haddadin said, attributing the drop to a lower demand from Saudi Arabia in particular.
He underscored that the ministry is still battling to find new marketing portals for the country's fruit and vegetables.
The Karameh-Tureibil crossing on the border between Jordan and Iraq, the gateway for Jordanian produce to reach Iraqi and European markets, was closed in the summer of 2015.
Also in 2015, Jordan closed the Jaber border crossing with Syria for security reasons, while Ramtha, the other border crossing with the war-torn country, has been closed for nearly five years.
A total of 1,000 tonnes of fruit and vegetables, worth millions of Jordanian dinars, used to be exported every day to Syria and Lebanon, according to the Jordan Exporters and Producers Association for Fruit and Vegetables.
Association President Zuhair Jweihan acknowledged that the ministry is doing its maximum to seek out new markets for local fruit and vegetables, noting that it is meeting regularly with representatives of European embassies, among other countries.
Jweihan said that despite the efforts to open new portals, farmers, producers and exporters are losing European markets by the day due to the ongoing closure of borders with Syria.
The sector insider told The Jordan Times that the country produces 2.5 million tonnes of fruit and vegetables annually, underscoring that the conditions of farmers and exporters are worsening each year.
"The situation of the agriculture sector is very bad and we don't expect it to improve this year, as many farmers gave up cultivating their land due to losses," Jweihan said.
Before the start of the Syrian crisis in 2011, the Kingdom used to export over 1 million tonnes of fruit and vegetables per year, generating around JD1 billion, he said, stressing that the exports and the earnings have dropped by half during the past five years.
up
33 users have voted, including you.
Related Articles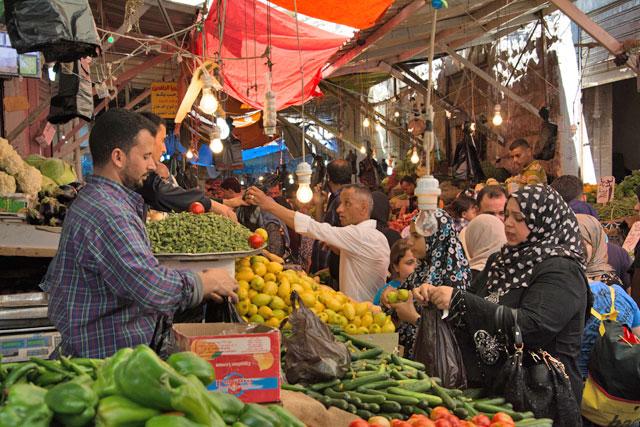 Jan 09,2017
AMMAN — Jordan's first shipment of vegetables directly to Palestine arrived in the West Bank on Monday, according to the Agriculture Ministr
May 04,2015
As Jordan's border with Syria has remained closed for over a month now, merchants and exporters of agricultural produce are waiting for a breakthrough to resume trade movement to Syria, the Kingdom's portal to East Europe and Mediterranean countries.
May 08,2016
AMMAN — Exports of the Kingdom's agricultural produce dropped by 24 per cent during the first third of this year compared to the same period
Newsletter
Get top stories and blog posts emailed to you each day.