You are here
Ambassador says Jordan, Greece have much in common
By Mohammad Ghazal - Mar 29,2016 - Last updated at Mar 29,2016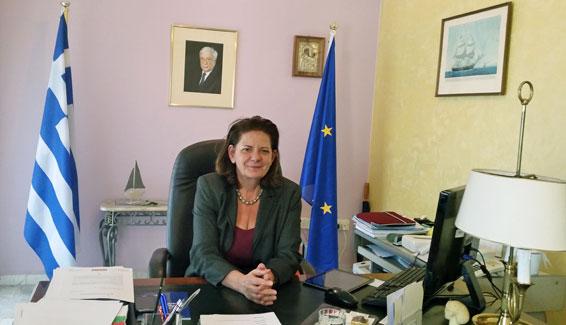 AMMAN — Greece and Jordan see eye to eye on regional issues and share common stances in pushing for peaceful solutions to regional crisis, according to Greek Ambassador Maria Louisa Marinakis, who highlighted the opportunity to increase bilateral cooperation.
Jordan and Greece, which started diplomatic ties in 1947, are two moderate countries in the southeastern Mediterranean region that have been enjoying excellent relations over the years, Marinakis said in an interview on the occasion of her country's independence day, which the embassy is celebrating on Wednesday.
Greece's independence day is marked on March 25.
"Jordan is a moderate country that promotes moderate Islam, and [it] should be supported in various areas. We are always your voice in the EU," Marinakis told The Jordan Times.
The ambassador said trade exchange between the two countries is expected to witness a substantial boost, after the EU recently agreed to simplify the rules of origin for industries in Jordan.
"Greece supported Jordan strongly in this regard and we believe this will greatly benefit your economy."
Highlighting the high level of exchanges of visits by officials between the two countries to boost ties, she said an official Greek delegation is scheduled to visit Jordan from May 9 to 10 along with representatives of various Greek companies working in renewable energy and construction to explore partnerships and potential cooperation.
Marinakis added that a trilateral meeting of the secretaries general of the foreign ministries of Greece, Cyprus and Jordan focusing on cooperation in energy, culture, trade and regional issues will be held in April in Cyprus.
Referring to the Syrian refugee crisis, which has affected several countries including Jordan and Greece, she said: "Jordan and Greece followed similar stances. In spite of the economic difficulties both countries face, they kept their borders open for the refugees fleeing the war. They dealt with them on the basis of fundamental principles of human rights."
She said more than 800,000 refugees have crossed into the EU through her country and there are some 50,000 currently in Greece.
On tourism, the ambassador said the number of Jordanians visiting Greece rose by around 27 per cent after Aegean Airlines started operating flights to Jordan in June 2014.
"The price per ticket went down to around JD300 from JD700 previously. This was good news for tourism and for business exchange between the two countries."
The Greek diplomat stressed the importance of strategic military and security cooperation, noting that more coordination at a global level is needed to combat terrorism.
Marinakis, who will be concluding her tenure in Amman soon, added: "I am actually home here. The warmth and hospitality I received is something to remember for life."
"I would like to say that there is an invisible line between [the] Temple of Hercules in Amman and Sounion in Athens, and this every time reminds me of the deep ties between the two countries," she added.
Cape Sounion is home to the ruins of an ancient Greek temple of Poseidon.
Related Articles
Nov 26,2014
Greece "recognises and appreciates the generosity and valuable contribution of Jordan" in providing shelter to refugees from Syria, Iraq and Libya fleeing violence in their countries, Greek Ambassador to Jordan Maria Louisa Marinakis said on Tuesday.
Feb 23,2014
Cultural and economic interaction between Jordan and Europe, particularly Greece, dates back over 10,000 years in history, according to a field expert.
Jul 01,2014
Reading the Agence France-Presse article  "Dozens of foreign diplomats seek asylum in Canada — media" (The Jordan Times, June 29, 2014) I was astonished by the reference to my country in a statement saying that "16 diplomats from countries such as Syria, Iraq, Greece, Honduras and even an American embassy staffer", supposedly "requested asylum in Canada, motivated by the hope of better life" or because "they are aware of rights abuses in their homeland that they can no longer support".
Newsletter
Get top stories and blog posts emailed to you each day.