You are here
Amman aspires to become 'A City that Reads'
By Merza Noghai - Apr 09,2014 - Last updated at Apr 09,2014
AMMAN –– Downtown Amman's Hashemite Square and the Roman Theatre will host a reading festival this month that aims to instil a culture of reading in the capital.
The three-day festival, titled "Our Mother Amman… A City that Reads", is scheduled to open on April 24.
Co-organised by the Greater Amman Municipality (GAM) and Uzbakiyet Amman, the festival will exhibit around 40,000 new and used books.
In addition, cultural and artistic events will be held at the nearby Roman Theatre, according to Samer Kheir, GAM's Cultural Department director.
Amman Mayor Aqel Biltaji and representatives from Uzbakiyet Amman met earlier this week to discuss arrangements for the festival, Uzbakiyeh Director General Hussein Yassein told The Jordan Times over the phone.
The festival will be open for book lovers between 9am and 9pm throughout the three days.
"Used books will be sold for between JD0.10 to JD2 after a discount of up to 70 per cent, while the maximum price of new books will be around JD7, which is 30 to 40 per cent cheaper than market prices," Yassein added.
There will be Arabic and English books covering various fields such as culture, geography and philosophy.
Yassein said the cultural and artistic events include traditional storytelling, better known as Al Hakawati, poetry recitals and street theatre.
"The festival will try to form a huge human chain of at least 1,000 people reading books, titled 'Each Carries a Book,'" he added.
Related Articles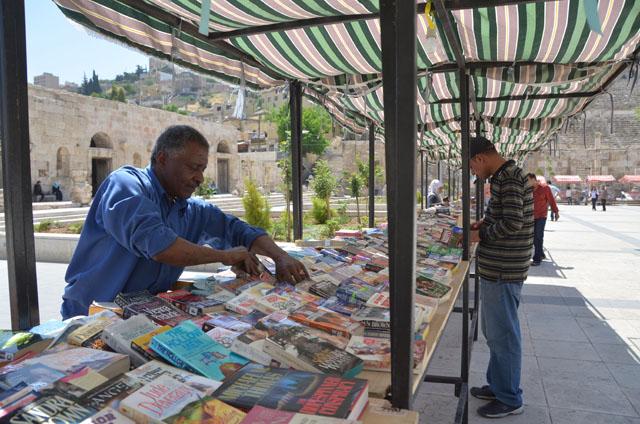 Apr 26,2014
A book festival in downtown Amman attracted a "great audience" who sought to quench their thirst for reading and were encouraged by the low prices of books, organisers said Saturday.
Jul 23,2015
AMMAN — Maen Mheidat used to attend Al Balad Music Festival activities over the past years, watching performances by his favourite local and
Jul 11,2017
AMMAN — The fifth edition of Al Balad Music Festival will take place in downtown Amman on July 26, with the participation of a number of you
Newsletter
Get top stories and blog posts emailed to you each day.