You are here
Amman book fair brings 54 publishers to Hashemite Square
By Muath Freij - Aug 18,2015 - Last updated at Aug 18,2015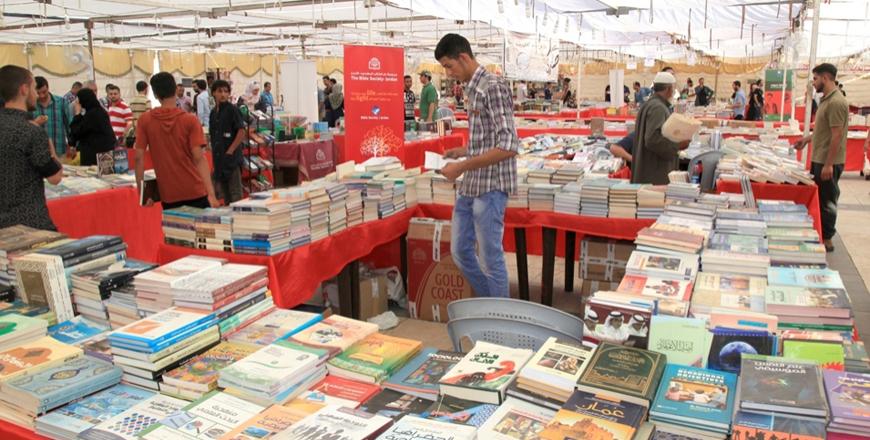 Photo by Amjad Ghsoun The Greater Amman Municipality's book fair at the Hashemite Square is open daily from 10am to 10pm until August 25 (Photo courtesy of GAM)
AMMAN — For Doaa Fitiani, the place to spend the weekend was downtown Amman's Hashemite Square, where a book fair that brings together a variety of local publishers opened on Saturday.
"This motivated me to come here, because otherwise I need to go around the capital to buy what I want. Here, I can find all my favourite books in one place," she told The Jordan Times while browsing through titles.
Fitiani was among several Jordanians who visited the Greater Amman Municipality's (GAM) book fair on its opening day.
Samer Khraino, executive culture director at GAM, noted that the municipality has recently held several book fairs.
"We want to make Amman a city that reads. During the past two years, we have held several book fairs in our facilities and they were frequented by many people. We try to provide people with books that tackle several topics at affordable prices," Khraino told The Jordan Times at the opening ceremony.
All the books that can be found in the local market are available at this book fair, which concludes August 25, he said, adding that 54 publishers are taking part in the event, displaying around 500,000 titles in a 2,000-square-metre area.
Mohammad Eid, one of the visitors, said several local authors will be signing their books at the fair.
"This is a good idea because it adds an incentive for visitors to buy these books."
Although Eid sometimes reads e-books, he still believes they cannot totally replace hardcovers and paperbacks.
"Though we can quickly get books by simply downloading them, I feel that it is more exciting to read ink on paper."
Yousef Abu Dayyah, an employee at Kunouz Al Maarfah publishing house, said some find books too expensive and choose to download their soft version from the Internet.
"At book fairs, we reduce the prices to attract more customers," he noted.
"Publishing houses should sell books at affordable prices to attract readers who may turn to the e-book version to save money," Abu Dayyah added.
Mustafa R. Hammad, publication manager at Talal Abu-Ghazaleh and Co. International, said the demand for paperbacks has dropped recently due to the availability of e-books.
"The older generation is still attached to books in their traditional form. The new generation is more comfortable reading on their mobile phones and tablet computers wherever they go," he added.
But for avid readers like Fitiani, e-books do not stand a chance against "the real thing".
"If I don't have a book in my hands and smell its ink and paper, I do not call myself a reader."
Related Articles
Jul 06,2015
AMMAN — The Ministry of Education's curricula department has concluded the development of English books for grades 6 and 12 (the academic st
Apr 20,2016
AMMAN — The Greater Amman Municipality (GAM) will open a book fair in the capital's Ras Al Ain area on Thursday with the aim of spreading th
Apr 18,2015
Zaina Qabbani, an avid reader, is used to waiting for a while before buying her favourite books since they tend to be rather expensive when they are first released.
Newsletter
Get top stories and blog posts emailed to you each day.