You are here
Amman Mayor stresses keenness to speed up implementation of SDGs at UN forum
Shawarbeh takes part in 5th edition of Local and Regional Governments Forum in New York
By JT - Jul 13,2022 - Last updated at Jul 13,2022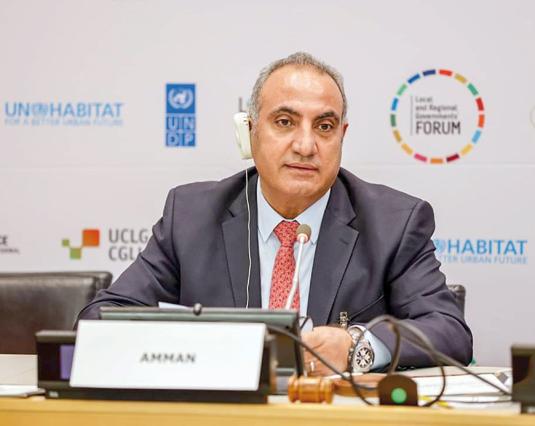 Amman Mayor Yousef Shawarbeh during the fifth edition of the Local and Regional Governments Forum-Fostering the Achievement of the Sustainable Development Goals from the Local Level towards the 2023 SDG Summit in New York on Wednesday (Photo courtesy of GAM Facebook page)
AMMAN — Amman Mayor Yousef Shawarbeh on Wednesday participated in the fifth edition of the Local and Regional Governments Forum-Fostering the Achievement of the Sustainable Development Goals from the Local Level towards the 2023 SDG Summit, the Jordan News Agency, Petra, reported.
The forum is currently being held at the UN headquarters in New York, on the occasion of the 2022 United Nations High-Level Political Forum (HLPF).
As a keynote speaker, Shawarbeh said that this edition aims to enable cities and local governments to contribute to global efforts to implement the 2030 SDGs.
He added that the city of Amman, like other cities, faces a number of urban challenges represented by increasing population growth as a direct result of migrations and arrivals of refugees.
He also referred to challenges posed by climate change as well as the economic and social impacts of the coronavirus pandemic.
Shawarbeh affirmed that the Greater Amman Municipality (GAM) has supported efforts towards implementing all goals related to sustainable development and presented comprehensive urban plans and strategies, including the Amman Resilience Strategy, Amman Climate Plan, Amman Green City Action Plan, and the Amman Smart City Roadmap.
He pointed to completing the preparation of Amman's first Voluntary Local Review (VLR), which is considered the first VLR of an Arab city to be implemented in cooperation with the UN Economic and Social Commission for West Asia (ESCWA), UN Human Settlements Programme (UN-HABITAT) and the United Cities and Local Governments Middle East and West Asia Section (UCLG-MEWA).
Shawarbeh said that the launch of Amman's first VLR coincides with the launch of the second Voluntary National Review (VNR) for Jordan under the supervision of the Ministry of Planning and International Cooperation.
The two reviews contribute to identifying urban development priorities and achieving compatibility between national and local efforts, overcoming obstacles that prevent the achievement of the sustainable development goals, and verifying the quality and validity of the data and evidence used in both documents.
He added that GAM's strategic plan for the years 2022-2026, which was launched recently, is in line with the national and sustainable development goals and Jordan's vision of economic modernisation.
The aforementioned plan is concerned with the quality of life and environment, transport, traffic and infrastructure, investment, and legislation.
Praising international organisations' support and continuous cooperation with Amman, he stressed GAM's commitment to implement the sustainable development goals.
Related Articles
Jul 17,2022
AMMAN — Amman Mayor Yousef Shawarbeh on Sunday concluded his participation in the fifth edition of the "Local and Regional Governments Forum
Oct 12,2022
AMMAN — The Greater Amman Municipality (GAM) on Thursday launched the first Voluntary Local Review (VLR) in the Arab Region for the City of
Jul 25,2023
AMMAN — The Greater Amman Municipality (GAM) on Tuesday participated in a training programme in Amman organised by United Cities and Local G