You are here
Anti-narcotics police arrest 33 suspects in raids across Kingdom
By JT - Oct 03,2016 - Last updated at Oct 03,2016
AMMAN — Anti-narcotics police have arrested 33 suspects in relation to 14 drug dealing cases over the last week, the Public Security Department (PSD) said on Monday.
Nine suspects were arrested in possession of hashish and narcotic pills during raids on several houses in Naour, south of Amman, early Monday, the PSD said in a statement.
Also south of Amman, Anti-Narcotics Department (AND) personnel raided a house and arrested five people in possession of marijuana and synthetic cannabis, known locally as "joker", as well as a firearm.
Officers conducted the raid after receiving a tip-off that the house was being used to deal drugs, the PSD said.
In central Amman, police tailed a driver suspected of dealing drugs from his vehicle and arrested him in possession of 229 bags of joker, narcotic pills and a loaded pistol.
Another suspect in the capital was arrested in possession of 100 bags of joker, according to the PSD.
In Tafileh, 180km southwest of Amman, AND agents followed up on information about drug dealing on a main road, and arrested three suspects in possession of 66 pieces of hashish, prepared for sale, as well as narcotic pills.
A suspect was arrested at his house in Madaba, 30km southwest of Amman, in possession of 1.5kg of joker, and in Zarqa, 22km northeast of the capital, a suspect was arrested in possession of 1,460 narcotic pills, a palm-sized sheet of hashish and a firearm.
All 33 suspects were referred to the prosecutor general after initial questioning, the PSD said.
Ninety-five per cent of the illicit drugs smuggled into the Kingdom are destined for neighbouring countries, according to the AND.
Since the beginning of the year, AND has dealt with over 8,656 illicit drug cases, including 7,504 for possession and dealing and 1,152 for trafficking, according to official figures released in August.
In 2015, AND handled 11,062 illicit drug cases, including 10,080 for possession and dealing, and 982 for trafficking.
Over 13,143 people have been arrested on drug charges this year, including 11,710 Jordanians.
In 2015, 15,691 people were arrested, including 13,899 Jordanians, for related charges.
Related Articles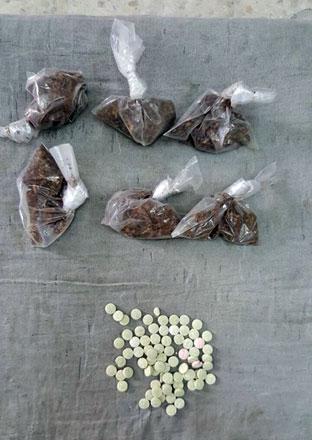 Aug 17,2016
AMMAN — Anti-Narcotics Department (AND) personnel on Wednesday arrested 15 suspected drug dealers as part of a campaign in Sahab, the Public
Apr 02,2016
AMMAN — Anti-Narcotics Department (AND) personnel arrested 122 suspects in drug dealing cases during the second half of March, a Public Secu
Apr 05,2018
AMMAN — Anti-Narcotics Department (AND) personnel have arrested 10 people in possession of large amounts of narcotics, during several raids
Newsletter
Get top stories and blog posts emailed to you each day.