You are here
Army on full alert as Daesh present in 'sensitive' border area — officer
By Mohammad Ghazal - Jan 16,2017 - Last updated at Jan 16,2017
AMMAN — Jordan is closely monitoring the movements of terrorist groups on the northern and northeastern borders to deter any threat, with some 50 per cent of the armed forces deployed to these areas, according to Colonel Majdi Harasis of the Military Intelligence Directorate of the Jordan Armed Forces-Arab Army (JAF).
He made his remarks during a discussion on preventing and combating terrorism in the MENA region and Europe, organised by Friedrich-Ebert-Stiftung in Amman on Monday.
Jordan is "effectively and actively" targeting Daesh in areas close to the Jordanian border, Harasis said, after the group re-deployed to the Syrian Badia and to areas near the Jordanian border following operations against them in Raqqa and Mosul.
The Daesh-affiliated group "Khalid Ibn Al Walid Army" is around two kilometres away from a "very sensitive area at the Jordanian-Syrian-Israeli triangle", he said.
"In this area, there is no presence of the Syrian army or its allies, and we have detected many threats from this terrorist group in the area… they are constantly trying to monitor the movements of our armed forces at the border, and we are effectively monitoring them within the range of our fire," the colonel said.
The long borders with Syria have increased the pressure on JAF, said the officer, adding that the military has two defensive lines at the border to thwart any attacks and to provide a quick response.
Speaking during the discussion, Hassan Abu Hanieh, a researcher on Islamic groups, stressed the need to focus on the ideological, sociocultural and economic aspects of the "war on terrorism".
Daesh, he said, has succeeded in attracting an estimated 35,000 Arab and foreign fighters, of whom some 5,500 are from Europe, and among those, there are around 550 women.
"Some have gone with their entire families to join Daesh… we need to focus on rehabilitation programmes, and unfortunately many of the existing programmes are ineffective," Abu Hanieh added.
"Daesh is recruiting child soldiers, many of whom conducted attacks and assassinations. This is a serious matter," he stressed.
Only focusing on the military and security aspect when dealing with Daesh and terrorist groups is like "bombing a mental hospital full of lunatics", Abu Hanieh said.
"We need serious and realistic programmes to help stop anybody from joining such groups. We need programmes which are tailored to each specific culture and situation, and not ones aimed at getting applause from the West by focusing on some minor changes to curricula, for example," he added.
Several issues were discussed on Monday, including hate speech in the Middle East and options for strengthening regional and global counterterrorism strategies.
Related Articles
Sep 06,2016
AMMAN — Border Guards on Tuesday morning prevented two people from crossing the Syrian border illegally into the Kingdom, according to a sou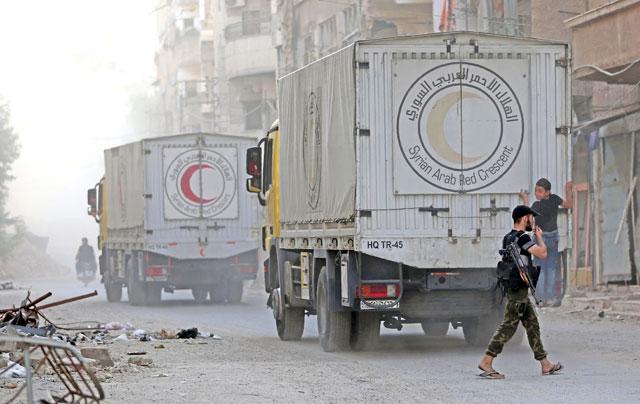 Aug 30,2016
BEIRUT — The Daesh terror group on Tuesday said its spokesman Abu Mohammad Al Adnani was killed while monitoring military operations in the
Apr 02,2016
DAMASCUS — Syrian troops have found a mass grave containing the bodies of 42 people executed by Daesh militants in Palmyra, as Washington wa
Newsletter
Get top stories and blog posts emailed to you each day.