You are here
Army spokesperson urges public to abide by instructions as security, JAF personnel work to protect Jordan
Authorities addressed 880 curfew violations over 24-hour period
By JT - Mar 23,2020 - Last updated at Mar 23,2020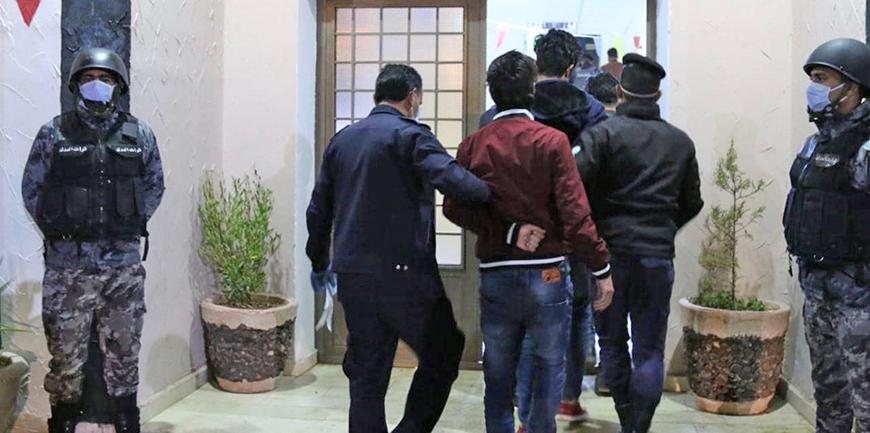 Authorities in Jordan dealt with 880 curfew violations over a 24-hour period on Sunday and Monday, according to the Jordan Armed Forces-Arab Army's spokesperson (Petra photo)
AMMAN — Army Spokesperson Brig. Gen. Mukhles Mufleh on Monday affirmed that the curfew will continue without disrupting basic everyday life.
He also assured that the novel coronavirus operations management room is continuing to receive calls from citizens and respond to each one through close coordination with all concerned authorities.
During a press briefing at the National Centre for Security and Crisis Management, the army official said that authorities have dealt with 880 curfew violations over the past 24 hours, implementing procedures in accordance with the issued instructions.
Sterilisation teams with the Royal Engineering Corps continue to perform their tasks comprehensively and upon request, he noted.
Mufleh also said that the Civil Defence Department has dealt with 6,000 health cases and sterilised three buildings.
The Jordan Armed Forces-Arab Army (JAF) has published various video, audio and written awareness materials on social media to communicate the importance of abiding by curfew instructions to the public.
Mufleh stressed that citizens must abide by curfew instructions in order for Jordan to overcome the containment stage of the virus and arrive at a "reassuring situation".
The army official pointed out that some people are still unaware of the magnitude of the surrounding risks, and insist on violating the curfew.
It is now up to the public to follow orders and instructions, he said, stressing that those who violate government measures will find that those responsible for enforcing them are able to stop them for their safety as well as the safety of others.
Mufleh said that the Jordan Armed Forces-Arab Army and security entities will perform their sacred role to protect everyone from reckless violators, calling on the public to respect their responsibilities and efforts as authorities respect their requests.
He expressed appreciation to citizens for seeking information from official sources and avoiding rumours and old videos that offend security apparatuses.
He also thanked the Greater Amman Municipality, security entities and all government institutions for their "great efforts" and the services they provide to the public.
He asserted that personnel of the army and security bodies "belong to the Jordanian people", calling on Jordanians to implement instructions to avoid penalties.
Newsletter
Get top stories and blog posts emailed to you each day.