You are here
Arsenal star launches new coaching programme in Zaatari camp
By Camille Dupire - Sep 15,2018 - Last updated at Sep 15,2018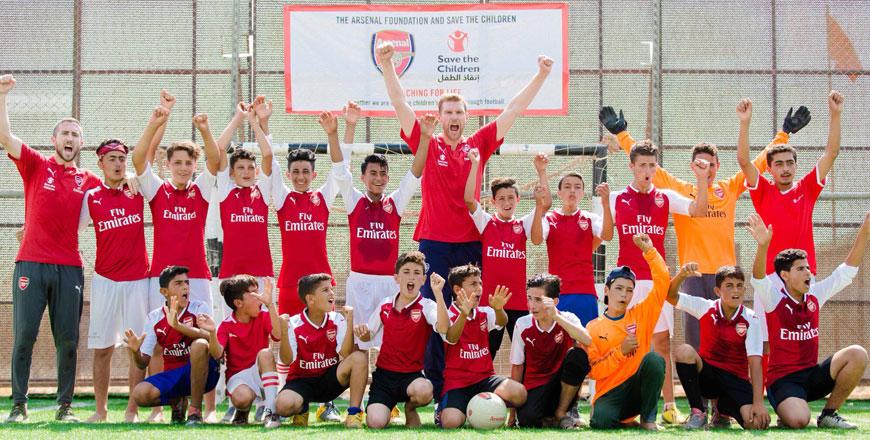 Former Arsenal captain Per Mertesacker launches the 'Coaching for Life' programme in Zaatari camp recently (Photo courtesy of Save the Children)
AMMAN — Football enthusiasts at Zaatari refugee camp have been given a one in a lifetime opportunity, as they received former Arsenal captain and new Arsenal Academy Manager Per Mertesacker during a media visit aimed at launching a new coaching programme inside the camp.
Co-developed by the British club Arsenal and Save the Children (STC), and funded by The Arsenal Foundation, the "Coaching for Life" programme aims to build vulnerable children's courage and inner strength through football, a statement by STC e-mailed to The Jordan Times said.
"When children suffer — we all lose… Save the Children and Arsenal understand the power of children and the power of football. Children are our future and we need to stand side by side with them," Mertesacker said during his visit, adding: "The young people I met focus on what is happening now and this project will give them courage to cope with the struggles they face day to day, as well as providing them with the skills to have a better future."
Combining the world famous football club's 33 years of experience in the community's sports for development with the NGO's global expertise in child protection, the programme aims to reach 4,500 girls and boys over three years, through seven coaching modules that will run over 20 week cycles.
Initially piloted in Jordan and Indonesia, the "Coaching for Life" programme will focus on emotions, communication, decision-making, self-esteem and conflict management, a STC statement said, adding "through football, the children will not only develop the skills, but also learn about their rights as children and the importance of gender equality".
"Children living in Zaatari have experienced things that no child should ever have to. This innovative programme is helping us reach the most vulnerable children in the camp, particularly those at risk of child labour and early marriage," said STC Jordan's CEO Rania Malki during the visit, voicing her appreciation for the partnership that will contribute to "empowering and protecting girls and boys through the sport they love".
"Children will be encouraged to visualise their dreams and hopes for the future and identify ways to achieve them. The programme will also explore how girls and boys can make their community a better place," she continued, stressing: "The goal is clear, together Arsenal and Save the Children will give these children back their childhoods and coach them towards a better future."
For Mohammad, 15, who fled Syria when he was nine years old and has been living in the camp for six years, this programme is a life changing opportunity.
He said: "I love playing football, I forget everything when I'm on the pitch. Meeting Per has been a dream. Football teaches me respect and I'm excited to learn more skills from the coaches."
Included in the programme will be a train the trainer model, whereby Where Arsenal football coaches — both males and females- will teach the coaching modules to local trainers in Jordan.
They will then stay for two months in the Kingdom, to ensure the programme is as effective as possible and tailored to meet the needs of the children in each community, the STC statement said.
Established in 2011, The Arsenal Foundation develops partnership with various organisations with the aim of bringing football to children in war-torn and poverty-stricken areas of the world, according to its website, which noted that in seven years, the foundation has built football pitches in Iraq, Somalia, Indonesia, in addition to Jordan, benefiting 35,000 vulnerable children.
Newsletter
Get top stories and blog posts emailed to you each day.