You are here
'Authorities to coordinate food inspection campaign during Ramadan, summer'
By Dana Al Emam - May 30,2015 - Last updated at May 30,2015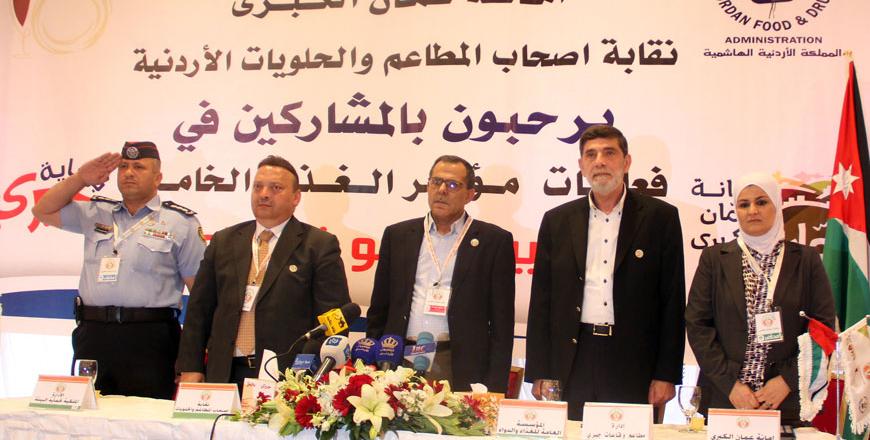 Officials attend the opening of the Fifth Food Conference on Saturday (Photo by Osama Aqarbeh)
AMMAN — Authorities plan to further coordinate their inspection visits to restaurants and food outlets during Ramadan and the summer season this year to prevent health violations, an official said Saturday.
The Greater Amman Municipality (GAM) and the Jordan Food and Drug Administration (JFDA) will work according to a joint inspection plan that targets bakeries, malls and restaurants during the hot season, which is expected to witness a large influx of visitors, said Mervat Mheirat, director of GAM's health supervision department.
Ramadan, the ninth month of the Islamic lunar calendar, when Muslims abstain from food and drink from dawn to sunset, is scheduled to start in mid-June. Food and beverage consumption traditionally rises considerably during the fasting month.
Speaking at the Fifth Food Conference, Mheirat said a "genuine" partnership between the food and beverage sector and the concerned official departments is essential to curb violations of incorrect storage practices as well as cases of spoiled food.
"We call on owners of restaurants and sweets shops to check the quality of the ingredients used for preparing food, especially water, and to store food and juice in refrigerators away from the sun," Mheirat added.
In a recent test on 237 samples of water used in the food making process by restaurants in the capital, 16 per cent of the samples failed the test, according to the GAM official, who called on restaurant owners to pay more attention to the cleanliness of their water sources.
Furthermore, proper waste management decreases the chances for insects to enter shops by 70 per cent, she noted.
Also speaking at the conference, JFDA Director Hayel Obeidat said much remains to be done in the field of food safety, and the new "single-reference" approach seeks to boost partnership with all private sector stakeholders.
He added that a single joint entity will be responsible for carrying out inspection campaigns on restaurants and eateries to avoid duplication of efforts and complications in procedures.
Mohammad Khreisha, director of the JFDA's food directorate, said the administration has maintained food violation percentages within the average despite increases in imported food items last year to "unprecedented" amounts, reaching 4.5 tonnes.
"We maintained a 0.05 per cent violation ratio similar to previous years with less amounts of food items," he said, adding that the quality of food exports to Europe and the US has increased as a result of following stricter standards.
Raed Hamadah, president of the Jordan Association for Restaurants and Sweets Shops Owners, described the food services sector in Jordan as the country's "oil".
"Every citizen goes to a restaurant once a day on average," he noted, adding that enhancing private-public partnership in the sector will further improve the quality of Jordanian food products available at local and foreign markets.
Related Articles
Jul 16,2014
The Jordan Food and Drug Administration (JFDA) said on Wednesday that there has been a drop in the number of restaurants that violated food safety regulations this Ramadan compared to last year.
Jun 07,2015
AMMAN — The Greater Amman Municipality (GAM) is gearing up for the approach of the fasting month of Ramadan, with a plan to further monitor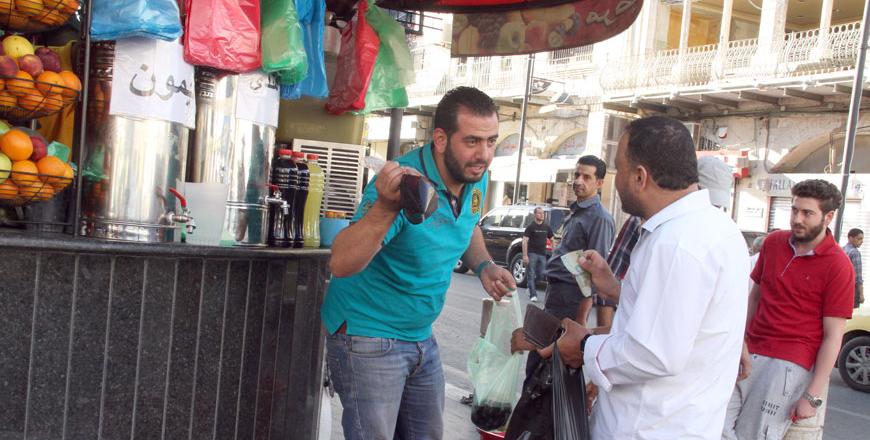 Jun 25,2015
AMMAN — The Greater Amman Municipality (GAM) on Thursday said field inspections during the first week of Ramadan resulted in the closure of
Newsletter
Get top stories and blog posts emailed to you each day.