You are here
Authorities to launch archaeological excavations near Petra's Treasury
By JT - May 10,2020 - Last updated at May 10,2020
The rose-red city of Petra will witness archaeological excavations to unearth the front courtyard of the Treasury, Petra's iconic façade, the Petra Development and Tourism Region Authority announced on Sunday (Photo courtesy of PDTRA)
AMMAN — The rose-red city of Petra will witness archaeological excavations to unearth the front courtyard of the Treasury, Petra's iconic façade.
The Petra Development and Tourism Region Authority (PDTRA) on Sunday announced the launch of archaeological excavations, which will be funded by the authority in cooperation with the Department of Antiquities, PDTRA's Chief Commissioner Suleiman Farajat said in a PDTRA statement.
An academic archaeological team from Hussein Bin Talal University will also take part in the project, Farajat said.
The excavation will contribute in uncovering the architectural elements of the lower part of the Treasury, as well as complete the archaeological work of 2003 that uncovered some of the tombs and facades below the Treasury, he said, adding that excavation is expected to stretch from the Treasury yard to the end of the Siq towards the Nabatean Amphitheatre.
This joint project aims at identifying the actual use of the archaeological structures near to the Treasury and uncovering the rest of the water system and channels that the ancient city relied on in the past for draining rain water, according to the statement.
It also aims to help explain the reasons for the construction of the Treasury's façade, as there are multiple theories about its history, the statement said.
Farajat added that the project will further attempt to clear flood debris accumulated during recent years, which cover part of the corridor and the area close to the Treasury.
Excavations will be accompanied by an action plan designated to rearrange the site's provided services, guidance signs and public facilities in accordance with the project's findings.
Last year, PDTRA carried out a geophysical survey of the site, which will be used to identify the excavation locations in the archaeological reserve, the statement added.
Related Articles
Apr 18,2022
AMMAN — The Petra Development and Tourism Region Authority (PDTRA) on Monday lit the Treasury, Petra's iconic façade, Petra Muse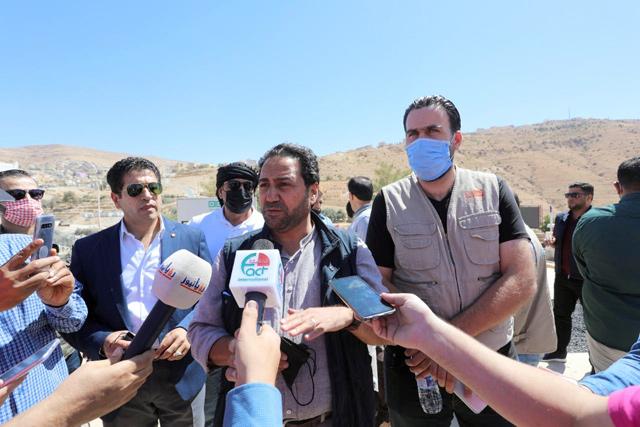 Sep 26,2021
PETRA — The epidemiological situation in Jordan is encouraging in-bound tourism to Jordan's "Golden Triangle", Chief Commissioner of Petra D
Feb 06,2022
AMMAN — Petra's ancient Treasury, the rose-red city's iconic façade, on Friday lit up in blue in solidarity with cancer patients around the