You are here
Authorities reiterate warning against sun exposure during hot weather
By JT - Aug 02,2015 - Last updated at Aug 02,2015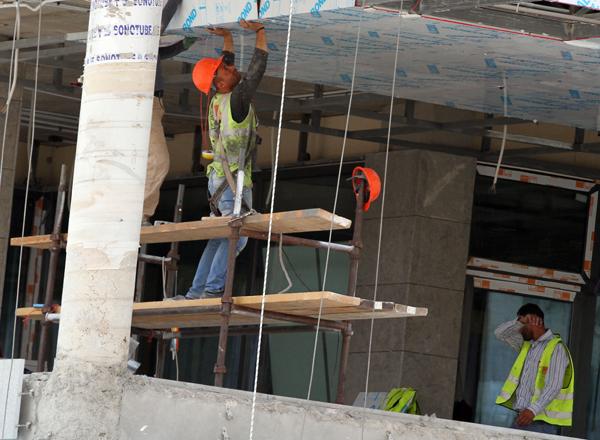 The Labour Ministry on Sunday urged those who work outdoors to avoid direct sun exposure during peak hours and to remain hydrated (Photo by Osama Agarbeh)
AMMAN — The Health Ministry on Sunday warned against the effects of the hot weather on the elderly, children and those with chronic diseases.
The ministry has launched an awareness plan and a media campaign that includes lectures and the distribution of brochures on summer diseases and how to avoid them, according to Health Ministry Spokesperson Hatem Azruie.
Azruie told the Jordan News Agency, Petra, that health directorates were instructed to circulate the brochures by distributing them at healthcare centres spread around the Kingdom to raise awareness of health risks from the rise in temperatures.
Malek Habashneh, head of the ministry's awareness directorate, stressed that heatstrokes are the most common cases during hot spells.
He said people with heart and chronic diseases or those who are not used to the climate such as tourists, old people and children, are more vulnerable during heatwaves.
Heatstroke symptoms include a body temperature of 40°C or higher, altered mental state or behaviour, alteration in sweating, nausea and vomiting, flushed skin, rapid breathing, racing heart rate and a headache, according to the Mayo Clinic.
Others are required to take immediate action to cool the overheated person while waiting for emergency treatment, get the person into shade or indoors, remove excess clothing, and cool the person with whatever means are available.
Also on Sunday, the Labour Ministry called on employers to provide a safe work environment for their employees, especially those who work directly under sunlight, according to Petra.
The ministry urged employers not to let their employees work in the sun during peak hours from 11am to 5pm, to ensure the cooling of indoor workplaces, and to provide cold water and sufficient break times.
Moreover, the ministry urged employees themselves, especially those who work outdoors, to avoid standing under the sun during peak hours, and to drink liquids to make up for what is lost from sweating.
Tourism Minister Nayef Al Fayez urged citizens and tourists to adhere to safety measures and called on the public to stick to indoor venues like museums, hotels and restaurants.
Temperatures on Sunday reached 42°C in Amman and were much higher in Aqaba and the Jordan Valley as the impact of a very hot air mass continued this week.
The very hot air mass, which is accompanied by a seasonal depression originating from the Indian subcontinent, started affecting the country on Saturday, according to the Jordan Meteorological Department.
Related Articles
Jul 31,2016
AMMAN — Authorities on Sunday urged the public to avoid direct sun exposure as meteorologists forecast that temperatures would rise to the u
Aug 01,2015
AMMAN — Temperatures on Sunday will be eight degrees above their annual average of 32°C as the impact of a very hot air mass is forecast to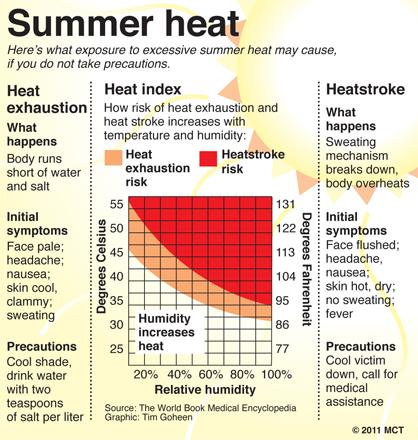 Aug 03,2015
AMMAN — Three people were treated for sunstroke in Jerash on Monday, as temperatures exceeded 40°C in several areas around the Kingdom.Jeras
Newsletter
Get top stories and blog posts emailed to you each day.