You are here
Braizat takes stock of Jordan's youth programmes, looks ahead to future growth
Minister highlights volunteer bank designed to organise, expand voluntary work in Kingdom
By Bahaa Al Deen Al Nawas - Jul 04,2020 - Last updated at Jul 04,2020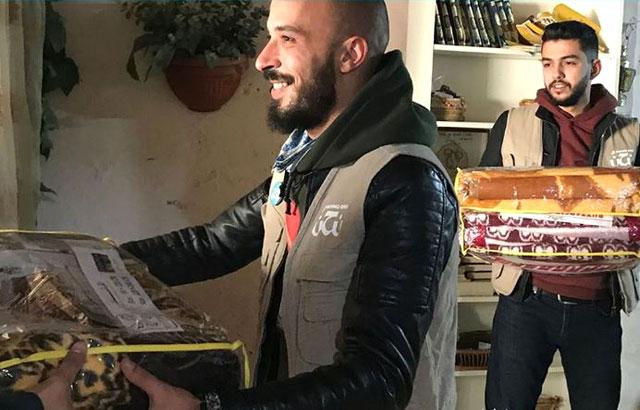 Youth volunteering with the Crown Prince Foundation's Nahno platform are pictured in this undated photo (Photo courtesy of Nahno Facebook page)
AMMAN — Prior to and during the coronavirus crisis, the Ministry of Youth has been working on numerous projects and activities to engage young people and encourage them to divert any pent-up energy into volunteering, training and growth.
"We started the Jordan Volunteering Bank to respond to the COVID-19 crisis because we discovered that we have a disorganised and loosely structured volunteering sector in Jordan," Minister of Youth Fares Braizat told The Jordan Times during an interview at the ministry's headquarters in Amman on Thursday.
The volunteering bank aims at managing and expanding individual, group and institutional volunteerism and creating an internationally relevant project, Braizat said.
The project began through the "Nahno" platform for volunteering, which the ministry created in tandem with the Crown Prince Foundation (CPF) and UNICEF, the minister said, noting that the platform has continued to operate during the crisis and now comprises around 34,000 volunteers.
Nahno "will be used as the rails for the volunteering bank to proceed and grow", he said. Work is ongoing with partners to increase the platform's capacity and create a mobile application.
"Volunteering has never been counted as part of the GDP [gross domestic product], although it is an economic activity that has always been performed in the country," Braizat said.
The ministry will work in cooperation with research partners and government institutions, including the Ministry of Finance and the Central Bank of Jordan, in order to incorporate volunteering into the GDP, which "is going to increase it", he said.
Through the volunteering bank, a booklet will be issued for each volunteer containing their credit hours, which can be used to increase their chances of recruitment with potential employers, Braizat said.
He added that the bank "will bring everyone under one official umbrella — the Youth Ministry — for the first time ever in the country".
This will require legislation to organise volunteering in Jordan, Braizat said, noting that the ministry has already developed by-laws and will later send in a draft law to be endorsed by Parliament. This process will require a year or more, he said.
The CBJ will also organise volunteer activities in the Kingdom's 51 districts through specialised teams from each district's local community, the members of which will receive training based on the needs of their areas in addition to specific training in medical fields for volunteers who can deliver services in accordance with the Health Ministry's medical standards.
Another ongoing project involves the creation of youth centres at Jordanian universities, both public and private, which have engaged around 320,000 students, Braizat said.
"We have already done this with Mutah University, we signed the agreement; and now we are also working with Al al-Bayt University and the Hashemite University," he said, noting that the ministry "is bringing more universities on board" in order to offer programmes that are not usually available through official curricula.
To further encourage volunteerism, the Youth Ministry is in the process of launching Al Hussein Bin Abdullah II Volunteering Award, which aims to recognise those who help others, Braizat said.
"We think it is important that this award is very well established. We are not in a hurry… we want to make sure that this award is here to stay," he said.
The ministry is working with the CPF and other partners, including international organisations, volunteers in the Kingdom, initiatives and institutions that "know on an intellectual level what volunteering is and how it should look", to discuss the details of the award, according to the minister.
The award will comprise four levels, and will recognise voluntary work in social innovation, entrepreneurship and innovation in sports, among other fields, he said, adding that the award and the volunteering bank "are both open for all residents of the Kingdom and are not exclusive to Jordanians".
In regards to clubs, Braizat said that the ministry is working to improve the financial sustainability of the 308 sports, social and culture clubs registered with the ministry.
These clubs depend partly on support from the ministry, but also raise their own funds from different sources, he said.
"But that is not enough," Braizat noted. "We think, in order for those clubs to perform well and serve the community in a proper manner, they will have to increase their financial resources and they will have to be sustainable."
According to the minister, there is an approach to turn clubs into public shareholding companies, allowing supporters to buy shares in them, which he said would give both supporters and members a "better image" through the incentive of protecting the club's finances.
"At Al Hussein Sports City, we have assets worth more than 1 billion JD, and those assets are underutilised, underinvested, underused and underperforming. We would like to change all of that," Braizat said. He noted that there will be a system to offer unused facilities for rent, with these fees streamlined into a fund aimed at supporting youth and sports, which in turn will support other youth centres and clubs.
The ministry also runs Youth Hostels, which the minister said have been "barely used" this year due to the pandemic. This has prompted discussions with government partners over offering the hostels for public-private-partnerships. The work on this is "well underway", he said.
One of the Youth Ministry's projects, implemented with the Ministry of Tourism, focuses on 38 festivals, of which 19 will be held this year. The Youth Ministry will provide 10 male and 10 female youth volunteers to manage each festival for seven to ten days, allowing them to gain training and experience, according to the minister.
Work is also ongoing with the Education Ministry to utilise certain schools as youth centres in the afternoons. During the morning, the unutilised youth centres will be used as nurseries and kindergartens, Braizat said.
The Youth Ministry has provided a list of centres that can be used for this purpose and is partnering with UNICEF to support some of the infrastructure in the centres, he added.
"There are seven pillars to the national youth strategy. The fourth is about economic empowerment and entrepreneurship. We started working on that and launched our first entrepreneurs' forum on February 8 of this year. We registered 511 initiatives, shortlisted to 44, and nine of them were awarded as successful companies," the minister said.
Highlighting the ministry's work to support entrepreneurship, Braizat continued: "All [companies] are doing very well in the private sector, and we continue to support and network them, matching them with funders, trainers and any people who can support them to grow."
The second forum will focus on agriculture and food security, tourism, and health — "the sectors that were most-hit during the crisis", Braizat said.
The ministry received over 300 applications and has completed the initial evaluation for the forum. It will continue to work on launching it before the end of July, either physically or online, depending on the Kingdom's epidemiological situation, he said.
The ministry will also re-launch a programme to reach out to Jordanian expats either this summer or next year, hosting them in a local forum focused on connecting them to the ministry's programmes, allowing them to volunteer in various fields.
Another ministry programme that began last year is the Youth Government and Parliament programme, a training initiative that educates young people on government and parliamentary practices. Currently, 100 youth from around the country are learning to conduct research and design policy papers to aid government decision-makers.
The ministry's projects also include Al Hussein Camps, which now teach life skills to youth online due to the pandemic, according to the minister.
The Ministry of Youth has 197 youth centres in the country and 22 sport complexes, in addition to five sports cities and 15 youth hostels and camps, all of which have programmes that in 2019 alone benefitted around 230,000 male and female young people, according to Braizat.
Newsletter
Get top stories and blog posts emailed to you each day.