You are here
Business world 'rings bell' for closing gender gap in Jordan's economy
By Rana Husseini - Mar 12,2018 - Last updated at Mar 12,2018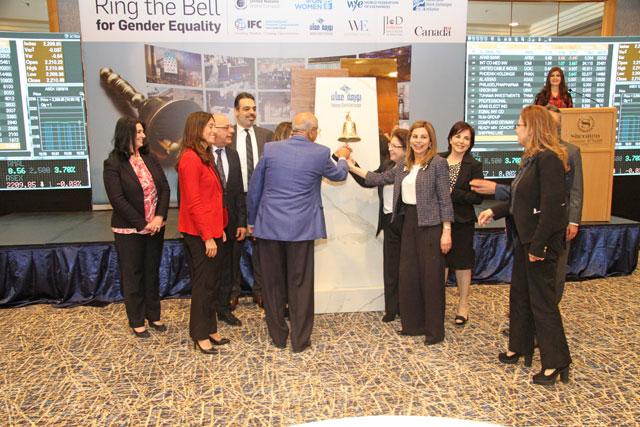 Amman Stock Exchange members and local and international partners ring the bell for gender equality in Amman on Monday (Photo courtesy of ASE)
AMMAN — The Amman Stock Exchange (ASE), along with local and international partners on Monday, joined global stock exchanges to "Ring the Bell for Gender Equality, Inclusion and Women Empowerment in Jordan".
The event, which took place at the Sheraton Hotel, celebrated International Women's Day and included business leaders, investors, economists, government officials, civil society organisations, school children and educators.
For the fourth year in a row, the Ring the Bell event aimed at raising awareness about the business case for women's economic empowerment, as well as opportunities for the private sector to advance gender equality and sustainable development.
ASE Board Director Jawad Anani told the gathering that the event will occur in 58 stock exchanges worldwide.
"It is important to ensure gender equality in the field of sustainable development in the private and public sectors," added Anani, former deputy prime minister for economic affairs.
Anani said that it is vital for "business leaders to take concrete measures to empower women at the work place and in the society".
UN Women Jordan representative Ziad Sheikh told the gathering that study after study have shown the positive impact women have on workplaces.
"Women give companies a larger talent pool to recruit from, this diversity brings creativity, creativity brings clients, clients bring profits, and profits bring prosperity," Sheikh told the gathering.
Meanwhile, International Finance Corporation (IFC) Country Manager Dalia Wahba also addressed the gathering saying that last year the World Economic Forum revealed that the global gender gap got wider.
"International reports estimate it will take 100 years to bridge the overall gap in education, healthcare, and economic participation between men and women. That is up from 83 years in the previous version of the study," Wahba told the gathering.
In Jordan, Wahba added, the situation is even "more challenging for professional women, where only 3 per cent of Jordan's firms are led by a woman. This is much lower than the global rate of 18 per cent. The share of women in Jordan's corporate boards stands at 6 per cent, while women make up about 16 per cent of the labour force".
Wahba pointed out to a recent IFC study, which demonstrated that when more women were appointed to company boards, firms reported a three times higher return on assets and twice as much return on equity.
"The benefits of having female leaders include improved financial performance and shareholder value, increased customer and employee satisfaction, rising investor confidence, and greater market knowledge and reputation," Wahba added.
A recent IFC study of 1,200 companies found that only 6 per cent of all board seats at those firms were held by women. In publicly listed companies, women held only 21 per cent of senior management positions. The IFC study also revealed that companies with female directors performed significantly better than those without, with a return on assets three times higher and a return on equity twice as high.
Meanwhile, Jordan was ranked 139th among 144 countries in the 2017 gender gap index, issued by the World Economic Forum, due to the weak economic participation of women, with unemployment among women standing at 30 per cent, the highest in 24 years.
Speaking at the first session of the event, former ICT minister and General Manager and CEO of Bank Al Etihad Nadia Saeed said it is important to ensure gender equality at the workplace.
"Our bank adopts a policy of ensuring that 50 per cent of the employed are females and we also ensure an equal pay policy," Saeed told the gathering.
Executive Chairman of the Social Security Investment Fund and former minister Suhair Al-Ali pointed out that the gender gap in the public sector in Jordan stands at 16 per cent, "while the gender gap in the labour market stands at 53 per cent".
"This is a dangerous indicator in the labour market and we need to work hard to ensure equal opportunities for women," Al-Ali told the gathering.
According to Department of Statistics (DoS) figures for 2017, the economic participation for women in Jordan stood at 17.7 per cent.
DoS figures also indicated that 51.6 per cent of women hold a university degree, and 76.1 of unemployed women hold a BA degree.
Senator Haifa Najjar, who also addressed the gathering, stressed the need to invest in "good citizens' capabilities to ensure a better society".
"We also need to empower each other as women and accept what each of us believes in even if we disagree," Najjar stressed.
The event, which was supported by the government of Canada, was organised by the ASE in cooperation with IFC, UN Women, UN Global Compact, Sustainable Stock Exchanges Initiative, World Federation of Exchanges, and Jordan Institute of Directors.
Related Articles
Oct 26,2017
AMMAN — Minister of Social Development Hala Lattouf on Wednesday said strong collaboration should be maintained between the government and c
Aug 20,2017
AMMAN — The Amman Stock Exchange (ASE) board of directors on Wednesday elected Jawad Anani as chairman of the board, according to the ASE we
Mar 28,2016
AMMAN — Women's activists on Monday met with Lower House MPs to discuss the outcome of a study on the Euro-Med Ministerial Conclusions on St
Newsletter
Get top stories and blog posts emailed to you each day.