You are here
Challenges of Mediterranean's east 'reverberate in its west' — FM
Jordan, EU chair Union for Mediterranean Regional Forum for Foreign Ministers in Barcelona
By JT - Nov 29,2021 - Last updated at Nov 29,2021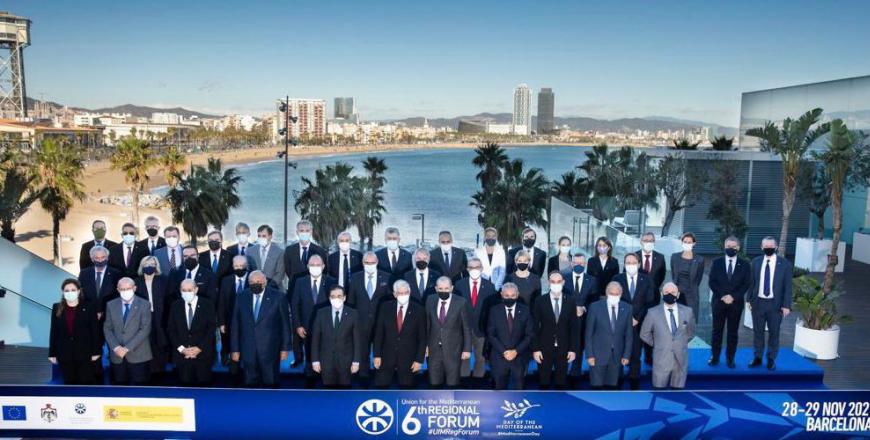 Deputy Prime Minister and Foreign Minister Ayman Safadi poses for a group photo with participants of the sixth Union for the Mediterranean Regional Forum for Foreign Ministers in Barcelona on Monday (Petra photo)
AMMAN — Deputy Prime Minister and Foreign Minister Ayman Safadi, along with EU High Representative for Foreign Affairs and Security Policy Josep Borrell, on Monday co-chaired the Union for the Mediterranean (UfM) Regional Forum for Foreign Ministers in Barcelona.
The forum was hosted by Spanish Foreign Minister José Manuel Albares, with the participation of 42 foreign ministers, EU member state representatives, EU officials and representatives of relevant regional organisations financing EU projects in the Mediterranean, according to a Foreign Ministry statement.
In his opening speech, Safadi described the forum as a platform for dialogue and cooperation, adding that since the founding of the UfM in 2008, the interconnectedness of the Mediterranean's "two shores" has been increasingly acknowledged.
He continued to elaborate by saying that challenges that afflict the Mediterranean's east reverberate in its west.
This fact was acknowledged over the past years in which conflicts and crises have exacerbated, yielding disasters and human suffering, Safadi highlighted, adding that during these years, radical solutions to achieve security, stability, justice and provide a decent life for people were absent.
The UfM is characterised by employing the interdependence of the one neighbourhood to achieve economic development, empower women and youth, protect the environment, confront climate change, and bridge development gaps previously mentioned by Borrell.
Materialising success currently requires altering the environments of conflict and despair, which still deprive the Eastern Mediterranean of stability, security and comprehensive peace needed by the region and its people, the Jordanian minister noted.
Safadi called for uniting efforts, in cooperation and coordination with partners, in order to achieve the necessary breakthroughs in resolving regional conflicts.
Achieving regional security and stability is conditioned by realising comprehensive peace, he said, underlining that occupation and peace are antonymous.
He stressed that the two-state solution is the way to peace and that undermining it threatens regional security while materialisng it paves the way for peace for Palestinians, Israelis and all the peoples of the region and constitutes a base for building an accomplished, prosperous region.
In regard to the Syrian crisis, Safadi urged to intensify efforts to end "the catastrophe", through a political solution that preserves Syria and its unity, and restores its security and regional role.
He also shed light on the declining international support for refugees, noting that the pressure on host countries is growing, including Jordan, which hosts 1.3 million Syrians.
Refugees from the Mediterranean region will not move to Europe if they have the right to live in dignity in their closest neighbourhood, Safadi said.
Refugees should not be deprived of their right to education, health services, employment opportunities, and hope, the minister said, warning of the danger posed by the decline in support for Syrian refugees.
Safadi thanked Sweden for its partnership in organising the International Ministerial Conference to support UNRWA, and all partners, for the support they provide to the agency.
He also referred to repercussions of the continuing financial crisis that limits the agency's ability to provide its services to Palestinian refugees, in accordance with its UN mandate, as more than 560,000 Palestinian students' education depends on the agency.
As for Libya, Safadi reiterated support towards the elections scheduled in December as a step towards rebuilding Libya as a stable country, in which there is no danger to its people, a threat to its neighbours, nor foreign forces, mercenaries, or terrorism.
He highlighted the importance of jointly continuing to combat terrorism. The reality of terrorism must be continuously exposed, he said, adding that it is not affiliated with common human values as well as the true values of Islam that teaches love, peace and respect for "the other".
Promoting dialogue and respect for "the other", the UfM contributes to creating hope through its projects and programmes, he said.
On Lebanon, intensive efforts aimed to protect the country and its people should be exerted to prevent it from "slipping deeper into destitution", Safadi said.
Safadi affirmed that "achieving a just peace, security, stability and achievement is a constant goal for the Hashemite Kingdom of Jordan, which has, over the years, been bearing the burdens and consequences of regional conflicts".
"Jordan will remain a force for a just peace, security and stability, consolidating a culture of dialogue and respect for others", he stressed.
The minister voiced the Kingdom's keenness to continue working jointly to "resolve the region's crises and build a future in which stability replaces conflict, hope replaces despair, and cooperation and accomplishmen take root".
On the sidelines of the forum, Safadi held bilateral meetings with his counterparts from Egypt, Lebanon, Spain, Portugal, Slovenia, Finland and Croatia, in addition to the EU High Representative for Foreign Affairs and Security Policy Josep Borrell.
During these meetings, they discussed bilateral cooperation as well as the latest, regional developments.
Newsletter
Get top stories and blog posts emailed to you each day.