You are here
Conference hears of challenges on path to women's political participation
By Maria Weldali - Jul 31,2022 - Last updated at Jul 31,2022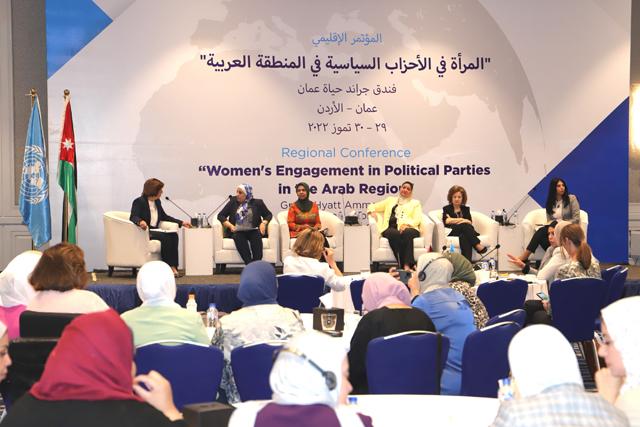 Speakers during a regional conference titled 'Women's Engagement in Political Parties in the Arab Region' in Amman (Petra photo)
AMMAN — Political violence and cyberbullying are among the key challenges confronting women, said Minister of State for Legal Affairs and Head of the Inter-Ministerial Committee for Women Empowerment Wafa Bani Mustafa on Friday, during a regional conference titled "Women's Engagement in Political Parties in the Arab Region".
Held by the Ministerial Committee for Women Empowerment in partnership with UN Women and United Nations Development Programme (UNDP) in Amman, the two-day regional conference came as part of ongoing national efforts to improve the political climate, modernise Jordan's political system and enhance women's political participation.
The conference is considered part of the government's agenda to track and follow up on the achievements of the political modernisation system, Bani Mustafa pointed out, adding that increasing women's representation in leadership and political roles is essential for bridging the gender gap.
Sharing statistics relating to women's political participation in the region and globally, Bani Mustafa revealed that 94.1 per cent of heads of state are males.
The conference also highlighted gender responsive policies and agendas, in addition to the state's role in reinforcing women's paths to political empowerment.
During his remarks on day one, UN Resident and Humanitarian Coordinator in Amman Ghulam Isaczai commended Jordan's path of legal and institutional reform, aimed at strengthening women's participation in political leadership.
"This conference is an excellent opportunity to discuss actions on how to ensure women's fair access to political participation," Isaczai indicated.
Globally, women only make 25 per cent of all national parliamentarians, and represent 21 per cent of the total number of ministers, according to Isaczai, adding that the Middle East and North Africa region is the only region where women represent less than 20 per cent of national parliamentarians.
Raising women's political voices can reduce negative perceptions about women in leadership, and can inspire other women to choose careers in public service, he added further.
Culture Minister Haifa Najjar stated that "no change can be made without true citizenship" and participatory approaches, noting that "national values cannot be isolated from educational, cultural, political and economic agendas".
Additionally, Najjar noted that when talking about genuine participation, social justice should be taken into consideration.
In his remarks during the first day, former prime minister Samir Rifai said: "Comprehensive development needs comprehensive participation."
Rifai, who also headed the Royal Committee to Modernise the Political System, pointed out that it should be acknowledged that women, in the region and globally, face "serious challenges" in their political, economic and social realities.
Further, he said that to strengthen the leadership role of women, it is necessary to support political modernisation and democratic transition.
The first session on day one discussed the importance of modernising the legislative environment to enhance Arab women's participation in party life and decision-making.
Also during the session, former MP and Secretary General of the Jordanian People's Democratic Party Abla Abu Olbeh said that women's political participation and representation will not be "serious" except through political parties, noting that "women's real presence in the political climate leads to political balance".
The event was mainly attended by ministers, senators, MPs and members of municipal councils. It also brought together representatives of embassies in Jordan, experts and women members of Coalition of Women MPs from various Arab countries.
The second session delved into the role of political parties and powers.
Related Articles
Nov 05,2022
AMMAN — In step with the Kingdom's three-dimensional path to modernisation, the National Conference on Women's Paths in the Modernisation Vi
Mar 11,2023
AMMAN — Jordan is among the countries keeping up to date with the most recent best practices regarding women's empowerment, Minister of Soci
Sep 26,2023
AMMAN — The Global Gender Gap Report for 2023 highlighted a significant gender gap in the MENA region compared to other parts of the world,