You are here
Coronavirus pandemic takes heavy toll on jobs, businesses — study
By Bahaa Al Deen Al Nawas - Jun 01,2020 - Last updated at Jun 01,2020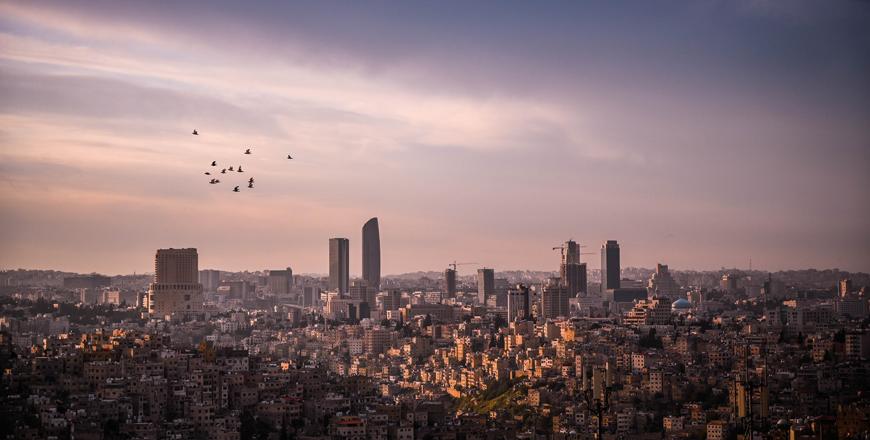 A view of Amman is seen in this recent photo (Photo by Amjad Ghsoun)
AMMAN — Between mid-March and mid-May 2020, 40 per cent of people in Jordan lost their businesses or jobs completely, according to a study conducted by the Phenix Centre for Economics and Informatics Studies.
The study revealed that 37 per cent of respondents partially lost their businesses or jobs, while the remaining 23 per cent were not impacted. The majority of those who were not impacted work in the public sector, according to a statement by the centre.
The survey, conducted online during the third week of May, measured the responses of 2,120 individuals and aimed to assess the impact of the coronavirus crisis on the economic conditions of families in Jordan.
Of respondents working in the private sector, 36 per cent indicated that their jobs have been suspended completely, while 57 per cent of business owners have completely shut down their establishments.
In regards to employees of international organisations and local and foreign civil society organisations, 48 per cent did not lose their jobs while 39 per cent had their jobs suspended partially, the statement said, noting that "this is far better than the condition of workers in the private sector and those who own businesses".
Broken down by gender, 29 per cent of female respondents said that their jobs were not impacted while 22 per cent of the male respondents indicated that their jobs were not affected.
However, women were more affected by job suspensions, as 41 per cent said that their jobs were partially impacted, compared with just 36 per cent of male respondents.
The study also revealed that 20.9 per cent of respondents received their salaries as usual during the period between mid-March and mid-May, while 19.7 per cent said that 30 per cent was deducted from their salaries, and 10.3 per cent of respondents had 50 per cent docked from their pay.
Among those surveyed, 7.9 per cent said that they were permanently fired from their jobs while 4.8 per cent were temporarily suspended. Meanwhile, 3.7 per cent were forced to take days off without pay and 1 per cent were forced to use their annual leaves.
Of the total respondents, 41 per cent said a that family member lost their job due to the crisis, which the statement said "indicates how far the labour market has been impacted during the first two months, with expectations that the number of those who lost their jobs will increase as the year progresses".
The survey was conducted following two full months of work suspension, with a sample of 76 per cent males and 24 per cent females from around the Kingdom.
Among the respondents, 27.3 per cent were bachelor-degree holders, 26.5 per cent were secondary school certificate (Tawjihi) holders, 17.4 per cent did not study after the 10th grade, 14.5 per cent were holders of diplomas and 8.5 per cent were holders of masters and PhDs.
Commenting on the study, economist Husam Ayesh said that "the decisions recently taken are reactions by the government to the developments more than solid plans, which show how weak the measures are and how deeply impacted the labour market is".
"Employees are paying the price, mainly daily wage workers and also those working at institutions with no back-up… causing them to lay off workers and lower salaries," Ayesh said.
The economist predicted that many more companies will go bankrupt and many individuals will lose their jobs.
"New, young employees and women will be among the direct victims of unemployment, which will force them to cancel their Social Security Corporation [SSC] subscriptions and render them unable to pay any commitments they have to banks," Ayesh said.
"This means that the SSC's monetary power will falter. This situation requires new solutions to face the current conditions and the government's involvement, as it cannot leave employers and employees to settle things on their own," the economist said.
He added that employers who wish to continue operations will also face a "difficult decision" regarding how many individuals they can continue employing.
Ayesh also said that interests on loans should be lowered this year in order to help people also face the repercussions of the crisis until solutions are installed that can provide people with jobs. A 10-20 per cent decrease on interests could be "a tremendous help", he added.
Newsletter
Get top stories and blog posts emailed to you each day.