You are here
Crown Prince inaugurates tech event for youth
CPF plans to duplicate FikrTech across Kingdom
By Sara Arar - Oct 26,2017 - Last updated at Oct 26,2017
HRH Crown Prince Hussein tours FikrTech young innovators expo in Amman on Wednesday (Photo courtesy of Royal Court )
AMMAN — A group of leading young people presented to HRH Crown Prince Hussein on Wednesday models of their creative projects hosted by FikrTech "an innovation and technology collective for youth by youth", organised by the Crown Prince Foundation (CPF) at the Ras Al Ain Hangar.
The initiative, the first of its kind by CPF, is open for all youth free of charge from October 25, till October 29, from 10am-9pm, and interested individuals can register via Sajilni.com.
It aims to reach out to youth through workshops in different fields of technology. There will be 20 speakers and influencers to talk about their experience in the creative technology field, Nour Abu Al Ragheb, acting CEO of the foundation, said.
Abu Al Ragheb noted that CPF is looking forward to launching similar initiatives in the southern and northern regions of Jordan, adding that the foundation seeks to give opportunities to all youth in the Kingdom to showcase their creativity and share their ideas with the world.
The foundation's executive stressed that CPF targets for the purposes of the initiative all private, governmental and official institutions, including the Ministry of Education and the Ministry of Higher Education. They are willing to take in any ideas as long as it fits their strategy and criteria, and they provide youth with the equipments to unleash their innovative minds.
Abdulrahman Asfour, a graphic design graduate, was one of the speakers at the opening event. He outlined his Auto-Art, a "one-of-a-kind project" in which he uses scrap materials from bikes, cars and aircrafts turning them into furniture and custom pieces.
His project started at his home garage and now he has his own workspace. The young man worked with King Abdullah II Fund for Development (KAFD), and was sponsored by Red Bull and Harley Davidson.
There are 10 workshops going on for four days, where other CPF initiatives showcased their achievements and plan, including NASA, FabLab and Masar.
CPF has been sending students to intern at NASA in Silicon Valley, California, since 2014 and to the NASA interns booth/workshop at FikrTech, said Muhy Eddin Za'ter, who is currently studying electrical engineering. He explained what a NASA intern does during his work at the agency and the process of application and the impact of the experience on the trainees.
Noor Al Khatib of FabLab, an electrical engineering student, told The Jordan Times about the project, which is basically a laboratory that assembles rapid prototypes ready to be displayed and used immediately for any technology project. The laboratory offers all facilities and materials for students and youth interested to work there. FabLab will be launching in the first quarter of 2018, Khatib said.
Another electrical engineering student, Hamza Issa, who was at Masar workshop, explaining about the initiative team's experience in building Jordan's miniature satellite (JY1-SAT) project, whose design was suggested by former NASA Jordanian interns. He added that the CubeSat Satellite which is the first of its kind in Jordan carries the name JY1-SAT to commemorate His Majesty the Late King Hussein, for his radio call was JY1. The Crown Prince recorded an audio message that will be later uploaded to the satellite's memory and broadcast in space.
Related Articles
Feb 06,2018
AMMAN — The Crown Prince Foundation (CPF) on Tuesday signed a Memorandum of Understanding (MoU) with telecom provider, Zain Jordan, under wh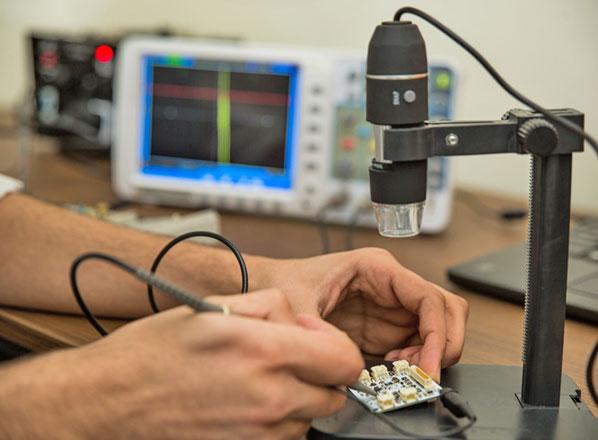 Jan 16,2018
AMMAN — The Crown Prince Foundation (CPF) on Tuesday signed a memorandum of understanding (MoU) with renewable energy solutions provider Fot
Nov 01,2017
AMMAN — FikrTech forum, organised by the Crown Prince Foundation (CPF), concluded on Tuesday at the Ras Al Ain Hangar, the Jordan News Agenc
Newsletter
Get top stories and blog posts emailed to you each day.