You are here
Daily wage workers toil in summer heat
By Bahaa Al Deen Al Nawas - Sep 01,2020 - Last updated at Sep 01,2020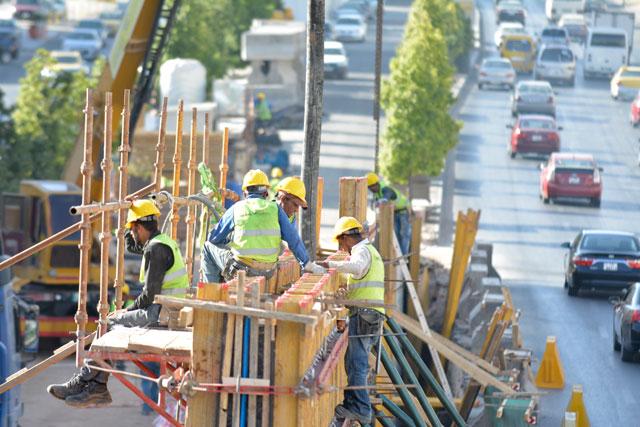 Workers in the construction and agriculture sectors often bear the brunt of the summer heat (Photo by Amjad Ghsoun)
AMMAN — Daily wage workers whose jobs force them to be under direct sunlight for extended periods face many challenges endangering their lives, health and profession, the Jordan Labour Watch (JLW) said in a statement shared with The Jordan Times on Sunday.
The Jordan Meteorological Department has issued warnings to citizens in regard to the heatwave currently impacting the Kingdom, with temperatures expected to reach 41°C in Amman on Monday at noon, the JLW said.
The weather forecast has led the JLW to investigate the repercussions of the weather on the life and health of workers, conducing various interviews with workers in the construction and agriculture sectors.
Mahmoud, who works in the construction sector, said that difficult working conditions during days with high temperatures has led him to seek a different career in a different sector, although it pays less. He said that he had to give up his job because he could not handle hot weather while the employee insisted that he had to work regardless of the weather.
The JLW quoted Fares, another construction worker, as saying: "We are forced to work even if the sun is scorching, simply because if we choose not to work any day, we face the repercussions, but we have families and responsibilities to shoulder, so we cannot refuse any work given to us, even if it goes on to more than 10 hours a day."
Mohammad, owner of a construction company, said that it is difficult to find workers during summer who would accept working even when it is hot, noting that complications arise when there is a deadline to deliver a certain project, which force him to employ workers willing to clock-in for many hours, paying each of them between JD15 and JD20.
In the agriculture sector, Zuhoor, who works in one of the farms in the Jordan Valley, was quoted by the JLW as saying: "All the Ghor [the Jordan Valley] girls work in farms in summer's heat and winter's cold, with no regard by employers to their health, who might even supervise their work and urge them to hurry up mercilessly."
"We get too tired working under the hot sun, and we complain but in vain, I got a sunstroke twice, and I remained sick for two weeks, but eventually had to recover and go back to work, where our backs and bodies hurt, but if I do not work for one day, I do not get paid," the JLW quoted Siham, another worker, as saying.
President of the Union of Workers in the Agriculture Sector Mithqal Al Zinati said: "It is harsh and difficult, and damages workers a lot."
He noted that 80 per cent of the workers in the agriculture sector are women, mostly Jordanians, indicating that there is a drop in expatriate workers as well.
Zinati noted that the union has adopted safety measures, which allow labourers to start working from 4am to 10am, and then resume on 5pm until 10pm, with work focusing mainly on watering crops.
Newsletter
Get top stories and blog posts emailed to you each day.