You are here
Disabled PhD holders fight for right to teach at universities
By Laila Azzeh - Mar 17,2016 - Last updated at Mar 17,2016
AMMAN — Holding a PhD does not necessarily guarantee people with disabilities to be hired in doctoral-level jobs.
Adnan Shraideh, Omaimah Rawashdeh, Abdul Salam Zioudi and Rana Abdul Halim are only a few examples of persons with disabilities who, despite completing their PhDs, have not been given a chance to work at universities.
"We have been knocking on universities' doors for years. The excuses they give us are lame, but it is clear that the way university presidents perceive people with disabilities is the reason," said Zioudi, who holds a PhD in psychological counselling.
Currently, there are 15 PhD holders among people with disabilities who are waiting to be employed in universities.
"Their majors are in demand in each university. We have been protesting for three years now and all we get is false promises," Zioudi, who suffers a physical disability, told The Jordan Times recently.
Despite serving as a teacher at a public school for eight years now, Abdul Halim, who is visually impaired, is finding difficulty convincing universities that she can be a "competent" professor.
"I hold a PhD in Arabic from the World Islamic Sciences and Education University, but when I apply to teach at universities, they claim that the university is not accredited. I know that the reason is my disability because my colleagues are employed without any complications," she said.
Abdul Halim noted that "universities do not trust people with visual disabilities or those with other disabilities to be able to handle the job of teaching".
"All I ask is a chance to prove that I can be as efficient as anyone else or even more," she said.
For Shraideh, who also holds a PhD in Arabic from the University of Cairo, "diplomatic answers are all he gets when he applies to universities".
"I have been working as a part-time professor at the University of Jordan for five years now. When I ask to be hired full-time, they say there is no room for appointments, but new professors end up being employed instead," Shraideh, who has a physical disability, told the Jordan Times.
Zioud noted that the Higher Education Ministry has been promising people with disabilities who hold PhDs to look into their demands and discuss them with universities, but "no tangible progress has been made".
He cited the Law on the Rights of Persons with Disabilities, which stipulates that private and public sector institutions with over 25 and less than 50 employees are obligated to employ one disabled person, while in companies with over 50 employees, 4 per cent must be people with disabilities.
"The law is not applied whatsoever," Zioudi charged.
Officials from the Higher Education Ministry or universities were not available to comment on the issue despite several attempts to reach them over past few days.
Related Articles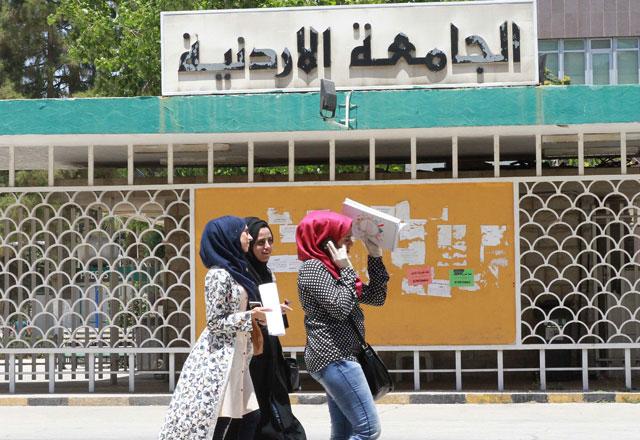 Jun 24,2016
AMMAN — Several students from the University of Jordan (UJ) say they have dropped out of the summer course due to limited class availability
May 07,2017
AMMAN — The Scientific Research Fund on Sunday signed 44 scholarship agreements for higher education students who have achieved top marks at
Mar 29,2015
The Scientific Research Fund on Sunday signed an agreement to offer MA and PhD scholarships to excelling students from public universities.
Newsletter
Get top stories and blog posts emailed to you each day.