You are here
Dudin calls for intensified role of Arab media in defending Palestinian cause
By JT - Jun 17,2021 - Last updated at Jun 17,2021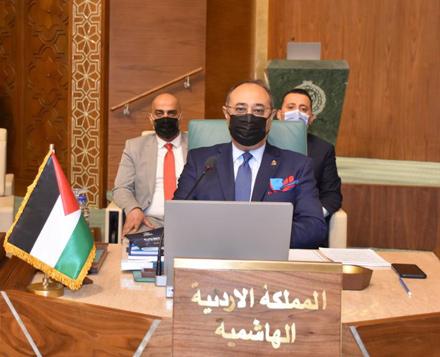 Minister of State for Media Affairs Sakher Dudin attends the 51st session of the Council of Arab Information Ministers in Cairo on Wednesday (Petra photo)
AMMAN — Having the Palestinian issue at the top of the 51st session of the Council of Arab Information Ministers agenda and the session of the Permanent Committee for Arab Media stresses the "profound awareness and consensus" that Palestine is Arabs' central cause and the core of regional and international issues, Minister of State for Media Affairs Sakher Dudin said on Wednesday.
Delivering a speech at the inauguration of the 51st session that kicked off in Cairo at the Arab League headquarters, Dudin referred to the latest developments in Palestine over the past few weeks, which requires intensified media efforts side by side with political and diplomatic endeavours by Arab leaders, the Jordan News Agency, Petra, reported.
The minister, who is also the government spokesperson, called for supporting Palestinians in realising their legitimate rights, mainly those pertaining to establishing their sovereign, independent state on the pre-1967 lines with East Jerusalem as its capital according to international legitimacy resolutions and the Arab Peace Initiative.
He also highlighted the importance of utilising Arab media efforts to support Jerusalem, maintaining the Arab identity of its holy sites and standing against any attempts that seek to impose new facts or change the historical and legal status quo.
In this regard, Dudin stressed that the Kingdom, under the leadership of His Majesty King Abdullah, the Custodian of Islamic and Christian holy sites in Jerusalem, spares no effort in protecting Jerusalem and its holy sites, especially that Jerusalem is a "red line".
The minister also called for intensifying Arab media's role and utilising social media outlets to shed light on the Palestinian issue and violations against Palestinians in occupied Jerusalem, the Sheikh Jarrah neighbourhood, Gaza and other occupied Palestinian territories.
He highlighted the importance of this session to contribute to starting an effective, real and sustainable partnership and ensuring the best utilisation of Arab media capabilities.
As for Item 7 of the agenda of the 95th regular session of the Permanent Committee for Arab Media, related to preparing a unified strategy to deal with international media companies, Dudin highlighted the importance of the Kingdom's proposal that calls for speeding up procedures to establish legal ties with these media companies, their platforms and applications.
Newsletter
Get top stories and blog posts emailed to you each day.