You are here
Elections bring back Islamists, allies under the Dome
Heavyweights fail to return to Abdali as other veterans cling to their old seats
By Omar Obeidat - Sep 22,2016 - Last updated at Sep 23,2016
An election official holds a ballot as the vote counting continues in the parliamentary elections on Wednesday (Photo by Nader Daoud)
AMMAN – Vote counting for parliamentary elections, held on Tuesday, continued throughout Wednesday as the main features of the new legislature started to take shape.
Until the story went to print, the Independent Election Commission had announced the preliminary results of 11 districts out of the country's 23.These were: Aqaba, Jerash, Tafileh, Ajloun, Irbid's 3rd District and Maan.
But media reports and accounts of "winners" suggest that the elections for the 18th Parliament entailed surprises as some heavyweights could not make it again to Lower House, while polls gave a comeback for Islamists, who boycotted the 2010 and 2013 polls. They also helped their allies, including non-Islamists and Christians make it to Abdali.
The Islamic Action Front (IAF), the political wing of the Muslim Brotherhood, expected to win between 15 to 20 seats in the 18th Parliament, an IAF official said.
The official, who spoke to the Jordan Times on Wednesday afternoon as the vote counting process was ongoing, said his party was certain of claiming three to four seats in Amman's 3rd District, with more seats expected from the capital's 1st and 2nd districts.
The official, who requested to remain unnamed because he was not authorised by his party to speak to the media, said that between 15 and 20 seats were expected to be won by the coalition formed by the IAF around the Kingdom.
The IAF, which represents the mother Muslim Brotherhood group, now an illegal entity in Jordan, formed 20 lists running under Al Islah bloc, or the national reform coalition, which includes Christians, members of other political parties and tribal leaders.
Pan Arab nationalist Saleh Armouti, Odeh Kawas, a Christian, and Mansour Murad, a Circassian, were said to have won three seats out of six in Amman's 3rd District, which is known among Jordanians as the constituency of elites.
In Amman's 2nd District, former MP and minister Abdullah Akaileh and Musa Wahesh, reportedly won two seats out of six.
A female member of the Islamist coalition, Huda Otoum from Jerash, won a seat out of the quota allocated for women.
Otoum, a former teacher and currently a member of the IAF, won a seat out of four designated for the northern governorate.
In adjacent Ajloun, another woman, Safaa Momani, won an off-quota seat.
The elections, described by observers as fair and transparent, also witnessed the exit of some candidates and former MPs considered as heavyweights.
Former MPs Mahmoud Kharabsheh of Balqa, Amjad Maslamani of Amman 3rd District, Mufleh Rheimi of Jerash and Saad Hayel Srour of the Northern Badia have failed to secure a return to the House.
Several time MP and minister Srour was previously a speaker of the Lower House.
However, some veteran lawmakers, according to unofficial results, were re-elected such as Abdul Karim Doghmi (Mafraq), Yahya Saud (Amman 2nd) and Ahmad Safadi (Amman 3rd).
Nabil Kofahi, who defected from the old Muslim Brotherhood and the IAF, ran in Irbid under the list of Zamzam that represents Zamzam political party, seen as a moderate Islamic political party.
Kofahi was considered to be a strong favourite to win a seat in Irbid's 1st District.
Around 1.5 million Jordanians took part in Tuesday's general election. Vote counting continued in various parts of the Kingdom on Wednesday, while a re-vote was decided in the Central Badia District because of irregularities reported on Tuesday.
Related Articles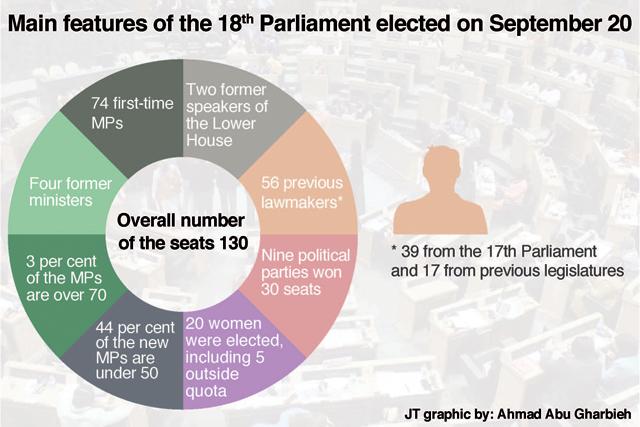 Sep 24,2016
AMMAN — Last week's elections of the 18th Lower House brought 74 first-time MPs and 56 former lawmakers to the Dome, according to informatio
Sep 23,2016
AMMAN — The National Coalition for Reform led by the Islamic Action Front (IAF) has won 15 seats in the 130-member Lower House, accord
Sep 21,2016
AMMAN –– The Islamic Action Front (IAF), the political arm of the Muslim Brotherhood, expects to win between 15 to 20 seats in the 18th Parl
Newsletter
Get top stories and blog posts emailed to you each day.