You are here
'Empowering Through' launches first of its kind women cookbook
By Camille Dupire - Mar 27,2018 - Last updated at Mar 27,2018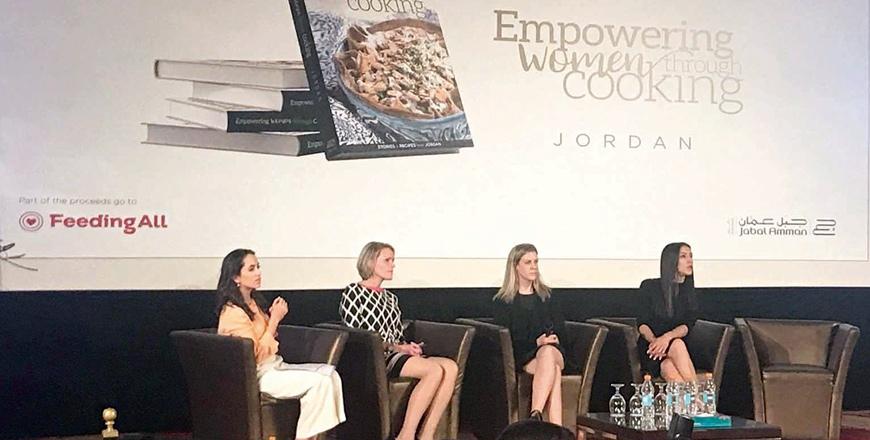 Participants in the 'Empowering Women through Cooking — Jordan Cookbook' present the first of its kind cookbook in Amman on Saturday (Photo courtesy of Cozmo and Readers)
AMMAN — Some 450 people on Saturday attended the launch event of the "Empowering Women through Cooking (EWC) — Jordan Cookbook", a book celebrating the success stories of women in Jordan and creating a platform for sustainable economic growth by bringing together civil society, public and private sector, academia, impact funds, and aid agencies.
The first of its kind, the cookbook gathers 54 Middle Eastern recipes shared by women living in Jordan who shared their stories of empowerment through cooking.
"I grew up around very influential and powerful women like my mother, sisters and grandmothers. I saw the great effects they have on people's lives. I believe we should encourage empowering women in our society so that incredible things can happen," said Abdul Majeed Shoman, co-founder of Seven Circles, the company behind the initiative Empowering Through.
"Each recipe captures the personality and background including the struggles and perseverance of these strong women," said Seven Circles co-founder Dina Saoudi, citing that "these stories will help others share and build a community of engagement and growth".
Women included in the cookbook, which was developed, printed and published in Jordan as well as endorsed by the Ministry of Tourism, include Jordanians, a Swede, an American, a Briton and a Palestinian, all part of the fabric of Jordan.
Contributing partners include the Royal Academy of Culinary Arts, Cozmo, Readers, MedLabs, Landmark, among others. "It is critical for us to support local business here in Jordan," Saoudi told The Jordan Times.
According to Chef Jacques Rossel, director of the Royal Academy of Culinary Arts, it is still challenging for Jordanian women to enter a professional kitchen environment. "This is why the Royal Academy has made a point to provide the necessary education for these women to leave an imprint on this male-dominated industry," he said, noting that 40 per cent of the Academy students are now women.
Participating in one of the panel discussions at the event, MedLabs representative Zeina Sahyoun said: "Mothers, daughters, sisters, wives; Women make a house a home. Women are sisters in arms who must love one another, support and boost one another, as women are almost always the first victim of war, anger, slavery and prejudice."
MedLabs supported the initiative by providing health information including informative icons for each recipe as well as information on allergies and preventative health.
"As food and cooking is a lifeline of our society, it is crucial to ensure we are all aware of their nutritional aspects, so we enable a healthy society," Saoudi commented.
The EWC Jordan Cookbook was launched as part of a global campaign expanding in 17 countries such as South Africa and Peru, which aims to create a global movement and platform connecting and empowering through collaborative partnerships.
"This is the beginning of a foundational effort 'Empowering Through' that will set a new standard of engagement across multiple domains to provide women a platform to learn, be heard, build communities and develop new ways of self-sustaining business," said Kate Krukiel, who joined the Empowering Through team to design the scalable impact models and approach.
"Partnership across multiple domains is necessary but not always easy. When we come together, listen to the needs of the beneficiary and keep our north star constant the pathway for success opens," she told The Jordan Times.
Saoudi stressed that an aspect of each "Empowering Through" effort will give back to the community to bring the next generation forward. In the case of the cookbook, part of the proceeds will be donated to the UN World Food Programme and Tkyiet Um Ali, she added.
"It is very important to reinvest back into the central programmes that support these women and advance their progress by providing education and resources as well as the fundamental understanding and awareness of the global agenda surrounding Sustainable Development Goals," Krukiel noted.
The cookbook designer Rula Khatib-Yanis said: "It's been such a great honour to work on this project while also being able to commemorate my late mother's recipe to the cookbook."
For Saoudi, who voiced her joy to see so many people gathered at the launch, "EWC — Jordan is merely the foundation and beginning of creating a movement to empower women in Jordan and globally."
Related Articles
Jun 10,2015
WASHINGTON — Barack Obama's admission that he has an incomplete strategy to combat the Daesh terror group is politically toxic, but history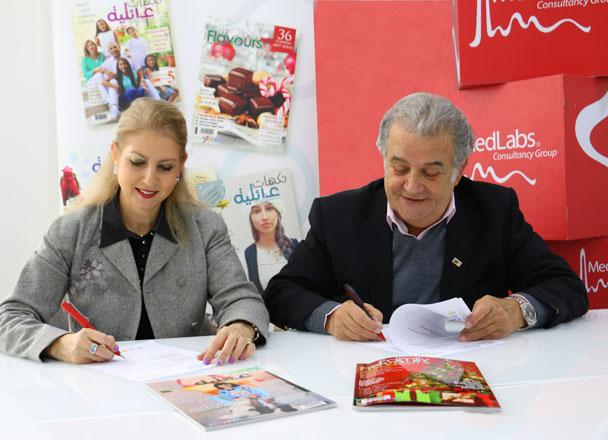 Dec 27,2017
MedLabs Consultancy Group (MedLabs Laboratories) has renewed its partnership with Family Flavours and Nakahat 'Ailiyeh, Jordan's only parent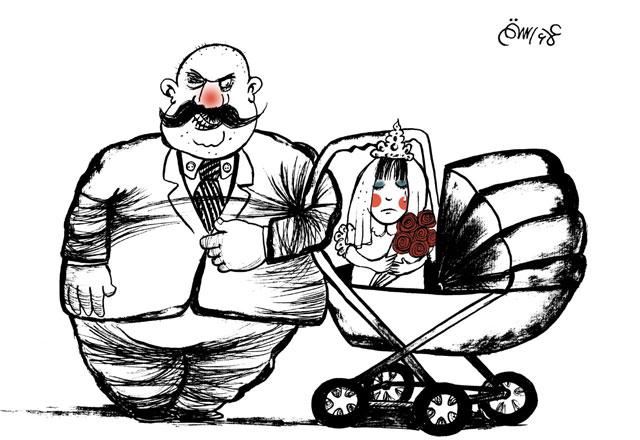 Dec 06,2017
AMMAN — "When I draw women and their rights, I'm drawing about me," said Doaa El Adl, one of the winners of the online cartoon competition c
Newsletter
Get top stories and blog posts emailed to you each day.