You are here
Expected reopening of Iraq border revives farmers, exporters' hopes
By Hana Namrouqa - May 21,2016 - Last updated at May 21,2016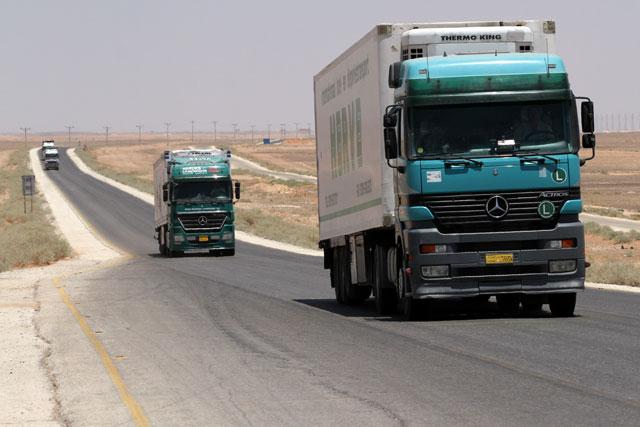 This photo taken in May of last year shows trucks entering Jordan from Iraq (Photo by Raad Adayleh)
AMMAN – Farmers and exporters are pining hopes on the "imminent" reopening of the Karama-Turaibil border crossing between Jordan and Iraq to revive the agriculture sector, according to a sector insider.
The border crossing, located 370km from Amman to the east, represented a vital exit for Jordan's exports of fruit and vegetables to Iraq and other markets in Europe, until it was shut down in the summer of 2015, leaving the market congested with its produce.
On Saturday, Iraq Ambassador to Jordan Safia Al Souhail told The Jordan Times that Turaibil border crossing between Jordan and Iraq is expected to be reopened in less than two weeks.
Late last week, Iraq's military announced it had retaken the remote western town of Rutba, an Iraqi town across the border with Jordan, in an operation launched to cut off the militants' supply route to neighbouring Syria.
"The border crossing will be reopened in less than two weeks, after completing landmines and remnants of war clearance," the ambassador added.
President of the Jordan Exporters and Producers Association for Fruit and Vegetables Zuhair Jweihan said he was upbeat over news that the border crossing may reopen soon, noting that farmers and exporters of fruit and vegetables will both benefit from the decision.
"The Kingdom used to export 180,000-200,000 tonnes of fruit and vegetables to Iraq each year. After the border crossing was closed, they resorted to exporting to Iraq via Kuwait route, which is very costly, time-consuming and full of hurdles related to visa acquirement and transportation," Jweihan told The Jordan Times on Saturday.
He underscored that "very limited amounts of fruit" are now being exported to Iraq via Kuwait.
"Once reopened, farmers and exporters can resume exporting local produce to Iraq, especially fruit, and would be able to shake off some of the losses they have incurred over nearly a year," Jweihan noted.
He said that lack of export portals of the local produce, pushed prices of fruit and vegetables to "very low" levels in the domestic market, which he said causing losses to farmers and traders.
Also last year, the Kingdom closed the Jaber border crossing with Syria for security reasons, while Ramtha, the other border crossing with the war-torn country, has been closed for nearly five years.
A total of 1,000 tonnes of fruit and vegetables, worth millions of Jordanian dinars, used to be exported every day to Syria and Lebanon, according to the association.
The Syrian and Iraqi markets used to consume nearly two thirds of the Kingdom's exports of vegetables.
Related Articles
Aug 31,2017
AMMAN — Agricultural representatives on Wednesday commended the reopening of the Karameh-Turaibil border crossing between Jordan and Iraq, s
Aug 31,2017
AMMAN — Jordan and Iraq on Wednesday celebrated the reopening of the Turaibil border crossing between the two countries, since its closure i
Sep 27,2017
AMMAN — Jordan has exported more than 3,200 tonnes of fruits to Iraq since the border between the two countries reopened last month, a gover
Newsletter
Get top stories and blog posts emailed to you each day.