You are here
Exporters still incurring losses as Syrian border closure continues
By Omar Obeidat , Hana Namrouqa - May 04,2015 - Last updated at May 04,2015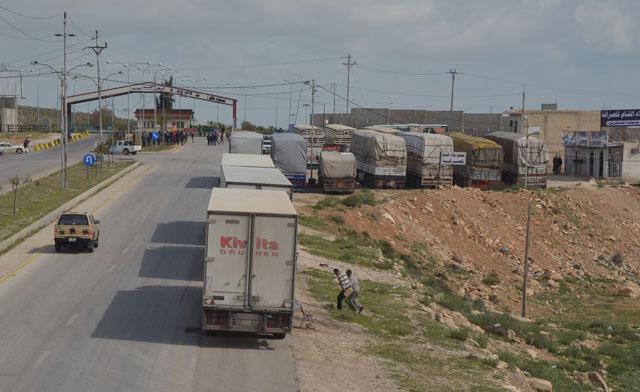 AMMAN — As Jordan's border with Syria has remained closed for over a month now, merchants and exporters of agricultural produce are waiting for a breakthrough to resume trade movement to Syria, the Kingdom's portal to East Europe and Mediterranean countries.
Experts and officials in the agriculture sector said the closure of the border with Syria has severely affected exports of fruits and vegetables, expressing hope that the government will find safe alternative routes to resume exports of agricultural produce and goods.
The government has told the private sector that there are several alternative safe routes to resume commercial activity with Syria and through the trouble-hit country, Jordan Chamber of Commerce President Nael Kabariti said.
However, Kabariti said he was not optimistic about resuming overland trade through Syria as fighting between several parties will continue to hinder cargo movement.
Syria was not only a lucrative import and export market for Jordanian businesspeople, but also a strategic transit route to Lebanese, Turkish and East European markets, he told The Jordan Times Monday.
Zuhair Jweihan, president of the Jordan Exporters and Producers Association for Fruits and Vegetables, said the sector was severely hit when the Kingdom closed its borders with Syria, highlighting that exporters tried to export their produce via new portals, but they were deemed unfeasible.
"Some exporters tried to ship agricultural produce from Aqaba to Beirut, but they found it to be economically unfeasible, while others exported via air cargo to Lebanon and also incurred hefty losses," Jweihan told The Jordan Times.
He expressed hope that the government will find new routes for exporting the country's fruits and vegetables.
A total of 1,000 tonnes of fruit and vegetables, worth millions of Jordanian dinars, used to be exported every day to Syria and Lebanon, according to Jweihan.
Jordan closed its border with Syria early last month for security reasons. Passenger and cargo traffic across the border was halted as a result of escalating violence in the Syrian town of Nasib, near the border crossing.
The decision to close the Jaber border station was primarily taken with the aim of saving the lives of passengers as Nasib has been witnessing "fierce" confrontations between forces loyal to the Syrian regime of President Bashar Assad and armed opposition groups.
Jordan's other border crossing with Syria, Ramtha, has been closed for nearly four years, except for humanitarian assistance to the war-torn country in compliance with a UN decision taken last year.
Agriculture Ministry Spokesperson Nimer Haddadin said the ministry is looking for new markets for local fruits and vegetables, but there are no available options at present.
"There are no alternate safe routes for our agricultural exports to Syria at the moment. However, the ministry is still working to open the Russian market for local produce," Haddadin told The Jordan Times.
Jordan eyes entry into the Russian market as a big and important step, since exports to Russia will be equal to all of its exports to Europe, according to ministry officials.
Related Articles
Oct 31,2018
AMMAN — A Syrian delegation representing farmers, exporters and importers is scheduled to visit the Kingdom in two weeks to discuss the exch
Mar 20,2019
AMMAN — No trucks laden with commercial quantities of Jordanian fruits and vegetables have entered Syria since the reopening of the border c
Oct 23,2018
AMMAN — The first delegation representing Jordan's producers, exporters and importers of agricultural produce is set to head to Damascus on