You are here
Fun and happiness 'transcend differences' at children's inclusive Iftar
By Camille Dupire - Jun 04,2018 - Last updated at Jun 04,2018
Children, including those with disabilities, take part in an evening of games at Stadiums Legend recently (Photos courtesy of Ghassan Sela)
AMMAN — Bringing children to play and have fun together regardless of their differences is the long-time vision behind Little Volunteers (LV), a local organisation founded in 2014 by Jordanian Zeina Asfour, who aimed to teach young children the values of volunteering and solidarity.
"What I love about children is that they don't see the differences, they just play together and have fun, in spite of whatever physical, cultural or social differences there might be between them," stressed Asfour, a mother of two young girls.
The organisation recently organised an inclusive Iftar (fast-breaking meal) event in partnership with Bahja and Accessible Jordan, which saw the participation of 160 people, half of whom were children with disabilities and their families.
Held at Stadiums Legend in Amman, the event gathered young children with autism, Down syndrome and other intellectual disabilities, who got to enjoy an evening of games, face painting, arts and crafts and magic shows, as well as the presence of the iconic musaharati, the person who walks and beats a drum in residential areas to wake people up for sohor before morning prayers.
"How I wanted for this activity to go was not to emphasise how every child is different or that disability is a barrier between people. Instead, I wanted all of them to play and enjoy a meal together, which they did," Asfour told The Jordan Times on Sunday.
"Everyone here volunteered or came to entertain the kids for free, from Tamoor magic to storyteller Wafa Qusous and artist Suheil Baqaeen. The venue was also provided to us for free, so we managed to save up some money from the entrance fees to help families in need," the LV founder highlighted.
The JD10 entrance ticket, which vulnerable families of kids with disabilities were exempted from, was used to cover the costs of food and to collect some money for future donations.
"With the extra money left, we are working to help three single mothers of children with disabilities, to make their life a bit easier for at least a couple of months," Asfour explained, citing the support of a single mother who makes dairy products at home, and the payment of some of the fees for the special needs centre where another mother sends her child with severe autism.
For Aya Aghabi, founder of Accessible Jordan, an online platform which seeks to raise awareness on the issue of accessibility in Jordan, "The event was amazing. It taught the kids that it is possible for all of us to be friends and enjoy our time together no matter our differences."
"What I loved so much was to see all the kids happy, playing together. After all, they are all young children and they all just want to have fun, explore new activities and have a nice day," said Asfour, who established LV under the motto "Alone we can do so little, together we can do so much".
"Of course, my daughter had some questions afterwards, but she didn't notice anything abnormal or off," Asfour said, recalling: "My daughter has taught me so much in terms of inclusivity, despite her young age. I remember taking her to centres for children with autism or Down syndrome and she never noticed the differences between them because she still sees that everyone is special in their own way. She does not live in the bubble that we built for our kids on what is normal or not normal."
Luma Jamjoun, a mother of two boys, one of whom has autism, was part of the organisers, through Bahja, an initiative she founded to spread awareness about people with special needs within their community through "lots of love and joy".
"This event gave our children a chance to celebrate a better community for all abilities, which is the vision behind Bahja," said Jamjoun, who regularly organises outdoor and entertaining activities for children with disabilities, where they get to have fun and socialise together in locations that are suitable to their needs.
"Events like this help people discover the unique abilities of precious individuals who have special needs, which is greater than any obstacle," she stated.
For her part, Aghabi, who is a wheelchair user herself, concluded: "I am so proud to see such events happen, showing that we can all coexist in the best way regardless of our differences."
Related Articles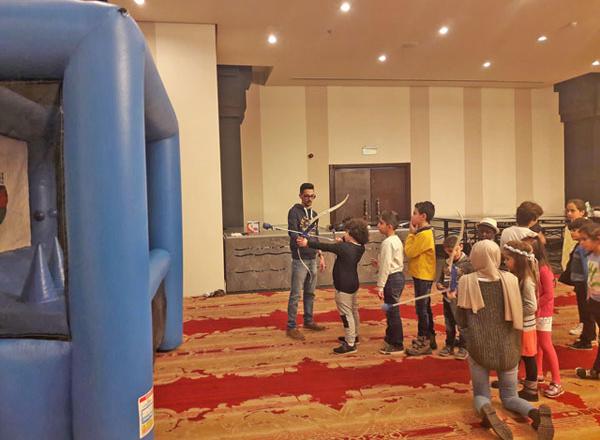 Nov 30,2017
AMMAN — "We make it fun and entertaining for our children to take care of other people," said Dina Saoudi, a mother of two boys taking part
Nov 23,2017
AMMAN — When she was first interviewed by The Jordan Times two months ago, Aya Aghabi, a 26-year-old wheelchair user, had launched the websi
Apr 10,2018
AMMAN — Some 80 "little volunteers" aged from three to 12 years old last week took part in a solidarity cooking event aimed at helping to em
Newsletter
Get top stories and blog posts emailed to you each day.