You are here
German ambassador brings traditional cuisine to Jordan
By Raed Omari - Sep 20,2017 - Last updated at Sep 20,2017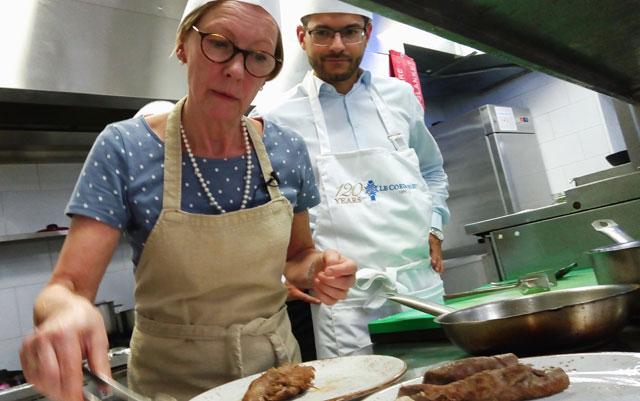 A special event on Sunday saw the German Ambassador to Jordan, Birgitta Siefker-Eberle, welcome her guests with a traditional German menu she cooked herself (Photo by Raed Omari)
AMMAN — Germany is most certainly well-known for its cars, engines, heavy industries, architecture and football, but Deutschland also reveals some extraordinary talents in another unique domain: food.
It was a special event on Sunday that saw the German Ambassador to Jordan Birgitta Siefker-Eberle welcome her guests with a traditional German menu she cooked herself.
With the help of the French Ambassador to Jordan David Bertolotti in the kitchen, Birgitta cooked "Rouladen", the traditional German braised beef rolls.
While cooking, Birgitta was briefing the guests and the chef assistants about the traditional German cuisine and the way to cook Rouladen, saying that she loves to eat what she cooks despite her busy daily schedule, "especially these days, with the German federal election 2017 just a few days ahead".
The ambassador said that the culinary event was part of a plan to introduce Jordanians to the German culture and tradition, expressing her pride in the advanced Amman-Berlin relations.
"Food from a different culture brings us closer," Siefker-Eberle said.
Cultural attaché at the German embassy, Jaime Sperberg, underlined the importance of the food event, saying: "Germans are not only automakers, industrialists, architects and footballers but good cooks as well and they have their own distinctive food."
The cooking event was held at the Wild Jordan Centre in Amman which started putting German dishes on its food menu as of Monday.
The Sunday food event was part of the German Week 2017, which kicked off on Saturday.
Running from September 16 till 21, the week started off with the opening of a marketplace where German institutions in Jordan, including the German Agency for International Cooperation, the German Jordanian University, Konrad Adenauer Foundation, among many others, will present their work and projects.
up
31 users have voted, including you.
Related Articles
Sep 16,2015
AMMAN — Germany's Ambassador to Jordan Birgitta Siefker-Eberle on Wednesday visited the German-Jordanian University, where the ambassador me
Oct 02,2016
AMMAN — Germany is the third largest donor to Jordan following the US and UK, German Ambassador to Jordan Birgitta Siefker-Eberle said on Su
Sep 03,2015
AMMAN — Foreign Ministry Secretary General Mohammad Tayseer Bani Yassin on Thursday received a copy of the credentials of the newly appointe
Newsletter
Get top stories and blog posts emailed to you each day.